Insulating Windows
To make your home more comfortable, both cozy in winter and cooler in summer, seal for drafts and insulate. This is a guide about insulating windows.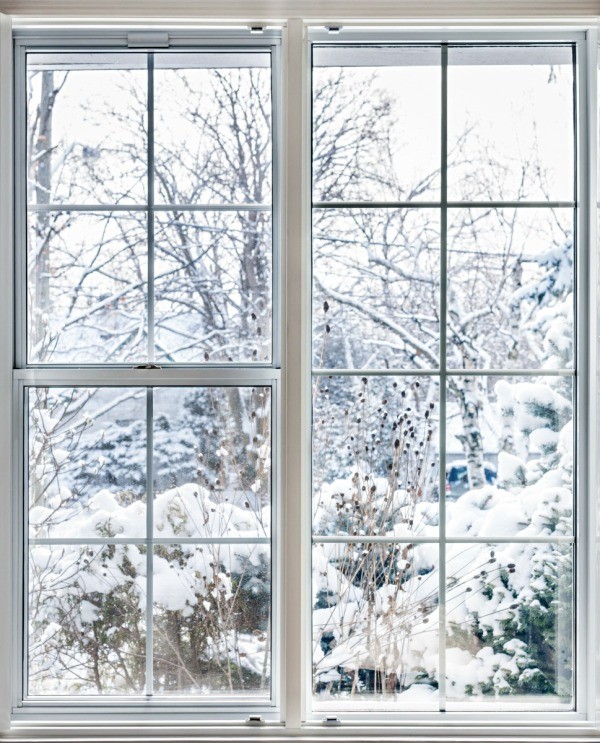 Filter

: All Articles
Sort

: Relevance
I read this tip in my favorite magazine, Mother Earth News, a few years ago, and finally got around to trying it this year. It works!
Instead of expensive window insulation kits that are hard to install and can be used only one year, try this: buy bubble wrap. Cut it to fit each window. Dampen the window and apply the bubble wrap, flat side to the window.
It's that simple. It lets the light through, looks a bit like glass block windows, and does keep the room warmer. If I touch the bubble wrap then touch the window, the wrap is definitely warmer. My bedroom is about 4 degrees warmer this year!
If the wrap comes off or you lift it up for any reason, just re-dampen the window, and it's good as new. At the end of the cold weather, I will remove the wrap, and roll it up separately for each window with a note in the middle to tell me which window it goes on, then I'll store it until next year. I bought my bubble-wrap at Walmart, about $4.50 for 100 feet. A roll and a half did all of my windows (except the one by the computer, since I watch the birds at my feeder through that one). The kits in the store cost a LOT more, and next year, this is free!
Source: Mother Earth News
By schyresti from North Royalton, OH
We live in an older rental home and almost all the windows are singled paned so before the Arctic weather arrived I went to Home Depot and bought 4 x 8 panels of insulation at $8.95 a sheet. It is it's in the building/contractor section, and is silver on one side and 1/2 an inch white foam on the other.
None of the windows match. Some are little frames 10 inches by 7.5 inches, others are a little larger and a few that are large.
I trimmed and cut pieces to be placed directly on the glass. Silver side touching the glass, white side facing inside the room. From the outside of the house it looks like all the windows are covered with aluminum foil.
I figured out a way to be able to attach and remove the larger pieces of insulation with Velcro strips to hold it in place. Part of the Velcro on the window frame and part on the insulation, so I would have light. Every day at 4 PM I put the insulation back in the windows. We kept the house at 74 and during the night it would drop down to 63-64 in the den.
Well, I just got our electric bill and it was for $182 which is actually $2 cheaper than the electric bill for the same month back in 2009. One of my neighbor's bill was for $354 and another $313 so I guess there was a method to my madness.
I'll probably keep this way and see what my electric bill will be in the summer with air-conditioning.
It would be difficult to remove the insulation that I trimmed to fit the smaller frames but if I ever do, at least they'll be cut for next winter. I'll even write on the back which frame that I removed it from, which window and finally which room.
My father could fix just about anything broken and I'm sure he would of approved of my method of madness. I guess my neighbors must of thought that I was nuts when they saw me working on my windows but it worked.
Source: Myself and a little guidance from my husband.
By CaroleeRose from Madison, AL
I live in a apartment that doesn't have shutters on the windows. So, in the summertime it gets really warm in the apartment. I decided to buy the biggest foam board out there and cut it down to almost the size of my glass part on my windows.
Read More...
Windows can account for as much as 35 to 40 percent of a home's heat loss. With heating costs on the rise, that can translate into significant dollars. New windows are not in everyone's budget, so if you are looking to increase the energy efficiency of existing windows, here are some simple tips for sizable energy savings.
Locating the Leaks
The first step in improving the energy performance of your windows is to locate the air leaks. For the best results, perform this on a cold and windy day. Turn on all exhaust fans, the furnace and the clothes dryer. This will increase the difference in pressure, drawing air out of the house so that outside air is drawn in to replace it through leaky points. To locate air leaks, hold a smoking stick of incense or a thin piece of thread near windows. Drafts will be apparent as the tread or smoke move with the air currents. Assess if there is any weatherstripping or whether it is worn out and needs to be replaced. Mark the area with chalk. Now that you know where the leaks are, you can fix the problem.
Weather Stripping
As a rule, weatherstripping should be installed at points where surfaces move or slide together. The type of window will determine the type of weatherstripping to use.
Double Hung or Vertically Sliding Windows: These types of windows can be weather-stripped with tubular strip materials. Install weatherstripping in the gaps between the window sash and frame. This also includes the area in the middle on where the two sashes meet.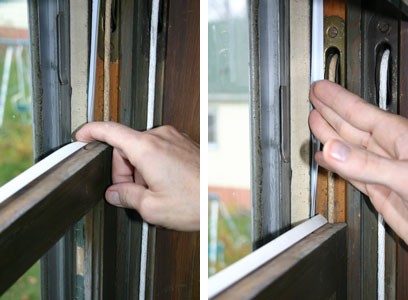 Horizontal Sliders (and sliding glass doors): The type of weatherstripping to use on these windows depends on the material the sash is made from. If not previously weatherstripped, wood or vinyl-covered windows can be fitted with angled strip materials. If factory installed stripping is worn out or defective, replace it with the same type of stripping it came with.
Awning, hopper or casement windows that swing open: Weatherstrip these windows like you would a door. Attach stripping to the jamb (on all sides, including hinged side) so the window closes against it.
Caulking
Caulking is another method of improving performance that gives a high return on energy savings for a minimal amount of investment. It should be used on the non-moving parts of windows. The best place to caulk is on the inside. Although exterior caulking is important for weatherproofing, it has little effect on overall energy savings. Apply caulk where the frame of the window meets the wall and between the frame and sash (on permanent non-sliding sections).
Replacing Sashes & Reglazing
Replacing sashes or reglazing windows can be cost effective alternatives to replacing entire windows. Select sash material with a high insulating value and glazings with a low emissive coating.
Plastic Film
It's nobody's favorite, but plastic film can be a good short-term solution to poor performing windows-especially traditional storm windows. Installed on the outside, it helps reduce air infiltration. The negative side of this is that it may frost over, reducing visibility and creating moisture problems. If placed on the inside, it can help stop heat through leaky windows. The other side of this is that the glue can damage stain or paint once removed.
A Cautionary Note About Combustion Air
Whatever steps you take to increase your window's energy performance by stopping air leaks, it's important to make sure that your furnace, water heater, and other fuel-burning appliances have sufficient combustion air. It they do not, backdrafting of carbon monoxide and other gases into the home can occur. For more information on Combustion Air, how to test for problems and how to install a combustion air supply, consult with your local utility company or energy expert.
One wall of my bedroom has sliding glass doors and it gets really cold at nite. I cannot afford to replace them. What can I use to sort of insulate the doors so as not to freeze at nite?
By Linda
September 26, 2011
0

found this helpful
What I do with my reg. size window is first set a tension rod, actually in truth I use an old shower rod and hang a heavy old Army wool blanket or flannel sheets neatly hung then I have my regular curtain rod for my nice curtain. I do have two sliding glass windows in living room and it was hot as blazes this summer. I am going to do the newspaper rolls and then use a piece of fabric to cover those to match my decor. I love this site lots of useful ideas. This is my favorite site!
September 26, 2011
0

found this helpful
One entry mentioned bubble wrap. It is very inexpensive and all you have to do is spray a little water on the glass and stick the bubble wrap up. It will stay for a very long time and if it does come down, just re-wet and re-stick! It makes a good insulator and can be removed easily if need be! I have it on all my windows which I put up last winter. It insulates so nicely I left it up on the rooms in which I don't use the windows. Good luck!
September 27, 2011
0

found this helpful
Bubble wrap has an insulating number of 1 which means it has the lowest insulating value. Your best bet is plastic window wrap or insulating drapes.
September 28, 2011
0

found this helpful
In addition, make sure the door is well caulked also. Check the outside perimeter of the door, no caulk, drafts will be there. There is also a product called 'warm window' for a roman shade that you add a fashion fabric to the room side. not real cheap, but really works. In a house in the Utah mountains, the first one I added was to the bedroom window and it raised the temp in the room by 10 degrees!
Make insulated window shades from quilted bedspreads to insulate your rooms and stay warmer in the winter. First, measure the windows. You want the shades to have the same measurements as the windows in height and width. Cut the bedspread to the right size.
Read More...
The price of triple pane glazing is almost twice the price of double pane glazing insulated windows. Does anyone have experience putting two double pane ICG's back to back? I am not sure if you would get condensation between them, but certainly the quadruple glazing would be more effective than the triple, for the same price. I would like to hear some comments from someone who has tried this.
June 30, 2015
0

found this helpful
As a former property manager, I can tell you this article will help you like it did me. I hope that is what you needed to know!
July 6, 2015
0

found this helpful
I believe that this is what my son plans to do in his energy efficient home, but I do not know if he had some info about this. I have read the article the previous poster, Sandi, gave you, but it did not seem to cover this idea. Perhaps you could google for more info regarding this way of installing windows.
The temperatures in FL are starting to go up and pretty soon we'll be back in the heat and humidity. Does anyone have any good, inexpensive suggestions for something to put on the inside of my home's windows to help keep out the awful heat?
Last year I tried using the window film that you can put on car windows and that did absolutely nothing, plus it was a nightmare to put on the windows. Our housing association doesn't want anybody to put aluminum foil on their windows, either. I can't afford shutters, but I need something so that when the heat is at its worst, especially in the afternoon during July and August my house doesn't feel like a furnace.
Even with the AC running, it still is super hot. Not only that, but the AC runs constantly and our electric bills are out of sight. I'd like to be able to save some money, too.
By Louise from Port Charlotte, FL
April 4, 2010
0

found this helpful
My son cut pieces of rigid foam insulation the size of his window and set them inside the frame. he did it to block the light but it worked for insulating, too! He says put a handle on the back of the foam so it's easy to move.
April 5, 2010
0

found this helpful
My husband and I had the same problem and we went to a home improvement store and bought the kits to make your own solar screen. It has made all the difference in the world! It was very easy to make and it just replaced the screens that were existing in our window. You could use the screen frames you have, if you have screens on your window, and buy the solar screen material. It's cheap and easy.
April 16, 2010
0

found this helpful
I live in Florida. To keep the heat out I purchased colored shower liners that match my drapes and shears. I put them up to the windows. It blocks the heat, looks good from the outside and matches my drapes and shears on the inside. My home stays cooler and the air conditioner doesn't have to work as hard which keeps my bill lower in the summer.
May 21, 2014
0

found this helpful
Does the decorative window film also provide insulation? I want to put this in the bathroom but if it doesn't insulate I can just go with the tinted stuff: http://www.interiorplace.com/decorative-mosaic-glass-window-film/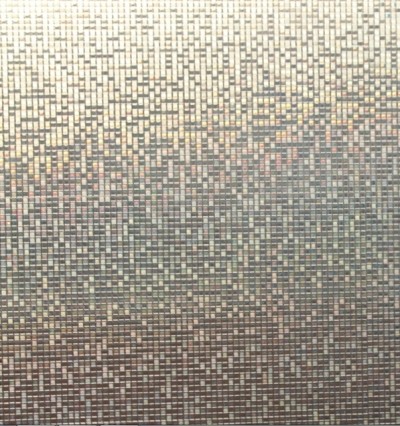 Related