Linda L.
Bronze Tip Medal for All Time! 64 Tips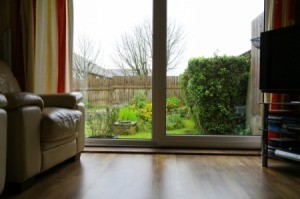 One wall of my bedroom has sliding glass doors and it gets really cold at nite. I cannot afford to replace them. What can I use to sort of insulate the doors so as not to freeze at nite?
By Linda
Answers

September 25, 2011
0

found this helpful
Best Answer
Are you familiar with the kits for insulating windows that include the plastic you shrink with a hairdryer? They make kits for patio doors, too...probably around $10. You can also hang blankets or quilts.

September 25, 2011
1

found this helpful
Best Answer
When it gets really cold outside, we have a piece of heavy duty clear plastic that we hang over our sliding glass door. I cut it to fit the door and put a border of masking tape across the top of the plastic. To the masking tape I have four small strips of self sticking Velcro. The match to the Velcro is on the woodwork of the door. It is white, same as the woodwork and is not noticeable.
It has been there for several years now. When I want to take the plastic down, I just detach it and fold it up and put it under the hutch out of the way. Most of the time, I put it up at night and take it down during the day. Works really well for us and makes a big difference in heating the room. That door does get cold.

September 26, 2011
0

found this helpful
My son went to WalMart & bought real thick insulated curtains that help to keep the warmth inside his bedroom.

September 26, 2011
0

found this helpful
I lived in an apartment for a year that had a sliding glass door in my bedroom. Oh boy, the drafts coming in were terrible, even with a heavy set of insulated drapes. So I rolled up newspapers into logs, fastened with rubber bands from the Sunday paper, and set the logs into the frame along the bottom.
It made a huge difference-no more drafts, and I was able to open and close the doors by removing the logs when I needed to use the doors.
I've also used bubble wrap on large windows to insulate, using duct tape to secure the wrap to the outer edges of the frame. You can't open the windows or doors if you do that, but it does really cut down on the heat loss and drafts.
Read More

Answers