Keeping Cats Out of House Plants
House plants are often quite attractive to your cats inspiring digging, munching, and sometimes use as a cat box. This is a guide about keeping cats out of house plants.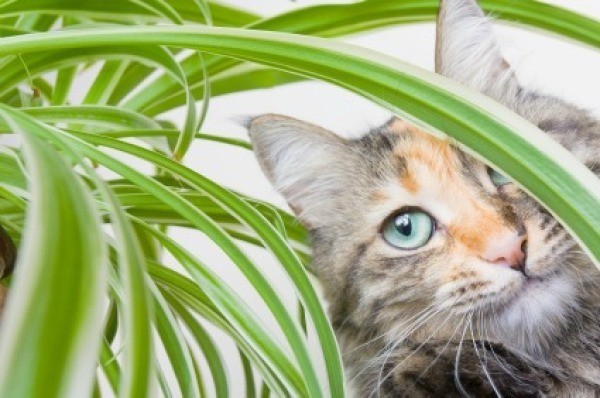 Filter

: All Articles
Sort

: Relevance
My sweet kitty just loves when I dig up the dirt to plant my flowerbeds and thinks that she's discovered a new litter box! After trying other methods: sprinkling in hot pepper (nope), cayenne pepper (nope), even adding clam shells into the soil (nope), I tried this.
I heard that animals don't like citrus and so after making orange-lemonade (3 oranges, 3 lemons and sugar to a gallon, YUM). I slivered up the peels and sprinkled them around in my flower bed under petals so they didn't show. You may also even add soil to empty citrus fruit peel halves and plant some small flower seeds and use them as pots! It worked! No more kitty visits!
I ended up doing the same around my vegetable garden fencing since a groundhog started making his rounds there soon after! Hope this helps all my creative friends out there! :D
By AHA! from Sterling, PA
I use fruit and veggie net bags to protect my floor plants from my bad kitties that like to dig and leave 'unmentionables' in them. I cut a bag into a circle to fit the diameter of the pot, then cut down the middle. Using clear packaging tape, I tape each side to the rim of the pot up to the base of the plant in the middle. My cats hate the netting and you can water and fertilize right through the net. Here's to loving bad kitties!
By krisanthemum from Pataskala, OH
I have read questions on how to keep cats out of your house plants. Simple, use tin foil. Lay tin foil around the plant on the dirt. Don't push it down onto the dirt or you will start to get some mold. Just lay it on top. Your cats will hate it, and your plants will be fine.
Read More...
How do I keep my cat out of poisonous house plants?

September 10, 2015
1

found this helpful
If you have a cat, do not have any poisonous plants in your house. A leaf from a plant falling on the floor could tempt your cat to play with it, and just that could make it sick. I once had a chrysanthemum in my house and my cat had diarrhea for a week. I don't even know how she ingested any of it.
You'll just have to make a decision- pets or plants?
September 11, 2015
0

found this helpful
Abigail is absolutely right.
I recently adopted two male cats from a shelter. They are about two years old and are well behaved in every aspect except one started using my large potted houseplants as a litter box. After researching various remedies on line, I bought a bag of "rough" decorative gravel/rocks from Home Depot for about $5....
I have two 5 month old kittens. The one has started to lay in the plant. He is not digging in it, eating it, or using it as a litter box. He just likes laying in the plant on the dirt. The only thing is he ends up dragging dirt everywhere when he gets out. Is there a way to keep him from getting in my plants?
By Tina W.
August 16, 2013
0

found this helpful
I have had good luck crumpling aluminum foil all around the exposed soil. It keeps my cats out of the plants and does not harm the plants.
March 11, 2016
0

found this helpful
Use lava rocks for a more attractive and permanant solution (rather than aluminum foil). Spread a layer of lava on top of the dirt- its porous and not harmful to plants or pets. You can also stick toothpicks in the soil, but be sure to use a lot, you'll need to put them in very close to each other (aprox. ½ inch apart) so it prevents any access to them getting little paws into pots.
My house cat (kitten) is getting into my houseplants. He is sitting and digging. What can I do to keep him out?
By Patty
December 5, 2011
0

found this helpful
I buy pebbles from the Dollar Tree & put in my houseplants, they look pretty & the cat doesn't try to dig in them. Also it doesn't effect watering your plants.
December 5, 2011
0

found this helpful
Definitely avoid moth balls and I can tell you from experience that pebbles on top of the soil will work plus the pebbles help keep moisture in the soil so it's a win win solution ;-)
Does anyone know how to keep cats away from potted plants?
By Tammie from Wildomar, CA
October 25, 2010
0

found this helpful
Put marbles or glass pieces used in aquariums on top of the soil. Water will still go through and cats can't get to the soil.
November 4, 2010
0

found this helpful
Spray the cat with water every time it goes near the plant. Let the cat see the sprayer. When you leave the house, put the spray bottle in front of the plant and the cat will leave it alone. At least it worked with our cat.
How can I keep a cat away from my houseplants?
By Pamela from Shreve, OH
February 26, 2011
0

found this helpful
My calico was eating my plants. I tried Febreze, and air fresheners to keep her away. Then I saw the Purina cat food just for indoor cats, and I got that, have been feeding that to her for over a month now, and she has completely stopped eating my plants. There is something in that food that satisfies their urge to chew on plants,if they were inside-outside cats, they would chew grass to get it out of their systems. But my Isabell is inside only, but let me tell you, this stuff works! And it is no more expensive than the regular Purina cat chow. Try it!
February 5, 2014
0

found this helpful
Cats hate the smell of citrus. Put a few orange,lemon or lime peels around the base of the plant. No more worries. Hope this helps.
How do you stop cats from pooping in houseplants?
Read More...
Simple, but very effective! After years of trying almost everything to stop Brooklyn, our cat, from leaving his deposit in my overwintering houseplants I finally hit on this method which seems to have stopped him in his tracks.
Related
© 1997-2016 by Cumuli, Inc. All Rights Reserved. Published by
ThriftyFun
.
Page
generated on September 24, 2016 at 5:55:20 PM on 10.0.2.170 in 4 seconds. Use of this web site constitutes acceptance of ThriftyFun's
Disclaimer
and
Privacy Policy
. If you have any problems or suggestions feel free to
Contact Us
.