Fleece fabric is a good choice for making a blanket, it is soft, warm, and easy to work with. This is a guide about making a fleece blanket.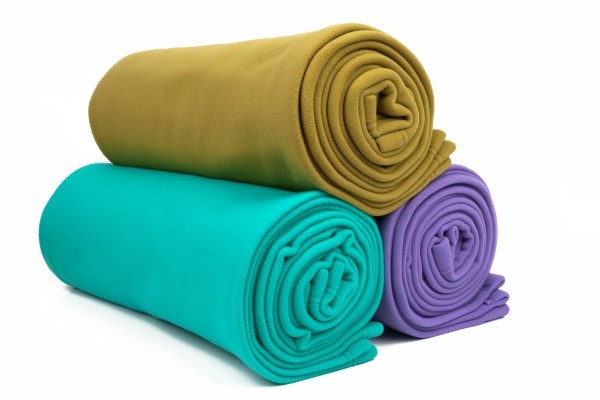 Filter

: All Articles
Sort

: Relevance
I made my husband and I fleece blankets for Christmas a of couple years ago. My daughter really wanted one (and I wanted her to learn to sew) so we picked this as her first sewing project since it's a very simple, forgiving project with a big fuzzy reward :)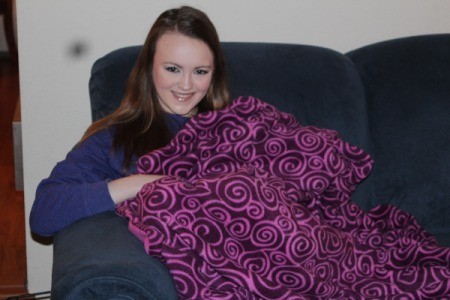 Supplies:
2 yd 60-inch wide fleece for front
2 yd 60-inch wide fleece for back
thread
sewing machine
scissors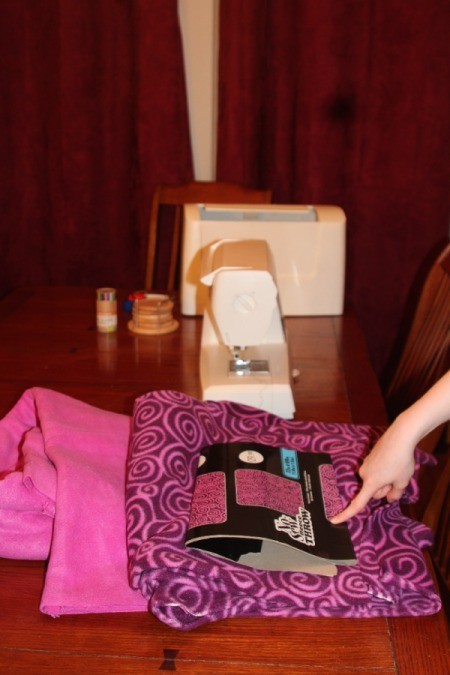 The No-Sew fleece sets are a huge savings over buying the fabric separately. The fabric store was selling the sets at 50% off, plus a 15% off purchase coupon, so I was able to get all the fabric for $12.75. Fleece fabric by the yard was running $15/yard, so the kit was a significant savings over buying the 4 yards of fabric separately.
Steps:
Place fabric, pretty sides together, and pin along the edges. I skipped this part when I made mine, but it's a good idea for a first project.
Show your teen how to thread your machine.
Start in the middle of one of the long sides. Sew about 1-inch in from the edge since the fabric will have a rough edge.

I taught my daughter to lock the thread by going forward/back/forward, even though my machine has a lock option. I also showed her that it's actually easier to sew straight if you put the pedal to the metal rather than trying to be super slow and cautious. We also learned how to use the seam ripper!
When you get to the corner, you can either sew all the way to the end of the fabric then start at the end of the short edge to sew straight, or I showed my daughter how to have the machine end with the needle in the down position and pivot the fabric.
Continue all the around the blanket. Stop stitching and lock your thread about 5 inches from your starting point.
Trim off extra fabric from around the edges.
Pull the fabric through the hole so that the pretty sides are now facing out. You can use the eraser side of a pencil to help push out the insides of the corners.
Whip stitch the opening shut. I showed Jenna how to start with the knot on the inside. Try to keep small, even, discrete stitches.
Cuddle with blanket. This is her brother doing what he called a "cuddle bomb".
I had, by mistake, just got into making fleece blankets for pets of all kinds. I found out that even cats love the fleece feel. My sister has two dogs and one of them is a retriever. She had bought him expensive bed that looks so comfy and guess what? For Christmas, I made him a nice big blanket and he won't go off it unless he is hungry or has to go out. LOL
I am doing well with these blankets and the best thing is that the pets are very happy. Easy to care for and washable lasts for long time. Then with the scraps of fleece, I just tie them together to make a rope. These puppies LOVE to play tug a war. They too last forever and are washable. So here your pet is one happy dude.
By Jill from Lake View, NY
This is a guide about adding a crochet edge to a fleece blanket. If you crochet, you can dress up the edge of a simple to make fleece blanket.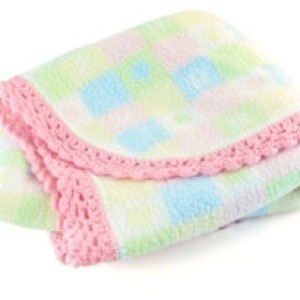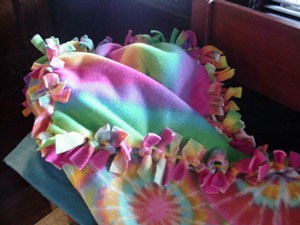 This is a fleece blanket made from 2 different patterns put together (right side out.) 1-1/2 yds each.

Cut all around edges 4-5 inches deep, 1-2 inches wide.

Tie together (I double tied this one)

By Alma
I used to be 5 foot 6 inches, but now I am possibly 5 foot 4 inches since I got old and started shrinking. I have always had trouble with the fleece throws you buy at the store. Most are not long enough for me, let alone my 6 foot 4 inch son or my 5 foot 11 inch daughter-in-law.
I stewed and fussed about this for a long time and finally got some fleece fabric in 2 1/2 yard pieces and made throws for the whole family. Since fleece doesn't ravel or fray like woven fabrics a hem wasn't necessary. I just straight stitched around all 4 edges to keep the shape of the fabric stable. If you want to you can spend all that extra money on blanket binding but that really isn't necessary.
The very best part is they love them! DH brings up what a good idea that was every time he sprawls out on the couch. I found my fabric on sale and I already had miles of thread so it didn't cost a great deal to bring all this pleasure.
By MartyD from Houston, TX
A group of us ladies are planning to make fleece lap blankets for a local nursing home. We need to know what is a good size for those in a wheelchair. The fleece is 59-60 inches wide and we would like to make as many blankets as possible with as little waste as possible.
By Pam from Seminole, FL
September 1, 2010
0

found this helpful
I used to volunteer in a nursing home and the blankets should be as long as the legs are, and wide enough to cover the whole lap, and maybe tuck in on the sides. If they are too short or too narrow, they will not be used. Sit down in a chair and measure yourself from side to side across your widest part, and then measure from your waist to your ankle. Add a couple more inches for good measure.
If you have to cut some fabric off, cut the strips into squares and then mix and match them with other scrap and sew them together to make quilts out of them. Or an easier method would be to sew all the strips together and leave them stripey.
September 3, 2010
0

found this helpful
I use 1 and 1/2 yards for each side & it seems to work just right!
September 28, 2011
0

found this helpful
Annacakes reply is good. I have a male family member in a rehab / nursing home facility and lap blankets are great. Be sure that there are some for the men, and be sure you have some for the larger patients. If you are making for one facility, you might consider asking the activities director if they have any plus-size adults.
Read More Answers...
I need an easy pattern for fleece lap blankets for the elderly. I would like to make some as Christmas gifts. Could someone help me please? Thanks.
By Martha
November 19, 2011
0

found this helpful
Google making lap blankets out of fleece, you will find all kinds of directions.
I need to make my baby a fleece blanket, but I only have a yard of fleece and then a yard of sheet like material. Will I still be able to make it?
By Kelly from Summersville, WV
September 30, 2010
0

found this helpful
If you are talking about the tied fleece blankets, you won't be able to make one like that, but otherwise you can cut the two pieces together, like you would for a quilt. You could use the fleece alone, and just use a narrow hem to finish the edges. You wouldn't even have to finish the edges because fleece doesn't fray, however, a finished edge will give a nicer appearance.
October 8, 2010
0

found this helpful
Of course you can make it. Just use the fleece and put a blanket binding on the edges that match.
If you are in the the coldest parts of the country, you can put the sheet material on the back, use your sewing machine to stitch across it a few times to keep them even and together, and then put the blanket binding on.
I need directions for making a fleece lap blanket for a nursing home patient. I saw a blog about it and was instructed to contact ThriftyFun for directions. Thanks!
By Kathy
September 30, 2011
0

found this helpful
I am not that good at giving specific directions, but my sis-in-law makes them. She uses 2 different colors of fleece, cut the same size. Then she pins them together, and makes cuts into the edges about 2-3 inches deep, and about an inch apart, making what looks like a chunky fringe.
Then you just tie the fringes of each piece together, like tying your shoes. That way the 2 pieces of fleece are attached, without any sewing. She uses colors appropriate to a person or season, such as one piece camo, and one piece hunter orange or green, to give to the hunters or men in the family. They are wonderfully warm, she has given us 4 over the past 5 years, and I love them, as I have a problem with my legs getting cold, no matter the weather!
Best of luck to you with this project.
You can even make smaller pet blankets using the same procedure.
This guide is about making fleece tie blankets. You don't even need to know how to sew to make these blankets with just some sharp scissors, the fabric, and lots of tied knots.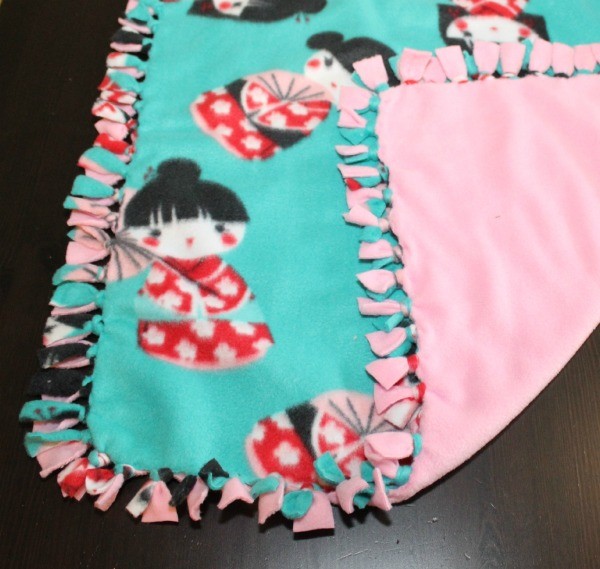 I am looking for a fleece blanket pattern. The blanket has a hood in the middle of the blanket on the side. I have found the same idea for camping but it is plastic and has no pattern. I have seen this idea for people who camp a lot or live in cold weather - you can use it as a throw or wrap yourself up in it with a hood for your head. I hope this description is sufficient enough. t

Thank you,
Carrell from Vacaville, California
December 26, 2005
0

found this helpful
Hi,
if you sew even a little bit this is an easy item to make.
Just take a fleece blanket or buy fleece about 54inches wide fold in half to find center.Mark with a chalk mark or a pin.
Cut (2) of a matching or contrasting color of fleece in a generous size D shape.Cut bottom of D straight across .This will be the hood. Sew the back seam (rounded part of D shape.Fold over about 1/4 to **1/2 inch on face edge of hood** and stitch in place. Press open the lower edge of back seam on hood & with right sides together,sew hood seam to center of blanket. you are done!
**If you want to you can put a cord through space seam in front has left so you can tie your hood.**
If you want send me a message and I can make one for you,if need be.
I am not a "crafty" person but I still wanted to figure out how to make some gifts for Christmas and save a bit of money at the same time. I found the ideal thing for those people like myself who are not talented at making nice gifts.

Try fleece throws! You don't have to do any sewing at all! All you need is the fleece and a good pair of scissors! Then just tie! It's easy and everyone loves them! There are even kits in some stores, though they are sometimes more expensive than just buying the fleece.

If you think you need some instructions to follow it would be worth buying the kits. Otherwise, just ask around or go on the internet for instructions on how to make these beautiful, warm throws for gifts. I haven't found anyone yet who did not love them!

By Robin from Washington, IA
Answers:
Making Fleece Throws
When you make the fleece throws, you need to by 48 inches of 2 types of fleece (coordinating colors) one for the front and one for the back. Remember to cut out 4-5 inch squares from each of the 4 corners to keep the corners square when you are finished. (Try a piece of paper first and you'll understand why.) Then cut 1 inch strips of both pieces of fleece all the way around the 4 sides (I cut mine together) and then tie all the way around. Hope this helps. (11/22/2005)

By Tuppertil
Making Fleece Throws
What do you mean "tie" - where do you tie? I would like exact, specific instructions, because there is no photograph of the finished throw. (09/11/2006)

By Mary
Making Fleece Throws
When you cut the fleece into strips, you tie each strip together to the opposite side of the fleece you cut. (09/11/2006)

By imaqt1962
Making Fleece Throws
Oh, I think I've figured out what you're getting at! My compliments, it's pretty clever. Basically, you're making a 2-ply blanket. Here's how it's done:

Get two pieces of fleece, 10 inches longer and wider than you want (example: if you want a blanket that's 36 inches on a side, get two pieces of fleece that are 46 inches on each side). Two contrasting solids, or a pattern and a coordinating solid would probably work best.

Cut a 5-inch square out of each corner of each piece. You should end up with two pieces of fleece that look like really fat plus-signs (in addition to eight 5-inch squares). Set the squares aside for another project. Iff you can sew, they would probably make a nice matching 2x2 pillow or possibly a stuff-sack if the blanket fits in it.

Cut 5-inch long fringe at 1-inch intervals on all four sides of both pieces. You may want to faintly mark this out on the wrong side of the fleece with chalk or pencil before cutting.

Be a "little" anal-retentive about this, because you'll need to have the same number of fringe strands for each piece.

If you started with two 46-inch square pieces, you should end up with two 36-inch square pieces that have an extra 5 inches fringe on all four sides.

Put the WRONG sides of both pieces together so that you have two layers. Each strand of fringe in any given layer should have a counterpart on the other layer.

Using an overhand knot (the kind of knot you use to keep the end of a string from fraying) tie one strand of fringe from each layer together so that it resembles a tassel. (Remember how we said that the number of fringe strands on both pieces should match? This is why.)

Continue around the blanket until all the fringe is tied off.

Tah-dah!

This would be a great gift for someone who just got a new car -- especially if the two pieces of fleece match the paint and upholstery! (12/03/2008)

By Clueless