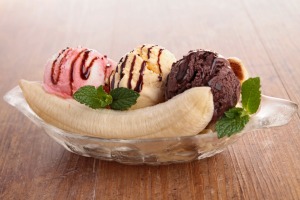 Perfect for sharing, the banana split is delightfully simple dessert to prepare. Put your own spin n this classic dessert by combining your favorite ice cream and topping flavors over a sliced banana. This is a guide about making a banana split.
Ad
---
Solutions: Making a Banana Split
Read and rate the best solutions below by giving them a "thumbs up".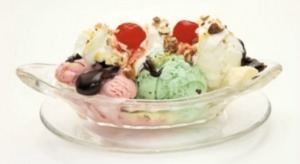 I started a tradition when my oldest son was 4 years old. Since our "sweethearts" are our children, we celebrate Valentine's Day by having banana splits for dinner! I make sure to have anything a person could desire for toppings. Our dining table looks just like a malt shop. (You should see the huge bowl of cherries that adorns the center of the table!) All with the benefit of having a fun intimate family meal, and the cost is the same or less than what we would have spent if we went to eat at an ice cream shop. And we get to keep the left over ingredients!

Valentine's Day is the one time a year my children can look forward to eating dessert for dinner, just as they count on turkey for Thanksgiving. It's a treat we all love! Now, we have a brood of 15, 10 and 4. We've been celebrating Valentine's Day with banana splits for 11 years and my kids proclaim they will pass this family tradition down to their own children some day!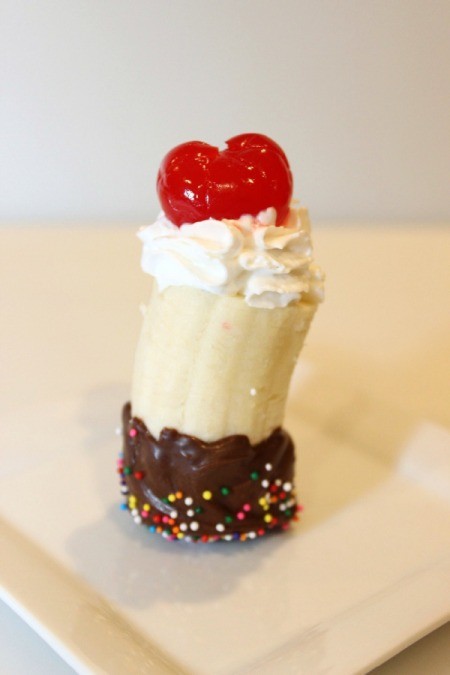 If you love banana splits then you will surely love this mini bite size version. Perfect for a party or just a quick dessert.
Ingredients:
bananas
Wilton Candy Melts (milk or dark chocolate)
sprinkles
whipped cream
cherries
wax paper
Candy Melts warmer, optional
Ad
---
Steps:
Melt Candy Melts according to package directions or in Wilton warmer.
Cut bananas into pieces, about 2 inches long. Trim the ends so that the banana pieces will stand up straight when set on their end.
Dip one end of each banana piece into the chocolate and set them on the non dipped end on wax paper.
Sprinkle with sprinkles and allow chocolate to harden. NOTE: You can place the bananas into the refrigerator or freezer to harden the chocolate more quickly.
Once you are ready to serve them, stand them on the dipped end. Top with whipped cream and a cherry. Enjoy!
Ingredients
2 1/2 cups crushed cornflakes
5 tsp. butter or margarine, melted
4 tsp. finely chopped pecans
5 cups vanilla ice cream, softened
5 medium ripe bananas, quartered
1/2 cup chocolate syrup
whipped topping or maraschino cherries
Directions
In a bowl, combine the cornflakes, butter and pecans. Drop ice cream by 1/2 cupfuls into cornflake mixture and roll into a ball. Place two banana quarters in each dessert dish. Top with an ice cream ball, chocolate syrup, whipped topping and a cherry.
By Robin from Washington, IA
Give a "thumbs up" to the solution that worked the best! Do you have a better solution? Click here to share it!
Questions
Here are questions related to Making a Banana Split.
I need a dish to serve banana splits in for my Red Hat party. Does anyone know if the paper/light-weight cardboard "boats" (like the ones hot dogs or fries are served in) are waterproof enough to serve an ice cream dessert? If not, any other ideas of a dish to use? I need about 25 for our group, but the plastic banana split boats at the restaurant supply come in stacks of 250 - way too many for our use.
By Melody from Oak Ridge, TN
Ad
---
---
Most Recent Answer

By Melody Bressler-Hay [19]07/28/2011
Thanks for all the input. Did get some sample paper boats and they held up pretty well for anywhere from 5 minutes to about 15+. It was very individual and they were all the same company, too. This might work well for a kids party where they inhale the food, ice cream included but not for my Red Hat ladies - we talk too much while were eating to finish in 5 minutes (and the talking is the best part! :-} )