Making a Door Draft Stopper
Older homes often have air leaks under doors and windows. One way to deal with this rather then replace the door is to use a draft stopper. This is a guide about making a door draft stopper.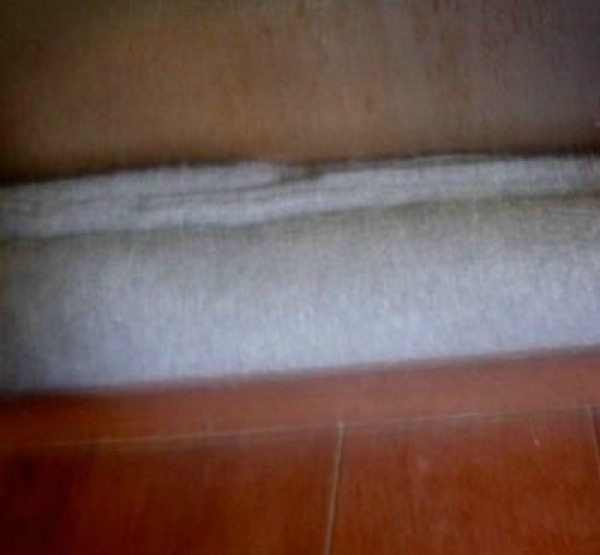 Filter

: All Articles
Sort

: Relevance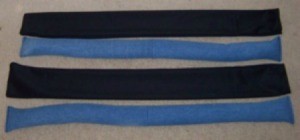 I made two draft stoppers from a clean pair of my husband's old worn out jeans by cutting off both legs. I stuffed them full of white rice. I also made two sleeves so they could be thrown into the washer, when they got dirty.
By MCW from Lewiston, NY
Susan from ThriftyFun
1

found this helpful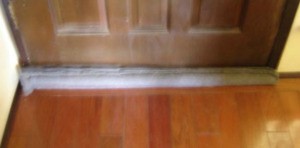 With all the frigid weather in the northern parts of the U.S. I thought I'd better get this one online.
I got tired of my draft guard not staying where it belonged, next to the bottom of the door keeping the cold air out. It was either being moved by my cats or being pushed out of the way when I opened the door to leave. It would remain away from the door until it was noticed or I came back home.
I needed something that weighed enough to stay put but also would allow me to open and close with the door. Here's how I solved the problem.
Materials:
Polar Fleece (I bought remnants - you will need a piece about 1 foot long and the width of your door)
Window shade (36 inches or as long as your door is wide)
Sewable Velcro strips
Directions:
Double the polar fleece and wrap it over the window shade. You can leave the plastic on it or tape it closed if you use an old one. A 2 inch dowel (36 inches long or a 2" x 2" x 36" piece of wood would also work.)
Put the material around the shade and mark or pin it where you would sew your seam.
The velcro is a little tricky. You will want to glue the velcro onto the door, or you could staple or tack it. Put it up an inch from the bottom.
Put the other side of the velcro on the polar fleece. On mine I had the seam on top and pinned the velcro on one side of the fleece near where the seam would be.
Make sure that the two sides of the velcro will stick to each other when you put the draft guard next to the door.
When you are sure it will work, stitch the velcro on, sew the long seam, either by hand or by machine. Insert the window shade and sew up the ends.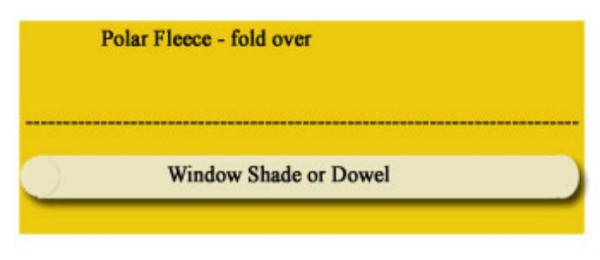 Stick it to the door by matching up the velcro on the door and the velcro on the guard.
I hope I've explained this well enough. We made it last year and other than the cats occasionally pulling it away from the door or someone kicking it so it comes off the velcro, it has worked very well.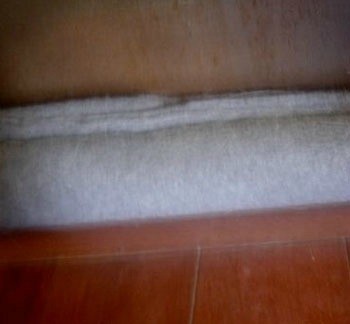 Susan from ThriftyFun
How can you make an effective door draft stopper for the sliding patio door?
By Joyce M
December 3, 2014
0

found this helpful
We have a problem with air coming in where the two doors join in the middle on our sliding glass door. I made a draft stopper using a hot water pipe insulation tube. I cut it to fit the length of the door track. It's round and stays in the track with no problem. I cut a smaller piece to fit where the door stop is. On that piece I cut the bottom so it will sit flat on the door stop. This stopped all of the draft of cold air coming in from that door.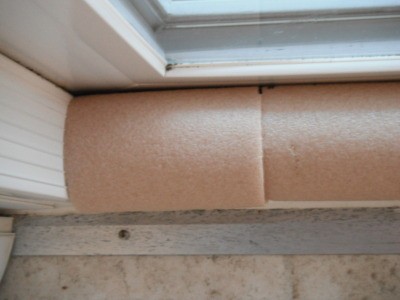 December 3, 2014
0

found this helpful
If it was me, I'd try weatherstripping the whole thing really well with foam tape, then getting insulated curtains.
We all have socks with mates that have disappeared in the big black hole where all socks go. Most people know that these unmatched socks make great dusters and cleaning rags but how about filling one tube sock with clean kitty litter and using it as a Draft stopper at the bottom of your door?
Instead of spending money on cute little draft stoppers to place at the bottom of your doors, make your own. You can roll up a scatter rug for each door, and secure it with string or yarn. I have a collection of "rag" rugs that I use for this purpose. They are perfect, and easy to roll. When the draft stoppers are no longer needed, I cut the strings, wash the rugs, and save them for next year.
I want to make a door draft stopper. Any ideas? Thank you.
By Barbara from Union Mills, NC
January 19, 2011
0

found this helpful
Take a 4-5" wide strip of strong fabric and measure it about 3" longer than the width of the door. Sew the end shut and then down the length, double seamed. Fill with play sand, cat litter or something non-food, till about 4" from the end. Secure end and sew, by hand if you have to (the tube is kind of heavy by then). Lay it down in front of the door, molding the sand around the drafty bottom. When you don't need it, pick it up in the middle and the slack in sand will let you hang it over the knob.
Problem Solved!
Hope that helps.
PBP
January 20, 2011
0

found this helpful
Don't want to intrude to posts already here however I have found using sand eventually will flatten. Using cat litter is dusty. I have crocheted several of these and have used beans such as pinto beans. They are inexpensive and don't create dust nor flatten. They are heavy enough to stay put but light enough to move when needed. If you do not crochet, but sew, the dollar stores have inexpensive towels. Just sew those together and fill with beans. Let us know what you have tried and how it has worked out for you!
February 26, 2011
0

found this helpful
I made my door draft stopper out of foam pipe insulating, it comes in sticks and is fairly cheap.
I made mine to look like the ones they advertise on t.v. Just make a long rectngle the size to fit your door(I used a leg from an old pair of jeans) then sew straight down the middle to form two long "pockets" then cut your foam to fit your door,slide foam into pockets and slide onto bottom of door. It stays put when you open & close the door.
If this winter, you need to stop cold air from entering under your door, simply stick paper tape to the bottom edge of the door. Not under the door but simply on the inside edge of the door. . .
If you have doors or windows in your home that let in the cold winter air, here is a very simple draft stopper idea that I use. I purchased 1 yard of fleece fabric from the "bargain" table. This 36 inch length should work at any exterior door.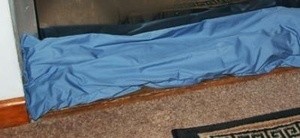 Slow down the cold drafts coming in through your doors with this easy craft.
Approximate Time: 20 minutes
Supplies:
Fabric
Thread
Sewing Machine
Old blanket or other filling
Instructions:
With cold coming and many of us looking forward to expensive heating bills, it's time to winterize!
We have a sliding door that can let in a draft, so I took some fabric I received for free from a neighbor and cut it to fit the threshold (allowing an extra inch for the seam).
Next, I sewed up the long side and turned it inside out. Using an old, thick blanket, I rolled it up and placed it in the door pillow. I then turned the two small ends in and sewed them up. Presto! The vertical blinds easily disguise the door pillow.
By Ci Ci from Yakima, WA
I saw somewhere that you can use pipe covers to make a draft snake. Something to put between the doors to cut down on drafts. Does anyone know how to make one? Thank you.
By Margie from Lake Orion, MI
December 7, 2010
0

found this helpful
Pipe covers come with a slit on one side. Just open the slit, 'cover' the bottom of the door with the pipe cover; close the door and the pipe cover will stop any air from coming in or leaving.
Related
© 1997-2016 by Cumuli, Inc. All Rights Reserved. Published by
ThriftyFun
.
Page
generated on August 21, 2016 at 7:24:46 PM on 10.0.2.241 in 6 seconds. Use of this web site constitutes acceptance of ThriftyFun's
Disclaimer
and
Privacy Policy
. If you have any problems or suggestions feel free to
Contact Us
.