With all the frigid weather in the northern parts of the U.S. I thought I'd better get this one online.
I got tired of my draft guard not staying where it belonged, next to the bottom of the door keeping the cold air out. It was either being moved by my cats or being pushed out of the way when I opened the door to leave. It would remain away from the door until it was noticed or I came back home.
I needed something that weighed enough to stay put but also would allow me to open and close with the door. Here's how I solved the problem.
Materials:
Polar Fleece (I bought remnants - you will need a piece about 1 foot long and the width of your door)
Window shade (36 inches or as long as your door is wide)
Sewable Velcro strips
Directions:
Double the polar fleece and wrap it over the window shade. You can leave the plastic on it or tape it closed if you use an old one. A 2 inch dowel (36 inches long or a 2" x 2" x 36" piece of wood would also work.)
Put the material around the shade and mark or pin it where you would sew your seam.
The velcro is a little tricky. You will want to glue the velcro onto the door, or you could staple or tack it. Put it up an inch from the bottom.
Put the other side of the velcro on the polar fleece. On mine I had the seam on top and pinned the velcro on one side of the fleece near where the seam would be.
Make sure that the two sides of the velcro will stick to each other when you put the draft guard next to the door.
When you are sure it will work, stitch the velcro on, sew the long seam, either by hand or by machine. Insert the window shade and sew up the ends.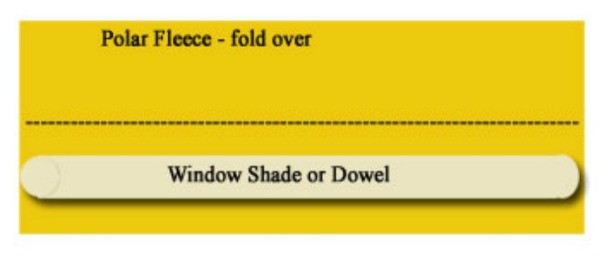 Stick it to the door by matching up the velcro on the door and the velcro on the guard.
I hope I've explained this well enough. We made it last year and other than the cats occasionally pulling it away from the door or someone kicking it so it comes off the velcro, it has worked very well.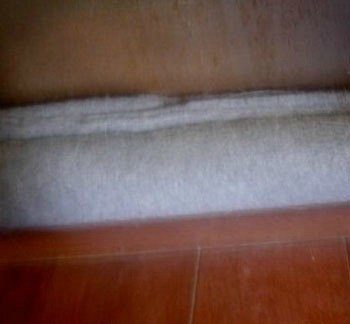 Susan from ThriftyFun