Making a Quilt Out of Clothing
An inexpensive way to make a quilt is by using old clothing. This is also a great way to preserve special clothing, whether your own or maybe your children's old clothes. This is a guide about making a quilt out of clothing.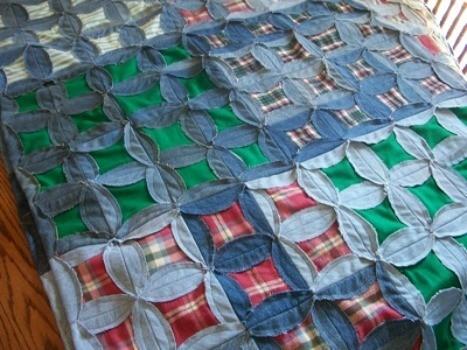 Filter

: All Articles
Sort

: Relevance
This is a quilt I made using denim jeans and some flannel flat sheets.
Approximate Time: 14 days
Supplies:
denim jeans
sewing machine
sewing threads
flannel sheets
scissors
cardboard 4 inch square
plastic 6 inch coffee can lid
steam iron
Instructions:
For a picnic sized quilt that measures 79 x 79 inches, cut 400 circles from denim and 400 squares from flannel.
Join 4 circles and sew square centers in, sewing the "scallops" down in a zig-zag stitch to secure.
I make blocks and find it easier in joining the pieces later as the quilt becomes heavier. This quilt has no batting.
It weighs 5 lbs. and is quite warm for summer or winter.
Machine wash.
By Monica from Cortez, CO
How do I make a quilt out of old clothes? What size are the squares suppose to be? After I sew them together what is my next step? My mother just passed away and I really want to make a quilt out of her clothes.
By Connie from Canton, GA
November 14, 2010
0

found this helpful
My sister makes the cutest vests from acquired fabrics. Lightweight fabrics can be cut in to thin strips for crocheting a cloche or toque a trendy item the kids are wearing these days.
November 18, 2010
0

found this helpful
If some of the clothes have fancy areas, I would try to make my squares in such a way as to incorporate them. Example, if something had a lace collar, I would cut a square that included the collar. If you wanted, you could sew it flat first. Don't forget to add seam allowances when cutting out squares, usually 1/4 to 1/2 inch. There is also crazy quilting on a recycled sheet the size you want for backing. Each piece is laid fronts together on another piece, stitched on one edge, flipped to hide the seam, repeat adjusting pieces to fit backing. Then machine or hand-quilt to backing. Add binding (satin blanket binding can be purchased in most chain stores), or just make the top a few inches smaller on each side and fold press and stitch the backing as a self-binding all around.
Read More Answers...
I have several old sweaters that my family and I love and would like to recycle or re-use. I want to put large squares from the sweaters together to make a king-sized quilt.
Can I stitch the blocks of sweaters before cutting them apart, to keep them from unraveling, then cut them out, and attach them to each other by stitching them along the prior stitch line?
I do not knit at all and have very little experience sewing. I only know how to make some hand stitches, and I don't have a sewing machine.
If my idea is ridiculous, please advise me how I can do the "quilt" or submit these sweaters to someone else to do it for me.
By Miss Bonnie from Denver, CO region
October 22, 2011
0

found this helpful
If you go to buy a used sewing machine please take a sewing person with you as you could end up with nothing and have spent your money. I rebuild old machines and can find a lot that have a little wrong with them for 20 dollars but you have to know how to use one to buy used.
Go to a Sewing place that fixes machines and 50.00 with a 30 day guarantee is a good price and you are covered and they will instruct you or you can order a book if one doesn't come with it by googling the name of the machine. You seem to be wanting to tackle an awful big job so be careful, get some help.
May 2, 2016
0

found this helpful
Your question gave me a brilliant picture of a "quilt" made from sweaters! OOOOOO! cozy!!
Try going to a quilt shop with your idea and find a class to join. It could be the start of a wonderful new hobby for you!
Read More Answers...
My mother had a few dresses she wore a lot. After she passed away, I got the idea to make a quilt top using the clothes, but I wanted to keep the pieces large. I was thinking of maybe cutting a dress long ways down a seam so you could see the buttons. Maybe put her apron in. The problem is I have never quilted, so I don't know if a quilt of this type is possible.
By JoAnn
January 13, 2014
0

found this helpful
It is possible, and what a lovely way to keep your mum's memory alive! You can use her blouses or perhaps a lovely bodice (top part of a dress) to make a coordinated pillow (or first project to learn quilting without the daunting prospect of a entire bed quilt).
See the following link for a great quilting site with numerous beginner quilter pages, and a fantastic forum to ask for special help:
I hope when your project is finished you will post a picture.
May 2, 2016
0

found this helpful
Wonderful idea!!! A local quilting shop or the Quilt Guild can help you along with this!! Great idea, don't get discouraged, and you can accomplish this project!!!
Ask one of the elder family members to let you take their old shirts or dresses. Cut them up into strips or squares and make a quilt for the persons child or grandchild. It doesn't have to be fancy. What a treasure this was for my stepdaughter to get a quilt made out of her daddy's old shirts.

There are books in the library to show you how to do a very simple quilt for those who don't sew.

By Ardis Barnes
A friend gave me some sweats she couldn't wear anymore, but they didn't fit me or anyone in my family. I decided to try to make a quilt. I used light green, black, and red sweats and made a lap quilt. It's really warm and great for using during trips. I used it during a recent bus trip to Atlanta.
By joaniemee from Mayodan, NC
When I no longer need an item of clothing, I cut it apart at the seams and use the pieces to make quilt squares. I only use 100% cotton, that has been washed many times and will no longer shrink. I store all the same colors in a box for each color. This cuts down on spending, and I make a one of a kind memory quilt.

By Janet from Bradenton, FL
Make a quilt easily and cheaply. Use a flashy fabric for the top made from cheap clothing from the second hand shop. Use a mattress pad for the batting, and a nice fleecy or soft bedspread for the backing. Sew together and put a few ties into the center for stability, you'll be surprised at how warm and pretty these are.
I collect fabrics like velvets (friends give them to me for my quilts), or sweat shirts to make "theme" quilts. I've made lovely gifts like this for nearly no money.
By Katy B. from Dowagiac, MI
For an easy Christmas gift, save your used children's clothes. Cut out as many squares and sew them together to make a front cover for a quilt.
I have made a quilt out of my son's favorite graphic T-shirts. I just kept saving the shirts. When we had a few dozen, I cut huge squares with the designs, and the plain sides the same size.
When my boys were small they loved wearing the character socks (Batman, Spiderman, Looney Tunes, etc.) As they grew older or wore out a pair, I saved them to make a quilt. I'm going to use the socks that don't have holes in them to make a "wheel" pattern and use solid fabrics as the background.
I have a lot of my late mother's clothes and would love to make a beginners quilt out of them. Does anyone have directions to share?

Debra from Hampton, Tenn
Answers:
Making A Quilt Out Of Clothing
How detailed do you need the directions? I started out with a book called "Quilt in a Day" and although it called for yards of fabric you could still use what you have. It is the Log Cabin pattern and uses strips sewn together to make blocks. This book has very basic instructions that almost anybody could follow even if they can barely sew. Or you could just cut blocks whatever size you want and.. Anyway, how much detail do you need? Do you already sew? (07/14/2008)

By Glenn'sMom
Making A Quilt Out Of Clothing
I would cut blocks and sew together. Nothing simpler. I cut dad's shirts to make a sunbonnet Sue quilt to honor him. The quilt is still in progress after five years. It is a wonderful way to honor someone and the fabrics bring back memories. (07/15/2008)

By sunshineRose
Making A Quilt Out Of Clothing
Try both of these links:

scrapquilts.com (07/15/2008)

By Deeli
Making A Quilt Out Of Clothing
I made a quilt from my dad's clothes and it turned out great. I had never quilted before. I cut 6 inch squares (using a quilt ruler and a rotary cutter) and sewed them together in rows, and then sewed the rows together. You can make it as long or wide as you wish. This is the quilt top. Then put quilt batting (all in one large piece) behind the squares you have sewn together. My dad was a railroader, so I bought a print material with pictures of all kinds of trains for the backing. Then I put quilt binding around the edges to hold the 3 layers together. Then I took yarn and tied every other square to hold the 3 layers together and keep the batting from moving around in the quilt. Good luck. I hope these instructions help. I have since made 3 more for friends of mine when their parents passed away. (07/15/2008)

By Joy
Making A Quilt Out Of Clothing
Just a note to say my cousins made teddy bears of material quilted from their mom's dresses. So they all have a keepsake. Really a nice idea I thought. (07/16/2008)

Making A Quilt Out Of Clothing
I once made little suit coats for new teddy bears, out of a sport coat from a friend's dad. I kept everything in plastic as much as possible because she said the sport coat still smelled like her Daddy. I know the fragrance didn't last forever, but she and her sister had a extra sweet remembrance and a special bear from "Daddy". (07/18/2008)

By OrahLee
Making A Quilt Out Of Clothing
As a Newbie, too, "Quilting for Dummies" has been my best friend. Some important points include: cut same-size squares, allow for 1/4 inch hem, try to use the same material so laundering will not be a problem, and set the length of your stitches medium to long. I began sewing the squares together using a small-length stitch, and the squares detached themselves as though they were connected using perforated paper! And, to ensure hem lines are all 1/4 inch, and sewn straight, measure 1/4 inch on every side and put a strip of masking tape down, this serves as a good guide. (07/15/2010)

By dmatuzak
© 1997-2016 by Cumuli, Inc. All Rights Reserved. Published by
ThriftyFun
.
Page
generated on July 21, 2016 at 9:53:24 AM on 10.0.2.116 in 2 seconds. Use of this web site constitutes acceptance of ThriftyFun's
Disclaimer
and
Privacy Policy
. If you have any problems or suggestions feel free to
Contact Us
.