The NutriBullet can be used to make nutritious drinks from whole fruits and vegetables. This page contains NutriBullet reviews.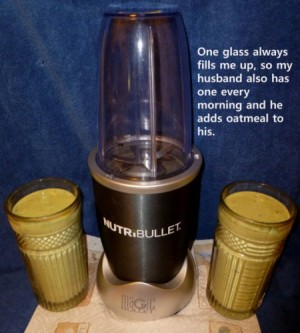 My husband finally convinced me that we should order the NutriBullet that he had seen on the infomercials during the wee hours of the morning. He had spoken about it several times but I never saw the commercial and didn't care enough to waste my time researching it.
Well, let me tell you that I have seen the error of my ways and after having it just for one month I absolutely love it!
First off I'm disabled and exercise is very, very difficult. It also seems like I gain weight by just looking at food. Since we received our NutriBullet both my husband and I have lost over 10 pounds each and I haven't felt this healthy in a long time.
I also have very bad teeth from certain medicines that I had been taking when I first got sick and though I'm seeing a specialist, it has been very hard for me to eat properly.
I can honestly say that I am never hungry. What I really like about the NutriBullet is I can put all sort of vegetables, fruits, nuts, etc. in without having to peel anything. I do peel bananas and oranges though.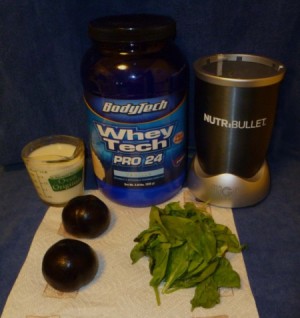 In the morning, I fill it half with fresh spinach, a banana, and my secret ingredient (Whey Protein Powder). Sometimes I add water, Crystal Light, or milk. Some liquid does need to be added and when I'm done sometimes I'll add a couple of ice cubes to thicken it up.
I always buy vanilla Whey Protein because it blends so well with everything I make and tastes like a shake. Now, NutriBullet doesn't mention anything about adding the Whey Protein, it was something I did on my own but what a difference.
I've tried apples, oranges, cherries, strawberries, blueberries, cantaloupe, peaches, plums, carrots, tomatoes, and sweet potato. They all tasted great. I did try using Kale and celery but didn't care for the flavor so much. The spinach tastes great and once everything is blended you really don't taste it at all, though I do love spinach.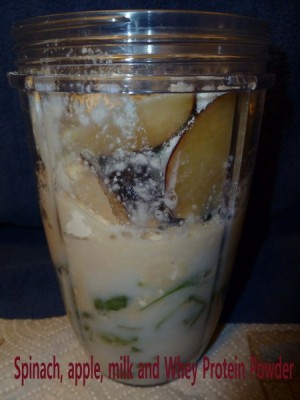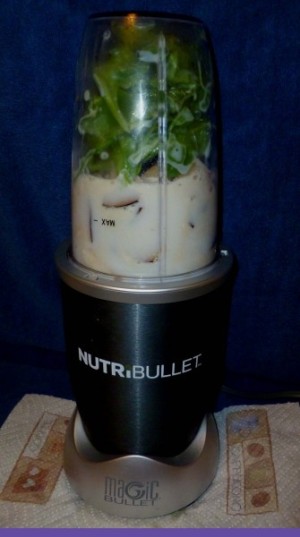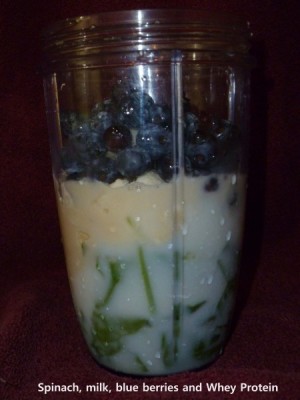 I have a shake for breakfast, any time I need a snack and instead of a glass of milk with each meal I'll have a shake. I can honestly say this is the first time I've ever been able to lose weight and not be hungry all the time.
I was paralyzed for a while and the Whey Protein helps me lose weight while building up my leg muscles. My muscles feel weak but I can definitely feel a difference in them and know I need to work on them. I haven't felt this good in many, many years. It was well worth the 6 payments of $19.99 and when I ordered it online from the company I didn't order all the extra stuff they tried to sell with it.
I can't say enough about how amazed I am with this product. If anything, I wish they made a smaller version of it to take when I travel. Depending on taste, I've added shredded coconut, flax seeds, and even a little brown sugar and loved the taste of each one.
I'm also diabetic and the only time my sugar went up was when I used only blueberries without combining other fruits. The NutriBullet is absolutely worth every penny we paid for it and it's very well built but if something ever did happen to it, I would definitely replace it. Not only would I replace it, I would pay the extra money to have it shipped to me as quickly as possible. Oh yeah, I forgot the best part, it only takes seconds to clean up.
By CaroleeRose from Madison, AL
I'm type2 diabetic. Does the NutriBullet have a diabetic recipe?
By Ron
Answer
Was this helpful?
Helpful?
Yes
Hearty Fruit & Oat Blast
Posted by NutriBullet
Here is a way to get more bang for your breakfast in the morning! I love a good hearty bowl of homemade oatmeal, but I usually dont have the time to cook or I dont feel like dealing with the clean up. Those little instant oatmeal packages have way too much sugar. Ive found a great way to incorporate my oatmeal into my morning Blast and have discovered this hearty fruit & oat concoction.
Oatmeal is a great cholesterol-reducing food. It contains soluble fiber, which decreases the amount of bile reabsorbed by the intestines and reduces the amount of cholesterol in the bloodstream. Plus, it has a ton of vitamins and protein. Now add that to everything a fruit and veggie NutriBlast has to offer and youve got a super-healthy and totally delicious combination!
Strawberry-Smoothie
Check out this tweak to a fruit Nutriblast that adds wholesome oatty goodness:
1 Cup of strawberries, fresh or frozen
1 Banana
½ Cup of old fashion oats
¼ Cup of raw almonds
1 Cup of low-fat vanilla yogurt
2-3 Ice cubes
Water to line
Add all ingredients to the tall NutriBullet cup and extract until smooth.
Now Im getting my fruit with my oatmeal in one drink. What could be more convenient than that? There are so many different combinations. Peach is another one of my favorites with this combination too. What fruit do you like on your oatmeal? Give it a try and come up with your own favorite concoction. Please feel free to take creative liberties; the possibilities are endless!
-Kim Pontius
Bajan Sweet Potato Mash
Posted by NutriBullet
I recently took a much needed and relaxing trip to Barbados. Yes, life is rough The Bajan cuisine is based on fresh fish, vegetables and Caribbean spices. The flavors are a wonderful diversion from what we find here in the northeast. Of course, I returned home and tried to re-create some of the delicious wonders of the tropics for my children and with great success with the following recipe. Sweet potatoes are a staple in Barbados because of their starchy consistency and versatility.
As a second generation Irish American, Ive spent many holidays staring at a bowl full of mashed sweet potatoes smothered with melted marshmallows. As a nutritionist, I still wonder how that originated and was allowed to continue. Ive been trying to find a healthier alternative for a while now, and I think I have finally discovered a fabulous new addition to my familys Thanksgiving table! Its a great side dish for grilled fish, grilled chicken, or broiled shrimp kabobs. Ive made it three times now since returning from Barbados and my children have devoured it each and every time. Try it for yourself!
Reply
Was this helpful?
Helpful?
Yes
Read More Answers...