Birth and wedding announcements, photos, and other keepsakes can be enjoyed more easily if you develop a creative or practical way of organizing them. This is a guide about organizing keepsakes and memorabilia.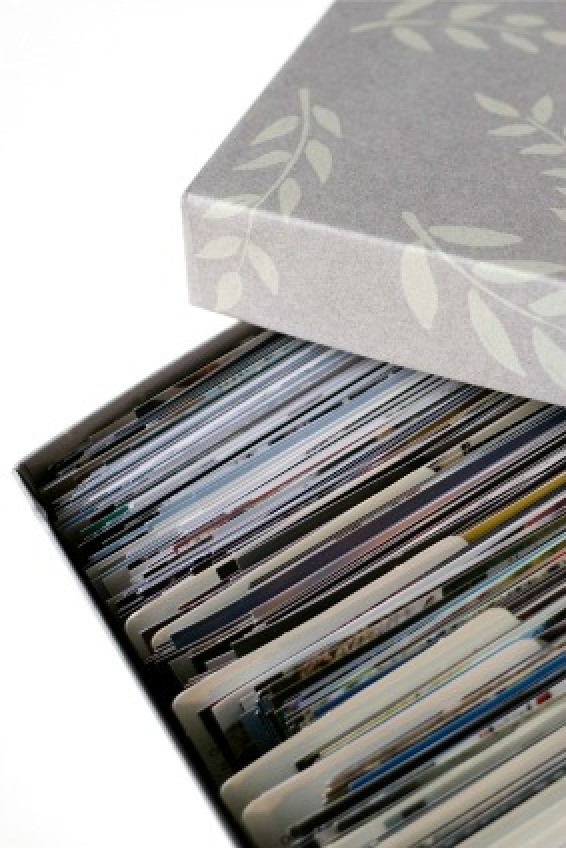 Filter

: All Articles
Sort

: Relevance
I have a memory board. On it, I place pictures of people who have gone to heaven, special obituaries, corsages of my daughters' weddings, a metro card from my trip to New York, old badges from jobs I had and loved, small slips of paper that my children have written over the years that shows me they love me, necklaces from friends, co-workers, and families of deceased people.
I can look at it any time and remember all the good things that people have taught me or the love I felt when one of my four daughters was married. It's just a cork board but it means more to me than a huge bank account ever could. Why not start your own? Makes for a great day starter to jump start your heart and warm your soul.
By maphisx7 from Gordonsville, VA
What is the best way to organize photos and keepsakes? I am a bit too lazy to do scrapbooking, is there a lazy person's way to having nice albums? Is it best practice to put all photos and keepsakes in albums or do people have other methods? I would love to hear your ideas.
By Stellabell from Manchester, WA
Answer
Was this helpful?
Helpful?
Yes
Best Answer
What is wrong with just putting them in photo albums like people used. You can buy photo albums that have pockets in the pages for 4x6" photos and a border on the side to write information on. I have these photo albums and when I have smaller photos I put two in one compartment. I do, do scrapbooking too, but I make photocopies of the the photos for that.
Reply
Was this helpful?
Helpful?
Yes
Best Answer
You can purchase ready made photo boxes at most dollar stores, or make your own from shoe boxes covered with nice paper of your choice, to match your decor. Then you can make dividers if you want, out of manilla folders, cut to fit the boxes, and leaving a tab on which to write the date, year, occasion, etc. Then the boxes look nice and can be left out for everyone to look through.
Reply
Was this helpful?
Helpful?
Yes
Read More Answers...
My daughter came up with the best idea to save her 2 1/2 year old twin boys artwork! They do some kind of art project nearly every day, and the papers were really beginning to pile up at home!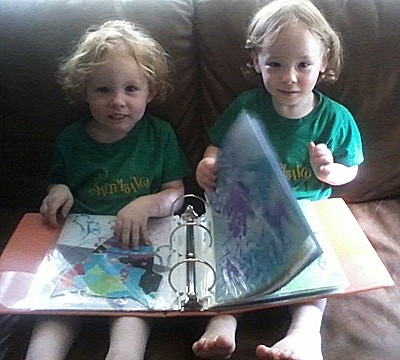 If you have children, you probably have boxes and scrapbooks of things your children made in school that you are keeping. Have you ever wished you had a better way to keep these treasures without having boxes full of these things?
I recently decided to downsize. With that job comes the problem of 'what should I keep and what should I get rid of'? Relax, there is an easy solution to this problem. Why not keep them all? Just get out your digital camera and photograph them? It's an easy way to keep all your treasures without all the storage boxes, just put the pictures of them in a photo album or on a disc.
When a new baby is born in the family, keep the local newspaper that the announcement appears in. Hopefully, this will occur the same day the baby is born. Sometimes the announcements are the next day, depending on the time of birth. Roll the newspaper up tightly and secure with something that will not damage it and place in a zip lock bag.
Give the newspaper to them on their graduation, wedding, confirmation, first communion, etc. They can keep it and read what has happening in their hometown on the day they were born. They can also see all the other births on their birthday. Maybe one will turn out to be friend later in life.
Source: My in-laws did this for our children and then we did it for our grand children.
By little suzy from Millbury, OH
Does anyone know of someone that laminates obituaries or funeral notices? I just lost my nephew, 2 years old, and I wanted to get some made for the family. I use to get them made with a company in TN, and they closed up.
Thanks for your time.
By Diana
Answer
Was this helpful?
Helpful?
Yes
Try your local library. Many have laminating machines. If they do not, they probably know where you can go locally to have it done.
Reply
Was this helpful?
Helpful?
Yes
Read More Answers...
I would like to preserve my father's obituary. Can you give me some suggestions on the best way to do this?

Thank you,
Peggy
Answer
Was this helpful?
Helpful?
Yes
By guest (Guest Post)
Flag
Cadee Inc. Laminated Memories preserves obituaries on your choice of bookmark styles. Color or black & white photos may be added, and a lovely verse of your choice as well. The address is http://www.cadeeinc.com
Good luck!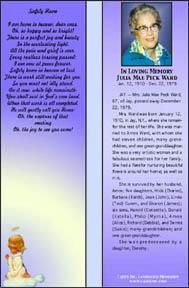 Reply
Was this helpful?
Helpful?
Yes
Read More Answers...
I save obituaries and put them into a small photo album. I made a label for it that says "Obituaries."
By Dottie from Indianapolis, IN
Comment
Was this helpful?
Helpful?
Yes
Turn a shoe cubby into a cutting station for scrapbooking or for a place for filing your genealogy, family history information, and family photos in.
Comment
Was this helpful?
Helpful?
Yes
I am looking for a memory photo board. Does anyone make these? I'm needing one that will hold several photos. Does anyone have an idea where I can find one?
By Donita
Answers:
Memory Photo Board
My little girl has a plastic photo holder that hangs on her door. You can put lots of pictures in it. I bought it out of the book Lillian and Vermon. I hope this might help. (11/13/2009)

By mkm1enonly
Memory Photo Board
I purchased two large ones at Walmart for my husband's memorial service. They are quite large. I then made my own captions for each photo of him. I placed his baby pictures, his grade school pictures, his military pictures, our wedding pictures and various holiday pictures on the boards. They turned out beautiful. It's been a little over a year and I still haven't taken them apart yet. (11/16/2009)

By chef4u
Memory Photo Board
Make one your self (I did for a friend who was moving away). Go to Walmart and buy a peice of sytrofoam board the size that you would like to work with. Mine was 30" x 50" - from there I took photograph's of different folks within our congregation, photo's of the place that we worship at inside and out; then after printing them up at home I cut the photo's into differnt sizes and "scotch-taped" them to the styrofoam board along with a computer printed out note of what the scene was of or the person that was in the photo.

For less then $20 and a couple of hours of my time putting it all together I made the receiver very, very happy. I will do the same thing again when someone moves away from the congregation that they had worshiped with. (11/16/2009)

Comment
Was this helpful?
Helpful?
Yes