Organizing Keepsakes and Memorabilia
Solutions
Share on ThriftyFunThis guide contains the following solutions. Have something to add? Please share your solution!
I have a memory board. On it, I place pictures of people who have gone to heaven, special obituaries, corsages of my daughters' weddings, a metro card from my trip to New York, old badges from jobs I had and loved, small slips of paper that my children have written over the years that shows me they love me, necklaces from friends, co-workers, and families of deceased people.
I can look at it any time and remember all the good things that people have taught me or the love I felt when one of my four daughters was married. It's just a cork board but it means more to me than a huge bank account ever could. Why not start your own? Makes for a great day starter to jump start your heart and warm your soul.
By maphisx7 from Gordonsville, VA
July 11, 2010
1

found this helpful
I have made several out of flat wood, batting, fabric, ribbons and pretty buttons. Used nail gun to attach the fabric and batting to wood. They look better than the ones you buy.
Read More Comments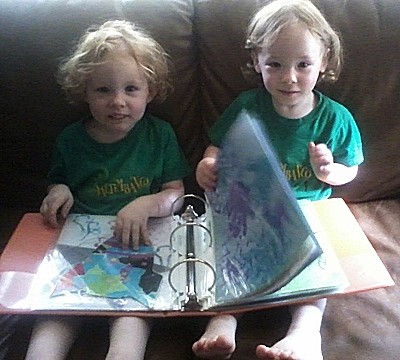 My daughter came up with the best idea to save her 2 1/2 year old twin boys artwork! They do some kind of art project nearly every day, and the papers were really beginning to pile up at home!
Read More...
If you have children, you probably have boxes and scrapbooks of things your children made in school that you are keeping. Have you ever wished you had a better way to keep these treasures without having boxes full of these things?
I recently decided to downsize. With that job comes the problem of 'what should I keep and what should I get rid of'? Relax, there is an easy solution to this problem. Why not keep them all? Just get out your digital camera and photograph them? It's an easy way to keep all your treasures without all the storage boxes, just put the pictures of them in a photo album or on a disc.
September 20, 2014
0

found this helpful
Start when they are little and scan their artwork with a scanner. Upload them to a photo website like Snapfish. You will always have them and you can order prints and make "memory" books by year or events. Also scan their school pictures, etc. If they have a project that is too big to scan, take a photo of them holding it and upload it.
Make sure to title the picture with the grade and date. As they outgrow their stuffed animals, take pictures of them with the animals. Always upload them to the website. You will keep the "clutter" down and always have the memories without the guilt. The "memory" books make great gifts for relatives, etc. Especially the grandparents and such that live far away.
Read More Comments
When a new baby is born in the family, keep the local newspaper that the announcement appears in. Hopefully, this will occur the same day the baby is born. Sometimes the announcements are the next day, depending on the time of birth. Roll the newspaper up tightly and secure with something that will not damage it and place in a zip lock bag.
Give the newspaper to them on their graduation, wedding, confirmation, first communion, etc. They can keep it and read what has happening in their hometown on the day they were born. They can also see all the other births on their birthday. Maybe one will turn out to be friend later in life.
Source: My in-laws did this for our children and then we did it for our grand children.
By little suzy from Millbury, OH
May 14, 2010
0

found this helpful
I just want to mention that many people these days don't choose to put birth announcements in the paper. They feel it might not be wise to tell the "crazies" about a new baby.
Read More Comments
I save obituaries and put them into a small photo album. I made a label for it that says "Obituaries."
Read More...
Turn a shoe cubby into a cutting station for scrapbooking or for a place for filing your genealogy, family history information, and family photos in.
Read More...
Questions
Ask a QuestionHere are the questions asked by community members. Read on to see the answers provided by the ThriftyFun community or ask a new question.
What is the best way to organize photos and keepsakes? I am a bit too lazy to do scrapbooking, is there a lazy person's way to having nice albums? Is it best practice to put all photos and keepsakes in albums or do people have other methods? I would love to hear your ideas.
By Stellabell from Manchester, WA
August 17, 2011
1

found this helpful
Best Answer
What is wrong with just putting them in photo albums like people used. You can buy photo albums that have pockets in the pages for 4x6" photos and a border on the side to write information on. I have these photo albums and when I have smaller photos I put two in one compartment. I do, do scrapbooking too, but I make photocopies of the the photos for that.
August 17, 2011
1

found this helpful
Best Answer
You can purchase ready made photo boxes at most dollar stores, or make your own from shoe boxes covered with nice paper of your choice, to match your decor. Then you can make dividers if you want, out of manilla folders, cut to fit the boxes, and leaving a tab on which to write the date, year, occasion, etc. Then the boxes look nice and can be left out for everyone to look through.
April 25, 2012
1

found this helpful
I used a A-Z alphabetizer and put post-its on the letters with my kids names and other family names, Sorted all the picutres according, then when they were all sorted I removed one of kids photos then sorted from newborn to present.
I couldn't find photo albums that I liked so I use 3 ring binders with the pockets in the front and back and put a baby picture and Graduation picture on the front cover pocket, it took a long time but the shelves look so much better
May 19, 2017
0

found this helpful
I also use a 3 ring binder. I bought 4x6photo pages off eBay, pretty cheap. I just label the binder by year.
May 5, 2011
0

found this helpful
Does anyone know of someone that laminates obituaries or funeral notices? I just lost my nephew, 2 years old, and I wanted to get some made for the family. I use to get them made with a company in TN, and they closed up.
Thanks for your time.
By Diana
May 5, 2011
0

found this helpful
Any office supply chain (Staples, Office Max, Office Depot) will laminate paper for you for very little money. If it needs a special presentation, you might be able to do this with scrapbooking papers. They could also photocopy the original onto prettier paper, you can trim, then they could laminate it. You could add a photo of the little boy, and a poem, as well, if you wanted. So sorry for your family's loss....
May 6, 2011
0

found this helpful
I am so sorry for your loss.
I would advise against laminating, actually. Laminate is terrible for paper - it is corrosive, and newspaper is so acidic that the two of them combined is disastrous if you're trying to preserve the clipping. Instead, I would photocopy the notice onto acid-free paper and frame it in a glass (not plastic) frame (I mean make sure glass covers the image.) If you want to give out original clippings it is better to leave the clipping open to the air rather than laminate it.
May 10, 2011
0

found this helpful
The funeral home where my father was laid out made ours. It was part of their package, I guess. You might try asking at some funeral homes in the area. Perhaps they could give you a lead.
May 13, 2011
0

found this helpful
Office Depot also carries do-it-yourself laminate sheets; they're in the section with address labels and other specialty printing stuff ( like tee shirt transfer paper, magnetic sign stock, things like that.)
Read More Answers
I would like to preserve my father's obituary. Can you give me some suggestions on the best way to do this?

Thank you,
Peggy
March 10, 2005
0

found this helpful
Take it to a store that does laminating. My local UPS Store does it at a very reasonable price, based on the size. I've gotten all my pasteboard cards (insurance, Medicare, etc.) laminated there.
By guest (Guest Post)
March 10, 2005
0

found this helpful
I would suggest using Archival Mist to prevent it from yellowing. Target carries it in the scrapbooking section. Also, you might want to store it in a small, acid-free photo album to further protect it. You could also scan it and store an image on the computer.
By guest (Guest Post)
March 11, 2005
0

found this helpful
Hi Peg
Sorry about the loss of your father - that's tough. Our local paper carries the obituaries on line and I print them up - you get a permanent record of the obit and the paper is less likely to yellow with age.
By guest (Guest Post)
April 18, 2007
0

found this helpful
My sister just died and i am looking for the company that preserves the obituary. I had it done for my parents years ago and can't find the address anywhere. If anyone knows of this company i would really appreciate it. Its really nice, I have had my moms since 1987 and looks like new still. Thank you for any help you can give me.
Read More Answers
Archives
ThriftyFun is one of the longest running frugal living communities on the Internet. These are archives of older discussions.
July 9, 2010
0

found this helpful
I am looking for a memory photo board. Does anyone make these? I'm needing one that will hold several photos. Does anyone have an idea where I can find one?
By Donita
Answers:
Memory Photo Board
My little girl has a plastic photo holder that hangs on her door. You can put lots of pictures in it. I bought it out of the book Lillian and Vermon. I hope this might help. (11/13/2009)

By mkm1enonly
Memory Photo Board
I purchased two large ones at Walmart for my husband's memorial service. They are quite large. I then made my own captions for each photo of him. I placed his baby pictures, his grade school pictures, his military pictures, our wedding pictures and various holiday pictures on the boards. They turned out beautiful. It's been a little over a year and I still haven't taken them apart yet. (11/16/2009)

By chef4u
Memory Photo Board
Make one your self (I did for a friend who was moving away). Go to Walmart and buy a peice of sytrofoam board the size that you would like to work with. Mine was 30" x 50" - from there I took photograph's of different folks within our congregation, photo's of the place that we worship at inside and out; then after printing them up at home I cut the photo's into differnt sizes and "scotch-taped" them to the styrofoam board along with a computer printed out note of what the scene was of or the person that was in the photo.

For less then $20 and a couple of hours of my time putting it all together I made the receiver very, very happy. I will do the same thing again when someone moves away from the congregation that they had worshiped with. (11/16/2009)

Related Content