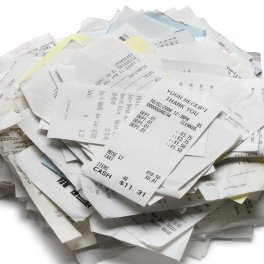 Many people receive multiple receipts each day. You don't have to save every receipt that you get, however organizing ones that you need to save is important. This is a guide about organizing receipts.
Ad
---
Solutions: Organizing Receipts
Read and rate the best solutions below by giving them a "thumbs up".
I buy several little one dollar photo albums, the kind with clear pages, that you slip a photo in. I use these to store receipts for important purchases. It is really easy to find and store. This makes finding receipts from Wal-mart easy for me when we need to return something.
Also I unfold boxes and make them flat and store them in a plastic tub in the storage room. This way the boxes don't take up much space and if I need to return something, I just put them back together.
By Robyn Fed from Hampton, TN
Store register receipts fade after a while. When purchasing large priced items I always photocopy the receipt and attach it to the warranty and/or owners manual in case the receipt is required at a later date to prove purchase.
By Seranita from Melbourne, Australia
I am a very disorganized person, so, during the year, I stuff all my bills, receipts, and other papers needed for income taxes into an empty Kleenex box. Then I don't have to hunt for them all over the house.
At the end of each year, after I do my taxes, I put a piece of packaging tape, the wide stuff, over a piece of paper with the year printed on it and tape it across the opening. They are small, sturdy, and fit on the closet shelf perfectly.
By Catastrofy from Winnipeg, Canada
I used to attach my receipts to my bank statements each month, Now I've decided to put the receipts in the junk and bill envelopes I receive. I just write the month on the outside. This way if I ever need a receipt to return something, I just go to the envelope instead of digging through my bank statements. So easy! Another idea is to use an envelope for each department store, etc.
By alice [9]
To keep all your records and receipts buy a good 4 drawer filing cabinet at a yard sale or thrift shop. This saves me a lot of time. When the IRS audited me, for 2 years back, I pulled out my bank file from 2 years ago. It included all my checks and statements for that year, and I had my taxes for that year in another file. I was ready to go the next day if necessary!

Also, the computer company who fixed my computer "wiped me out of their system". My receipt saved me another $61 to fix the same problem!

By Betty G.
I keep receipts in a file according to purchase (gas, dining, home improvement, clothing, crafts, etc.) I can easily find the right receipt if I need to make a return or ask for a price adjustment. I recently got a $38 refund on a baby swing two months after purchase when it went on sale.
Utility statements are in another file, even though all are auto pay. I don't have to remember to pay anything, but I can compare monthly usage if necessary. All my credit card charges are noted in my daily planner to compare with the statement.
This may sound like a hassle, but it's very simple once set up.
By Mngranny1 from Minneapolis, MN
If you need to keep a receipt for warrantees, etc. Check to see if it is printed on thermal paper. If they are, photocopy them for your records. Receipts on thermal paper tend to fade over time. Some fax machines use thermal paper, too. I've found ones that I can no longer read.

By Richard Lee
I use a photo album to keep my receipts organized. I use the kind of album where I can add more sheets to it as needed. And each sheet has 3 slots in it. Into the top slot I put the purchase receipt, then any receipts for parts or maintenance on that item I put in the slots below and behind it. At the top of the sheet I put a removable tag so that I can find the sheet I'm looking for easily. Since starting this method I haven't lost any receipts (and I used to lose them constantly!)
By Cricketnc from Parkton, NC
I have a tip for organizing your receipts for income tax. Every year in January, I get a medium brown envelope and write on it "Tax receipts 200?" (whatever year is the current one). I put all my receipts in it through the year. Then, the next year when it is time to file your income tax return, your receipts are together and they are easy to sort into categories. Filing made easy for the accountant and yourself. You are not wasting time looking for receipts and trying to remember where they are.
I always save my receipts from the store, so that I can match them to my bank account and make sure I was not charged a different price. I staple the like receipts together and file them, just in case.
Keep a small coin purse in your purse and when you make a purchase put the receipt in the coin purse. You will always have your receipts with you if you need to return an item.

By DiscoDinah
Give a "thumbs up" to the solution that worked the best! Do you have a better solution? Click here to share it!
Archives
Thrifty Fun has been around so long that many of our pages have been reset several times. Archives are older versions of the page and the comments that were provided then.
Tips for organizing shopping receipts. Post your ideas.
Answers:
RE: Organizing Shopping Receipts
I have what's called a Kangaroo bag. It is a ziploc style bag but has 3 pouches 2 of which are zippered. I use a piece of magnet (from the craft section) and have it in the side of my fridge. In one pouch I have coups, one holds receipts, and the other holds all those little "frequent shopper" cards..... You could also use just a regular zip bag if you only want it for receipts or use a couple lined next to each other! I never zip mine, it just hangs there in all it's cheap plastic glory . I love it tho! (12/27/2004)

RE: Organizing Shopping Receipts
I file my receipts by month in a plastic multi-slot file folder which has a slot for each month. I keep my folder in my file cabinet under "Receipts".
When my monthly MasterCard statement arrives I pull out the receipts for that month, check off each one and throw them out. (12/28/2004)

By BOB
RE: Organizing Shopping Receipts
I keep all receipts in one hanging file. Within that file are manila files with store names on them. The receipts within each store file is filed with the newest toward the front. Always find receipts just where they should be. (12/28/2004)

By Mari
RE: Organizing Shopping Receipts
I use a highlighter to mark any important purchases on the receipts that I save. I have a file in my file cabinet labeled "Receipts and Warranty Records" If the receipt may be needed to prove purchase for warranty work, I put it along with the warranty paperwork in an envelope and label it with the product, the model and serial numbers and the date of purchase and place it in the file. Makes it easy to find if the product breaks down during the warranty period. I review everything in this file periodically and dispose of any receipts no longer needed. (12/29/2004)

Keeping Receipts
I keep all my receipts in a old check file. I have put new labels on the dividers for each store. This way if an item goes on sale or needs to be returned I know where the receipt is. (12/31/2004)

By annw139
RE: Organizing Shopping Receipts
With the new computer printed receipts, a highlighter can cause the printing to disappear over time.
If it is an important receipt, make a photocopy and store that. I have found that receipts kept for tax purposes have turned to almost blank pieces of paper in the course of a few months - especially in temperature extremes. (01/03/2005)

By Betty Lynn
RE: Organizing Shopping Receipts
Receipts for appliances, etc., I staple to the front of the guarantee and keep it in the instruction booklet. Each appliance has its own clear plastic cover in an A4 2 ring binder. Each time I add one I leaf through to make sure I still have the appliance and dispose of any no longer needed. If I give an appliance away I also give the receipt/guarantee and instruction book with it.

Grocery/supermarket type receipts I keep in my purse until I have recorded my spending in its individual budget catagories, (I keep a book for jotting down all spending which I transfer to Quicken periodically).

Once spending is recorded I record any good specials in my price book.

Cash receipts are then disposed of. Any credit/cash card receipts I pop into a small clear pocket in my A4 bank statements file. When the next credit card/other account statements arrive I check off the amounts and usually destroy the receipts.

Some receipts, for large bills paid in cash or builders or hardware shop accounts or car service for example I throw into an A4 copier paper box which fits neatly on a shelf under my desk. At the end of the year I throw out those no longer needed and pop the rest into a clear cover and drop back into the bottom of the box.
(01/08/2005)

By Jo Bodey
RE: Organizing Shopping Receipts
For organizing receipts, I have a 13 pocket expandable file which is labeled Jan.-Dec. I keep all store and restaurant receipts organized month by month. There is a KEY guide that is used w/highlighters that are color-coded to an item. Such as, blue is household items, pink can be clothing and so on... Marking with the highlighter next to the item purchased so, it does not end up destroying the ink on the receipt. Then, I circle the date, the final amount spent and the type of payment used for the purchases.
At the top of each receipt, they are labeled for which type of important purchases there may be. At the end of the each month, I can better tell what has been spent when & where. Then, sorting them in groups & stapling them together. Then come June, I'll look through which ones I may need to keep & which ones I can toss. The new coffee pot receipt, I will keep until the warranty is up. I hope this helps! (01/22/2005)

By Sparky
Organizing Petty Cash and Receipts
I often shop with cash for my boss. I keep his money and all receipts in a loose-leaf binder - type pencil pouch. This way it is clear when I need more cash, and all the receipts in the same place helps keep things clear.
(06/21/2005)

By Linda
RE: Organizing Shopping Receipts
I keep my receipts in two groups . The first group goes under a paper weight on my desk. These are all the receipts from grocery shopping or gas which I generally use cash or my debit card and occasionally a credit card. Then at the end of the week or month I check them against my online statement then I throw them out.
The second group of receipts I usually keep forever they are filed neatly in a tin. These are for items that have warranties or extended warranties or high ticket items.

By Wayne
I need help in organizing all my receipts. Should it be by the month or store?