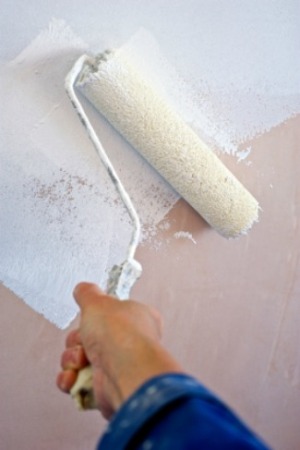 Mobile homes, especially older ones, have walls that are not the traditional drywall construction found in stick built houses. This is a guide about painting walls in a mobile home.
Questions
Here are questions related to Painting Walls in a Mobile Home.
How can I paint over vinyl mobile home walls?
By Grace
---
Most Recent Answer
By Sandi/Poor But Proud [396]08/07/2014
There is nothing to fear. You just need good paint and rollers. It's no different than painting over paneling. Make sure they are clean, using some TSP (Tri Sodium Phosphate) and you can also find help here.

http://www.theshabbycreekcottage.co ... ng-walls-in-mobile-trailer-home.html
What is best method to use when painting walls of moble home? I'm using a semi gloss with kilts primer. Should I use paint roller, brushes or a spray gun?
By D. Sangster from Dallas, TX
---
Most Recent Answer

By Karolina67 [1]08/03/2014
We went thru this last year and this is what worked for us. If you have the prefab walls, the problem is the gloss and pattern in the walls shines through. Using a roller, apply 1 coat of Kilz vertically and let dry. Apply a 2nd coat of Kilz horizontally and let dry (we used a roller for this as well). Then paint as normal. for some reason the horizontal really covered the shine and pattern of the prefab wall. Good Luck!
I stripper wallpaper that was put over vinyl wallboard in my mfg home. I want to paint now and one painter suggested to paint over the backing of wallpaper, which is smooth. Or do I strip off the backing and take a chance on pitting or marking the vinyl wall board?
By Janice G from Winter Haven, FL
---
Most Recent Answer

By Linda [37]04/13/2014
I would just paint over the backing. I did this and used a spray 'texturizer' to make it look like the other painted walls. It comes in a big spray can and you just spray the wall with it to make it look texturized. Works great. Then I used 'kiltz' and painted - looks just fine! Can find it at the big box stores!

In taking off the panel spacers, I found that the gaps are about 1/4 inch. The existing panels have beveled edges. So I have to put a lot of putty/float in the gaps. Is there something else I can do? Help!
By Curly from Freer, TX
I have a mobile home with pre-printed drywall. The previous owner painted over it and now it's flaking. I can't remove it with a scraper without destroying the wall what is my best option for removal without destroying the wall?
By Dustin
I have a mobile home that was build with the flowered wall panels on the walls, but the flowered walls have been painted over. So the question is how to remove the paint and go back to the flowered walls?
By Kakkie
---
Most Recent Answer

By mondaywest [1]12/23/2013
I would like to suggest you dont try to remove the flower panels. Go to resurfacing. I think resurfacing is easier than removing. Use primer and then paint.
What type of paint do you use to paint over prepasted mobile home wall board?
By Naomi
---
Most Recent Answer

By Frugal Sunnie [11]10/03/2013
I've done it by first thoroughly wiping every square inch of the wallboard with TSP or straight vinegar. Doing so roughs the surface enough for new paint to adhere.

Then I used a top quality primer like Kilz - two coats if the pattern shows through is enough to cover the old pattern and finish preparing the surface for the decorator colour.

(If done properly, your primer adheres to the original surface so the decorator colour can adhere to the primer so you get a lovely, even, long-lasting coverage)

And then I applied the decorator colour. Looked great and lasted years:) Be sure to read the labelled instructions on everything you use on the walls for best results.
We are starting to paint a bedroom in our 1994 mobile home. The wallpaper is made on the wall and it started peeling. The surface underneath is not a smooth finish. What should we do so the room looks evenly painted?
By Toni
I want to paint the ceiling in our mobile home, but my husband is insisting it can't be done, as it is not dry wall. I would like it white and not the cream it is now. I believe it is vinyl. What prep and paint can I use?
By Diana
---
Most Recent Answer

By cybergrannie [30]08/15/2013
Hi - you can probably find out - for sure - at a store that specializes in mobile home items.
Has anyone painted leaving the wall strips on in a mobile home? They are ugly, but I was wondering if I just painted them the same color as the walls what it would look like. Please post pictures if you have them.
By Bonita M.
---
Most Recent Answer

By Lynniem03/28/2012
We just did the same thing last year. We took down all the strips, spackled and taped the seams and bought a special "bonding" base at Sherwin Williams and then painted 2 coats over that. It looks beautiful. We did it in every room. No one can believe its not sheetrock. p.s. Be sure your home is good and level so that the seams don't crack if you have to re-level. Some of ours cracked but wasn't a big deal. We just re-spackled and painted the seams.
I have textured mobile home walls. I want to take the strips down and mud the gaps. How do I do this with the light texture on the walls? Has anyone ever done this before? Please let me know.
By Jennifer from KY
---
Most Recent Answer

By Diann 03/27/2010
I've painted mobile home walls. The finish on these walls are usually made of vinyl, therefore need to be primed.(Ask your local paint store what kind to use.) The strips have to stay there inasmuch as they are covering the panel ends. You will probably have to replace the mud strips with new as they will more than likely break if you try to remove them. Mine couldn't be painted over because they have a paper coating on them. Good Luck
I rent a mobile home. I painted and stenciled one bathroom. It looks pretty good. For bigger rooms, what do you do with the spaces/panels? Do they spackel well? Wallpaper is not in my budget. Thanks in advance.

Keeper from NC
---
Most Recent Answer

By Tom S (Guest Post)12/12/2008
There is a lot of cool things you can do with these homes. We purchased a 2100 sq.' manufactured home for 55,000 that needed some updating. Our budget was limited but I feel that we got a lot for our money. First, we removed the tack strips. We filled the seams with a flexible caulk then joint compound.

After we lightly sanded the walls we painted. I used a 1/2" roller for the walls. I did leave the strips on some of the corners for protection. My home did not have much wood work so I did purchase and add some from a store. We did change all of the moldings to white including the kitchen cabinets and fire place. The results were incredible.

We also took apart those fake brass ceiling fans and sprayed on a faux finish ( white, dark brown). I did not do much with the ceiling. I just painted it white and added some fixtures. We got rid of those plastic bathroom sinks. We replaced them with new sinks and faucets for about 70.00 each. I also added ceramic tile back splashes to each counter in the house and new cabinet hardware. I did all of this work myself and the materials ran me around 800 bucks.

I wish I could post the before and after pics for you to see. The house is transformed and it looks like a residential "stick built" home. My friends and family can't believe the results. I do not feel like I am in a manufactured home. It is worth the investment! I would tell everyone to buy a manufactured home. It makes good economic sense in these harder times.
Solutions: Painting Walls in a Mobile Home
Do you have knowledge about this guide topic? Feel free to share a solution!
Archives
Thrifty Fun has been around so long that many of our pages have been reset several times. Archives are older versions of the page and the feedback that was provided then.
How should mobile home wallboard be treated before painting?
Shae from Mooresville, NC
---
RE: Painting Walls in a Mobile Home
It's a great look, Shae. Check with your local hardware store? The staff are usually quite knowledgeable. As far as I recall, all we did was make sure the wallboard was clean.
Good luck!
Rose Anne (11/02/2006)
By wordswork
RE: Painting Walls in a Mobile Home
From our experience. You need a good primer like Klitz or Oops. We painted it with that and then painted a color and they look great. (11/02/2006)
By Michele
RE: Painting Walls in a Mobile Home
I like semi-gloss. So, take some light sandpaper, scuff the wall board a little. I used mildew proof semi-gloss on kitchen and bath. And had no trouble. Just on the first painting, you'll have to do two layers to allow for soaking in. I've also painted paneling like this. (11/02/2006)
By glinda
RE: Painting Walls in a Mobile Home
Kilz now comes in colors so you don't have to prime then paint again. I used it in my kitchen and loved it. Wal-mart carries it. I don't know who else does. (11/03/2006)
By Carla
RE: Painting Walls in a Mobile Home
Zinser makes a primer called BIN. I have used it to prime everything from unfinished wood to formica. It works like a charm and the paint sticks like white on rice. So very worth the price! Get it at Home Depot and Lowes. Maybe other places too. (11/08/2006)
RE: Painting Walls in a Mobile Home
WOW! I didn't know that Killz comes in colors! Thanks for that info!! :) (11/08/2006)
By Ariela
RE: Painting Walls in a Mobile Home
Kilz in colors works well and I have also used a Ralph Lauren from Home Depot ($5 Oops can) of sand paint. That was amazing one coat coverage and looked beautiful! Best wishes!! (11/14/2006)
By LindaLou
RE: Painting Walls in a Mobile Home
WE ARE IN THE MIDDLE OF DOING THIS OURSELVES. WE JUST PAINTED RIGHT OVER THE WALLS.IT LOOKS GOOD.AND JUST A THOUGHT DID YOU KNOW YOU CAN ACTUALLY HAVE THE KILZ OR PRIMER TINTED A SPECIFIC COLOR? WOULDN'T NECESSARILY NEED TO BUY PAINT THEN (11/15/2006)
By IMAQT1962
RE: Painting Walls in a Mobile Home
Does Killz need to be sanded or smoothed or what ever? Once on the wall isn't it sort of powerdy, doesn't it show powerdy on your hand when touched? (11/15/2006)
By Ariela
RE: Painting Walls in a Mobile Home
KILZ IS JUST LIKE USING PAINT. IT DOESN'T NEED TO BE SMOOTHED OR SANDED AND WON'T BE POWDERY UNLESS YOU'VE SANDED IT(WHICH YOU DON'T NEED TO DO)IF YOU SAND ANYTHING YOU SHOULD ALWAYS TAKE A CLOTH AND WIPE IT OFF.
OUR LOCAL HARDWARE STORE TINTED OUR KILZ FOR US BECAUSE WE WANTED A SPECIFIC COLOR,THEY HAD A MACHINE THAT IF YOU TOOK SOMETHING IN OR PICKED A COLOR FROM A COLOR CHART THEY CAN MATCH IT. WE DIDN'T EVEN BOTHER TO PAINT OVER IT AND YOU CAN'T EVEN TELL IT WAS A PRIMER AND NOT A PAINT (11/16/2006)
By
RE: Painting Walls in a Mobile Home
Does Klitz primer come in Semi- Gloss? The Mobile Home we are buying is very smoked damage from the lady smoking Cigarettes. I was told to use the Klitz primer then paint over it but I can get it in Semi- Gloss that would be a big help and cheaper on us. I like the shine from the Semi-Gloss plus you can wipe it off. Please let me know if anyone can help us on this little project. Thank You, (11/21/2006)
By Tammy
RE: Painting Walls in a Mobile Home
I would also like to know if Kilz comes in semi-gloss or if semi-gloss paint can be added to it to get the sheen or something else can be done to get the ease of cleaning, thanks. (11/21/2006)
By Ariela
RE: Painting Walls in a Mobile Home
We are moving into a modular home where heavy smokers lived. Can you paint the walls of a modular home? Or will it leave wrinkles in the wall? How do I go about doing this? My email address is southernvkb AT hotmail.com (11/09/2007)
By Vickie Brooks