Sometimes remodeling involves changing the color of your refrigerator. This guide is about painting a refrigerator.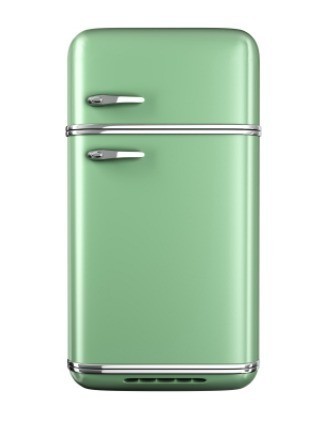 By Rose Smith 46 86
I want to paint my refrigerator white (it is now almond). Has anyone had success and what type of paint did you use?
By RealtorRose from Malvern, PA
---
Most Recent Answer
---
My refrigerator is a silver colour, but it is going to black in spots. So how can I give it a new look?
By Sata
---
Best Answers
February 20, 2014
I have a can of "Bar Keepers Friend" It cleans everthing (counter top's, all metal, glass, etc. I take a wet a sponge or rag and pour Dawn and a little of "Bar Keeper's Friend" on it. It does a wonderful job on what you clean. I get this prodouct at "Walmart or Lowes. I hope this helps you.
---
By Louise B. 6 2,509 Flag
February 20, 2014
Places that paint automotives will also paint refrigerators. I don't know if there is any way to do it yourself and have a durable job. I doubt it.
I want to paint my fridge with chalkboard paint. Does anyone know what kind of primer I should use? The fridge being magnetic is not important to me.
By Tiye
---
Most Recent Answer
By PENNY K 14 564 Flag
March 5, 2015
I agree with the former poster. You are setting your fridge up for rust problems, because it is metal. Look for a black board the size you want, glue magnets on it, and stick it on the fridge.
---
Has anyone ever painted a refrigerator? If so, please tell me how you went about it and if the paint has held up.
By Sharon
---
Most Recent Answer
June 26, 2012
I painted a stove years ago by taking it to the auto body shop. I think they charged me $60 and it looked good and lasted well.
---
I want to paint over the rust using the chalk board paint. Is that possible and how can I do it? I live in the tropics so the salty air does havoc to appliances.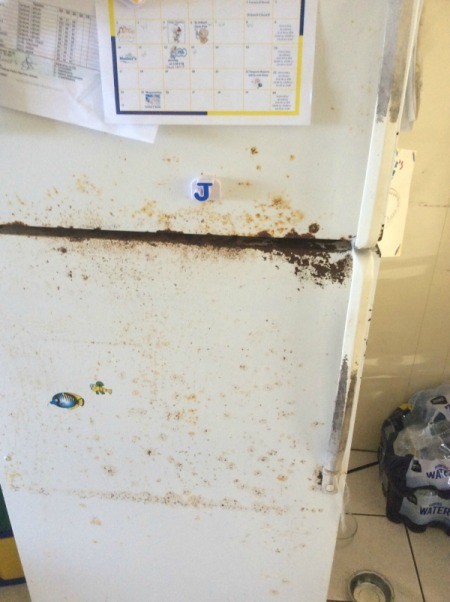 ---
Most Recent Answer
May 15, 2015
There is actually appliance paint you can use for a refrigerator. However, if you really want to make it a chalkboard, Rust-Oleum makes a product called rust reformer, which you can spray on first to kind of halt the rust. The steps to follow are: use a fine sandpaper to remove loose rust and smooth the surface a bit; wipe with a lightly damp cloth or tack cloth, if you used a damp cloth let it dry completely. Spray on the rust reformer, let dry. Rust-Oleum also makes the chalkboard paint; it comes in black, tintable (choose from about a dozen colors), and now also transparent, so you can use any color underneath, then paint it, and *poof* it's a chalkboard! Have fun with it! Another option is to use the rust reformer all over, then mount a chalkboard with STRONG magnets. You can get really strong magnets at a home improvement store.
Source: I work in the paint department at a home improvement store!
I'm wanting to paint my white refrigerator black, what is the best product to use to paint the rubber seal around the doors?
By Tami Y
---
Most Recent Answer
By Louise B. 6 2,509 Flag
January 8, 2015
I would suspect that there is no product that can be used to paint the rubber seal.
My frig is rusting. Can I use a roller to paint this in the house?

By M.K. from Lincoln, RI
---
Most Recent Answer
I need to paint the door on my fridge 410 liters model, frost free Hoover brand. Where I can find someone to spray paint the doors top and bottom, because they have rust. I also need a new rubber seal for the door. My fridge is in good working good, I only need to find who can spray paint the door.
Thanks.
By Ofelia
---
Most Recent Answer
By Sandi/Poor But Proud 466 2,132 Flag
September 24, 2013
How about you? Take the door off the hinge, lay it on a protected floor or yard and use either appliance paint, or Krylon or Rustoleum (my personal fav'). It is usually dry in an hour or so and you are set.
If you still want someone else to do it, check out small businesses in your area on Craigslist.
When using an epoxy paint on a refrigerator what kind of roller should I use?
By Peter
---
Most Recent Answer
By Frugal Sunnie 11 1,695 Flag
March 3, 2012
Napped. Good on you, too, for refreshing the appliance with paint instead of tossing it because it's not pretty anymoe:)
Is there a way to paint a white refrigerator red?
By Bessie from McComb
---
Most Recent Answer
July 12, 2011
Sure, just scruff up the old paint,apply a primer coat and then the top coat. If you use a brush there will be brush marks. Maybe a paint roller would work. So you may want to use an aerosol paint can. I would test out your technique on a piece of metal first. Or if you could get the unit to a body shop they could paint the unit for you. A long shot is to look in the yellow pages under painting and call some of them to see if they can steer you in the right dircetion to find someone that does that type of work if you do not want to do it yourself.