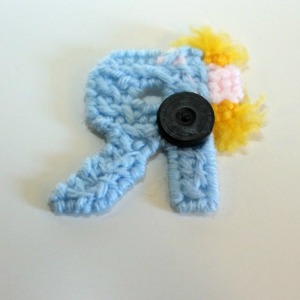 Solutions: Plastic Canvas Craft Ideas
Read and rate the best solutions below by giving them a "thumbs up".
This is a tissue box cover and coaster holder with 6 matching coasters.
By Cricketnc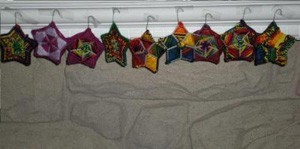 A package of 10 plastic cross stitch star patterns cost me about $2. I was given a bunch of yarn and I made up my own patterns. I did all ten at once.
Approximate Time: 4-5 hours
Supplies:
plastic cross stitch pattern/backing
crochet/cross stitch needle
yarn
Instructions:
Thread the crochet/cross stitch needle with the yarn as you would a regular needle and thread. Knot at the end.
Come up the plastic backing from behind where you want to begin and thread all or most of the holes any way you like.
You can skip holes and simply cover like a pattern as you see in the photo.
You can also take care to cover all the plastic very carefully if you wish.
When you run out of yarn, thread some more and begin where you left off.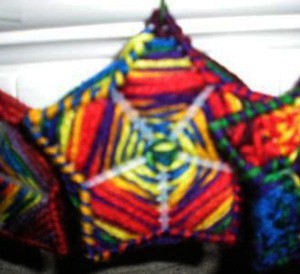 By Carly from Lynnwood, WA
Following the instructions in the booklet, I made the letters that spelled out each of my childrens' names. I glued googly eyes tiny pom pom noses onto each of them. Then I attached a magnet to the back of each one.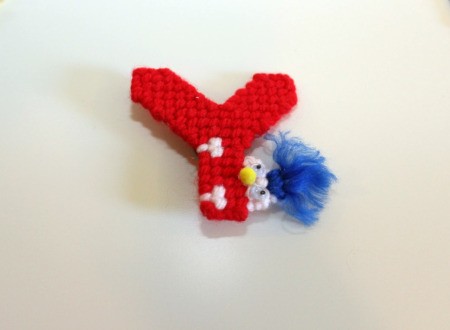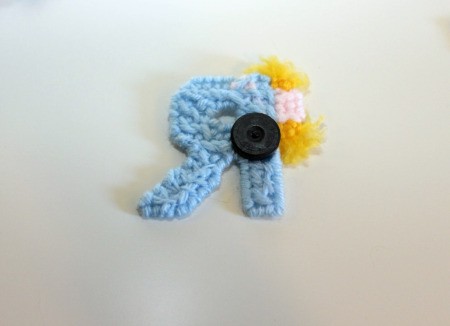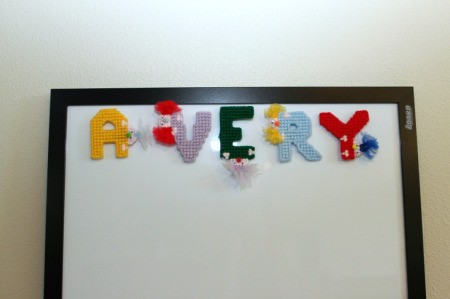 NOTE: Although I used a booklet, you could easily design your own letters. I have actually lost the booklet, so that is my plan for any future ones that I make. :)
SOURCE: Leisure Arts Leaflet 1416: Magnets a to z in Plastic Canvas
By lalala...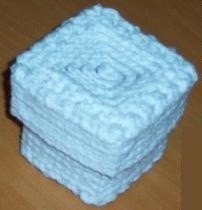 I wanted to see if I could crochet on plastic canvas without any sewing and ended up with this trinket box made on 5-mesh plastic canvas. I used a size D crochet hook so it would fit through the holes and worsted weight yarn. The whole thing was done with nothing but crochet-type slip stitches, including joining the pieces together.
It was easy to do and much faster than regular plastic canvas. The finished box looks nothing like plastic canvas, does not look like crochet, but looks the most like knit stitches. Something fun to play around with.
By Fortunately
This is a Christmas gift I made. It is napkin holder made with plastic canvas. The second picture is another plastic canvas craft I made for Christmas. It is a wall or door hanger. This one is a fairly easy project.
By Pico from St. Paul, Alberta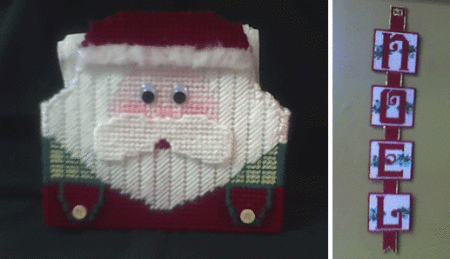 If you get plastic canvas that smells bad, try putting it in a sink full of hot water and dish soap. Let it set for an hour, take it out and put it on a towel. This also works with plastic canvas that is not flat. Put it in the sink and, when taking it out, put it on a towel and cover with something heavy. That will make it flat useable. I buy plastic canvas at yard sales and Goodwill and have to do this sometimes to be able to use it. I get some really good deals on it because people don't think it can be used.

By Barbara from Rothbury, Michigan
After seeing some pictures of Japanese plastic canvas, I got out my worsted weight yarn, my plastic canvas, a needle and whipped up a pattern for the flower. I hope those of you who do plastic canvas or design your own, will be able to make use of it.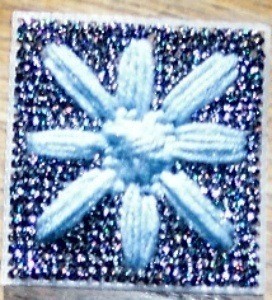 The flower is worked on 7 mesh and and is made with 2 strands of worsted weight yarn. Since you will be using 2 strands, be sure the yarn doesn't get twisted before completing a stitch, keep your stitches as straight as possible. The flower is 19 X 19 holes.
On the pattern, I made each petal a different color and numbered each petal individually to make the pattern easier to read and work with. Work the petals before working the center of the flower. Once the flower is finished, fill in any unworked area around the center with tent stitches.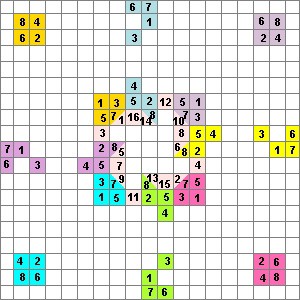 Here is the website with the original flowers. I particularly liked the large flower on the handbag (where it says Felting Bag and Hat).
By Fortunately
I purchased a spice rack with a pineapple motif done in needlepoint on the front. I didn't particularly like the pineapple motif so I removed the plastic canvas piece. I was looking all over for something to put in its place. Then I thought, duh, rip out the old design and needlepoint another!
So, I sat down and ripped out the old design while I was watching TV at night. It took me quite a while but I got it done. I then found a pattern for my UGA head. For those of you who are not from Georgia, UGA is the mascot for the University of Georgia Bulldogs and the most recognized mascot of all college teams (per Sports Illustrated).
Then I went about re-needle pointing the head and freehanded the design for the DAWGS below the head on my salvaged plastic canvas. Then I popped the new design back into the cabinet front. As you can see, I refurbished my spice rack and made it my own!
This is going into my University of Georgia themed room in my home. It is a guest/craft/sewing room. It will be holding spools of thread rather than spices. I hope that this recycling of the plastic canvas piece inspires others to do the same and reuse what you have or find before tossing them into a landfill.
The only thing left to say is "Go Dawgs!"
Source: Me: Being the thrifty/frugal/cheap person I am. I always try to think of a way to use something before it goes into the recycling.
By Southeastgeorgiapeach from Jesup, GA
Want a simple craft to do for the novice crafter? Try plastic canvas. The canvas is inexpensive and you can get really nice yarn cheap or free from freecycle sometimes.

I got a book of tissue box covers, it was easy to follow the patterns and they were really cute to give away as gifts. You can get as easy or complicated as you want with plastic canvas and it gets really addicting to try new things. The hardest thing I made was a rocking horse tissue cover that had 27 pieces, but it came out so pretty and the expectant mother loved it. Also great to make tags for gifts.

By Christi from Paducah, KY



Give a "thumbs up" to the solution that worked the best! Do you have a better solution? Click here to share it!
Questions
Here are questions related to Plastic Canvas Craft Ideas.
I'm looking for the letter "A" in English style in plastic canvas? Any suggestions?
By Diana
---
Most Recent Answer

By tahlula06/24/2013
Go to http://stencilletters.org Print and create a free stencil and proceed from there. Good luck.
I'm looking for a plastic canvas pattern for the Detroit Red Wings.
By Isabella
Does anyone know where I can find a plastic canvas pattern of a man with movable arms?
Florence
---
Most Recent Answer

By Vi Johnson04/06/2010
http://www.plastic-canvas.com/
Maybe you can find one here. Or email them,they might help you find what you need. GG Vi
Does anyone know where I can get a pattern for a deer or a black bear in plastic canvas?

Vicky from Canadensis, PA
---
Most Recent Answer

By Amy09/30/2008
Here is one link:
http://www.craftdesigns4you.com/pcdeerset.htm

Also try this one - they had a lot of different styles
http://www.freepatterns.com
Photos
Below are photos related to this guide.
I designed this ribbon for a teacher at the preschool. I made the baby one first, then the teacher did not want a bow on top of hers. I took a picture of the school then cut and colored mine to match.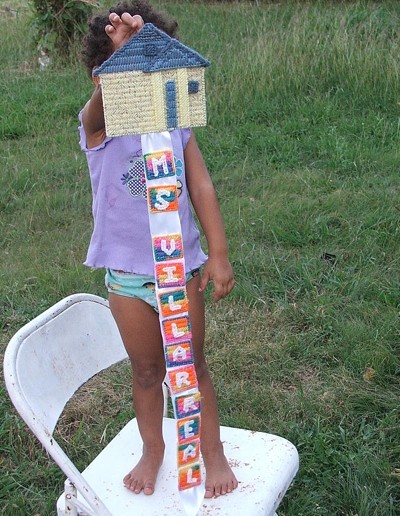 By Randa