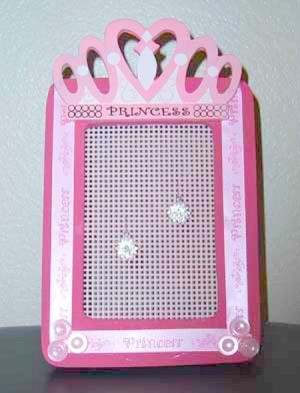 A jewelry box is a nice place to put your earrings, but what if you have some favorite pairs that you wear all the time. I got tired of digging through my earrings to find the pairs, so I made picture frame that could hold my earrings in a decorative manner. A friend of mine loved the idea so much that she asked me to make this one for her daughter.
Ingredients:
wooden picture frame (no glass)
plastic canvas
ribbon
buttons
decorative crown (pre-painted)
sanding pad
acrylic paint: pink
paintbrush
hot glue gun
hot glue
Directions:
1. Sand down the wood frame so that it is smooth. Wipe it with a slightly damp rag to get all the dust off of it.
2. Using the pink paint, paint the entire picture frame, front and back.
3. Let the paint dry overnight.
4. Cut a piece of plastic canvas to the size of the picture opening and place it where the picture would go. If there are prongs to hold it, you do not need to glue it in. Otherwise, use your hot glue to hold the canvas in.
5. Cut four pieces of ribbon. Two cut to go down the vertical sides of the frame, and two to the size of the horizontal.
6. Hot glue the ribbon to the frame. With hot glue it can stain the ribbon, so only glue the ends. Just be sure you pull tight so your ribbon does not ripple.
7. Using the buttons, glue three to each corner.
8. Taking the crown, glue it to the top of the picture frame.
9. Hang your earrings on the plastic canvas.
Comments
Read More

Comments