Not only is spinach good for you, it is also a very versatile green that can be prepared in many delicious ways. This page contains recipes using spinach.
By Stephanie 155 243
Spinach pasta is a very tasty type of homemade pasta and a great way to sneak some vegetables in the kids. It's great with spaghetti sauce, cream based sauces like Alfredo sauce, pesto sauces, or our favorite, homemade shrimp scampi!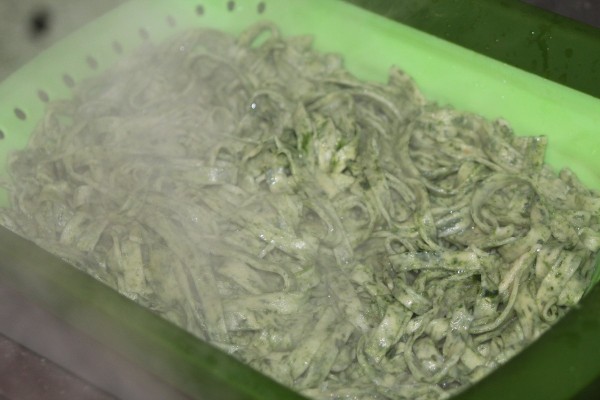 If a recipe calls for frozen spinach with the water squeezed out, I have a great and easy way to do this. No more do you need to waste valuable paper towels and make a mess. I use my potato ricer.
By terri 1
I have a case of canned spinach. Does anyone have any good recipes?
By Terri
---
Most Recent Answer
December 29, 2010
There are wonderful recipes for canned spinach on the Popeye site: www.popeyespinach.com/recipes.php
---
I'm looking for a very simple and easy spinach squares recipe.

Thanks!
D. from Yellow Springs, Ohio
---
Most Recent Answer
By guest (Guest Post) Flag
November 9, 2007
I found that frozen shinach is very stringy. The veins and stems are left in during cooking process. Much better if you use fresh spinach and remove the stems and large veins before cooking it. Takes more time but worth it in the end.
---
Directions:
2 eggs
3/4 cup milk
1 Tbsp. Parmesan cheese
1/4 tsp. garlic powder
1/8 tsp. pepper
1/4 cup bread crumbs
3/4 cup shredded cheddar cheese
10 oz. fresh spinach, chopped
Directions:
In a medium bowl combine first six ingredients. In a lightly greased baking dish spread bread crumbs. Cover with 1/2 the cheddar, then 1/2 the spinach. Pour egg mixture on top and repeat cheddar and spinach. Bake at 350 degrees F for 40 minutes. Let stand 10 minutes. Best if served hot.
Source: Family recipe
By LRP from LWL, MA
This is a 'put your hand on your tummy and rub to show it's yummy' recipe. ;-)
Ingredients:
3/4 lb mustard greens and/or spinach, stems removed, rinsed and drained
1/8 cup extra-virgin olive oil
4 1/2 tsp. garlic, minced
Salt and pepper
Red wine vinegar
Directions:
Heat a large pot over high heat until hot. Add the olive oil. Add the garlic and cook for a few seconds until it is golden. Add half of the greens and toss well in the garlic oil with tongs.
Add the remaining greens and toss until the greens wilt evenly. When wilted, season with salt and pepper to taste. Continue cooking over high heat, tossing often, until the excess liquid evaporates.
Transfer greens to a bowl and allow to them cool to room temperature and season to taste with vinegar. Serve at room temperature. The greens are also tasty served cold and will keep well in the refrigerator for a couple of days.
By Deeli from Richland, WA
Tips and recipes for using spinach. Post your ideas.
---
Most Recent Answer
By Susan Sanders-Kinzel 10 2,498 Flag
July 6, 2005
When grocery shopping, purchase a bag of spinach leaves from the salad ready isle. Add to scramble eggs, sandwiches and more for a healthy delicious treat!
By Jennifer Russell
Serves: 4
Ingredients
1-10 oz. box frozen chopped spinach
1/4 cup parmesan cheese
1 cup cottage cheese
1 egg, beaten
Directions
Preheat oven to 325 degrees. Cook spinach according to directions. Drain. Combine all ingredients, mixing well. Bake in a 1 1/2 Qt. souffle dish or a round casserole dish for 30 minutes.
By Terri
Did you know you can stir in a 10 oz. package of frozen creamed spinach into a box of hamburger helper, especially the cheese flavors and even the kids will eat it? I HATE spinach and it was wonderful!

By Sandra G.