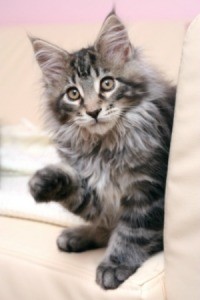 Cat urine odor is strong and sometimes difficult to remove from upholstered furniture. This is a guide about removing cat urine odor from a couch.
Ad
---
Product Recomendation
Where to Buy Kids 'N' Pets Odor Remover
If you have children and/or pets, you will find yourself needing to eliminate urine and other odors from furniture upholstery and carpet. We have tried many brands of odor removers over the years, Kids 'N' Pets is the one that works.
Solutions: Removing Cat Urine Odor from a Couch
Read and rate the best solutions below by giving them a "thumbs up".
I thought I had deodorized my microfiber sofa, but continued to smell cat urine, especially when on the floor playing with my toddler. I turned the couch over and behold! The carpet was covered with stains caused by urine seeping all the way through the sofa. I treated the carpet, and the smell went away.
By the way, I have noticed that my diva of a cat only urinates on the sofa when her litter box does not meet her demanding standards, so daily scooping and frequent changes have eliminated the sofa problem--or so I hope.
Give a "thumbs up" to the solution that worked the best! Do you have a better solution? Click here to share it!
Questions
Here are questions related to Removing Cat Urine Odor from a Couch.
I have a huge problem! I am staying with a friend for a couple weeks until my house is ready to move into. My oldest cat, only a year, peed on her sofa because she was scared to get down to use the litter box. My friend has 2 dogs.
I tried Febreze and it didn't work so I went to the store and bought special "cat odor and stain remover spray". I have scrubbed the couch twice with no success. She has a reclining sofa so I can't take the sofa apart to wash them. What should I do? I feel horrible because my cats never did that at my house!
By Kinder from San Diego, CA
AnswerWas this interesting? Yes No
Ad
---
---
Most Recent Answer
By pacifica 1 12/10/20100 people found this helpful
Several posts talk about extracting the water used for the clean up, can anyone recommend a wet/dry vacuum for this problem?
Thanks.
---
My cat has peed on my sofa once again! The smell is so awful that I can't enjoy sitting in my living room anymore. I need a home remedy that is going to work. Please help.
By Tammy from Chicago, IL
AnswerWas this interesting? Yes No
Ad
---
---
Most Recent Answer
By angelmom47481 1 11/09/20130 people found this helpful
I got cat urine out of my leather chair with white distilled vinegar. I think I just used straight vinegar. The cat then sprayed my micro fiber sofa. I pulled the covers of the cushions and washed them with vinegar and borox in the washing machine and I don't smell anything on them. I sprayed the foam of the cushions with 50/50 mix vinegar and water covered with plastic and keeping my fingers crossed. So far the vingar has worked beautifully for me. Also once it dries the oder goes away (well in this case both odors). Good Luck.
---
My cat is peeing on my couch. I need a strong remedy to get the smell out. I have tried citrus pet cleaners, vinegar and baking soda, Nature's Miracle, etc. He doesn't seem to avoid the area. Please help.
By Kristen
AnswerWas this interesting? Yes No
---
Most Recent Answer
By Lizzyanny 9 1,221 09/26/20110 people found this helpful
Natures Miracle may not work if you have used other chemicals before you apply it. It needs to be soaked deep into the cushion and allowed to dry for possibly several days before the smell will be gone. Try some deterent scents to keep him away form the spot. My favorite is to lay a piece of aluminum foil on the spot. they hate to step in it. good luck.
---
My boyfriend and I were cat-sitting for his mom for a couple of weeks, and during that time, one of the cats decided to use our fairly new couch (less than a year old) as his litterbox. The cats are gone, but the couch still reeks of cat urine. We have an enzyme cleaner and I've sprayed it about 5 times over the cushion where the damage was done (took the cushion out of the cover and sprayed them separately), but I can still smell it. I'm to the point where I just want to pour the bottle onto the cushion and get it soaking wet, but I don't know if that's how it should be used. I just want my apartment to stop smelling like cat pee. Is there a better way to get the entire cushion and cover clean?
By Andrea B
AnswerWas this interesting? Yes No
---
Most Recent Answer
By designgirl178 14 09/04/20130 people found this helpful
Try Totally Pet from Walmart. It works wonders. Also if the area is only on a cushion and it's removeable I would take it to an professional upholsterer and have it replaced if the odor persists. You should have a zipper to remove the cushion, then wash the cushion and use fabric softener and fabreeze on it. Good luck.
---
How do I clean cat urine from a microfiber sofa?
By Diane from Litchfield Park, AZ
AnswerWas this interesting? Yes No
---
Most Recent Answer
By Jackie 5 9 12/08/20090 people found this helpful
I'd try vinegar and blotting.
---
I just bought couches from a lady, without realizing how bad the smell really was. I feel like the cat urine has sat on the couch for a very long time and I am having trouble cleaning it. So far I have steam cleaned the couches with cleaner and water, then I sprayed Nature's Miracle on them the next day and I still smell it! Do I need to soak the couches in order for it to work?
Please help! I need a better solution for this nasty problem!
By CM
AnswerWas this interesting? Yes No
---
Most Recent Answer
By jean99 6 30 11/18/20130 people found this helpful
Nature's Miricle works by letting the bacterial spores turn into the bacteria that eat the urine. You need to allow time for the bacteria to replicate. They will keep on replicating as long as they have a food supply, ie, the urine. They turn the urine into carbon dioxide and water.

This completely removes the urine and the odor. You also need to soak the couch parts enough to keep them wet enough for the bacteria to travel and to stay alive. I completely cleaned a mattress of cat urine by soaking the top of the mattress, applying the bacterial product, and then covering it with plastic bags for at least three days.

Ridex, the liquid or powder, is a less expensive product to use. It contains the same bacterial spores. They eat organic matter whether it is in a septic system or on a couch.

You can use a black light to see which parts of the couch have urine. You need to use it in the dark. The urine spots will look white.
Best wishes. Don't give up. I know this method works. Jean
I can not sit on this couch without smelling the horrible stench of cat urine. I don't think anyone has ever tried to clean it before. It is leather or faux leather, and brand new. And anything that touches it ends up smelling bad too. It is so disgusting. Please tell me we didn't waste $1200 on furniture.
By Madeline
AnswerWas this interesting? Yes No
---
Most Recent Answer
By Maggilu 5 06/19/20130 people found this helpful
I use a cleaning product called Unique Natural Products Pet Odor and Stain Eliminator. It's a bacterial cleaner that breaks down the urine. You need to soak everything that smells bad in the stuff, and let it sit overnight, at least. Then you can use a hand held carpet cleaner or shop vac to suck up some of the moisture. Putting the couch/cushions outside in bright sunlight at this point would help too.
I have a cat that has urinated on my couch more than once. I have cleaned it with vinegar and my Bissel and currently have used Urine Out 2xs w/o sucking it up with the Bissel because I read the cleaner needs to get down into wherever the urine has gotten into. It smells better, but there is still an underlying odor and I'm worried the couch is going to get "marked" again. I don't know what else to do.
By Cathy
AnswerWas this interesting? Yes No
---
Most Recent Answer
11/14/20120 people found this helpful
Hi, not sure if you found a solution to your problems or not, but check out the scat mat on amazon,very good product. Also, please make sure you have your cat spayed regardless if it's an inside cat. A male cat that is not fixed can spray/pee on everything.

Anytime a cat pees on stuff please get it checked for a urine tract infection, usually that is the problem in 99% of of cats that are peeing around the home even if they still also use the litter box or not.

Walmart has cleaners with enzymes to help with cat urine smell.
Good luck :)
ps,maybe this will help you or others who may read this.

i have 15 cats and we had to rip up carpet in the whole house(training and other issues) we are replacing with laminate hardwood floors but to keep our house and our sanity we are buying fencing from lowes to make a cat area where they are able to go outside (safe in fencing area) where they can pee, run around and relax,we are also going to cut plywood to make shelf like thingys and carpet them to give them places to lay higher up (didn't figure out how to connect them yet) since cats like to be higher up on things.

We will buy a dog/cat door and put it in our wall in our family room so they can come and go as they please to the fence in area. They will be shut out though from the other parts of the house since they love to destroy our house playing running ect.

However we will allow them between 2 to 3 hours a day to come in our space. I'm thinking an hour and a half in the morning while I'm relaxing and drinking my coffee and able to keep an eye on them. Then again just after dinner time to play with them,give snacks and have our bonding family time. I hope it works the way I plan because I don't want to have to get rid of my cats. Out of all the cats we only adopted 2 of them, 14 years old now. The rest adopted me lol. 3 came to me pregnant and all gave birth just days apart.

All have been fixed. Not sure what state you are in, but if you have medicaid, some states pay up to 3 animals a year to get fixed and rabies shots. Also spca and rabies shots only charge 25 for males and 35 for females; very cheap and worth it.
Archives
Thrifty Fun has been around so long that many of our pages have been reset several times. Archives are older versions of the page and the comments that were provided then.
I have an olive colored microfiber couch that my cat has peed on. What can I use to clean and remove the smell from the couch cushions?
Cassie from Burlingame, CA
Answers:
RE: Cleaning Cat Pee Off A Couch
I would try undiluted white vinegar-it removed sour baby vomit from my couch and i use it as it absorbs odors after it dries. (10/26/2004)

By angelpitts
RE: Cleaning Cat Pee Off A Couch
2 possibilities here - go to local janitorial supply store and ask them for a deoderarizer for pet smells - get empty spray bottle - fill with liquid and spray furniture; or get oxy clean - combine with water put spray bottle and spray furniture. I have 3 cats and these techniques seem to work best. Good luck. (10/26/2004)

By Joanne
RE: Cleaning Cat Pee Off A Couch
I recommend Out for Cat Urine. I bought it in the pet department at Walmart. Keep spraying it until you can't smell the urine anymore. Cat urine is nasty and this works great. Also I think Nature's Miracle (?) works. Might have to buy this in a pet shop. (12/11/2005)

By SueBee
How do I remove cat's urine in my microfiber couch and get rid of the smell?
By tiny1130 from NYC, NY
Feedback:
RE: Getting Rid of Cat Urine Odor from Microfiber Couch
Go to a pet store and buy some Nature's Miracle. This stuff works great. (08/06/2009)

By soochatty
RE: Getting Rid of Cat Urine Odor from Microfiber Couch
You can purchase something called Urine Out! at Wal-Mart. It also helps to keep cats from spraying. Just remember to really saturate the area as the spray needs to reach the padding of the cushion, also. (08/06/2009)

RE: Getting Rid of Cat Urine Odor from Microfiber Couch
Take the foam out of the cushion first. If you cannot rinse the microfiber, then lightly spray with white vinegar (vinegar disinfects, removes scent and the white vinegar smell disappears quickly). Then rinse the inside cushion and pour the white vinegar through it, rinse again. Let it air dry. Should be dry by morning.

Then place a few fabric softener sheets inside the couch and between the cushion/fabric. Change it after a day or two. This helps to keep it smelling nicely after the vinegar. It works. I did it to my regular fabric couch and they haven't had another accident since. Plus its cheap.
(08/06/2009)

By dvg
RE: Getting Rid of Cat Urine Odor from Microfiber Couch
The best stuff I have used is a mix of peroxide, baking soda, and Dawn. I don't know the exact measurements, I just use a small bottle of peroxide, about half a cup of baking soda, and a few squirts of Dawn. You have to use it up after you make it, it won't store, but it takes out the urine amazingly well. Its a mixture made for taking out skunk odors, but its knocks out pet stains. A guy on PBS showed how it breaks down the stain by attaching to the molecules and breaking them apart. All I know is, it took cat urine out of a mattress and carpet like nothing I have ever used. (08/06/2009)

By dorinmoz
RE: Getting Rid of Cat Urine Odor from Microfiber Couch
Our dog had an accident on our micro fiber couch the best thing that we found that seemed to work that and on carpet is the highest count rubbing alcohol you can find. Not only do you get rid of smell you kill germs. Use a spray bottle. (08/06/2009)

By HISFEE
RE: Getting Rid of Cat Urine Odor from Microfiber Couch
Trisodium phosphate will destroy the odor. Always use cold water to restrict (skin, fabric) from drawing in the odor. Use gloves with this and always test in a out of the way spot. (08/06/2009)

By lynnsmskitty
RE: Getting Rid of Cat Urine Odor from Microfiber Couch
Enzymatic "cleaners" really are the trick, but it seems you don't have to shell out the big bucks to get the effect. The post suggesting the use of Dawn was on the right track, but according to the Dawn website, only its "Dawn Plus" line contains enzymes, so stick with that one, (you can print a coupon online, too), or another brand which you know to contain enzymes, (call the 800 number to confirm).
It may be as simple as watering it down in a spray bottle, but you can certainly add other things, such as vinegar or hydrogen peroxide, according to online recipes. Whatever you do, it should not be necessary to pay $20-$30 per gallon for Simple Solution or some such, when you can make your own for a fraction of the price. Plus, any old black light will do for locating the areas to treat. (11/04/2009)

I came home to find that my cat had urinated on my Jennifer Convertibles microfiber couch. I wasn't there to soak up the stain immediately, so I'm afraid the urine soaked and dried all the way into the couch.