Removing Ink Stains from Clothing
It can be difficult to remove ink from clothing. This guide is about removing ink stains from clothing.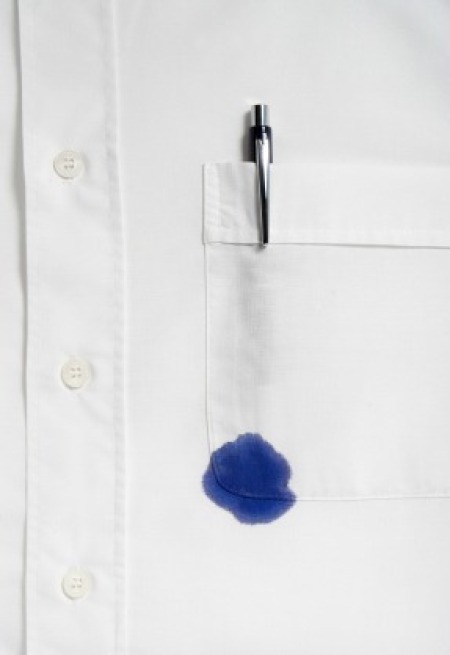 How do I get ink stains out of clothes after drying?
I washed and dried a load of laundry and after it dried I discovered that I had left a lipstick and a pen in a pocket. Also, one baby sheet has a blood stain. Is there anything that I can try to remove the stains; they are mostly baby items.
How do I remove ball point ink from clothing?
By Nancy
March 5, 2014
0

found this helpful
Best Answer
I had ballpoint pen on my good rain jacket and my friend told me to spray some hairspray on the mark and blot with a paper towel and it really worked!
(not sure if I sent this in yesterday or not)
Terri
March 9, 2014
0

found this helpful
Best Answer
Hairspray works. So does alcohol on a Qtip or cotton ball. Always test in a seam to be sure the color doesn't run or that it doesn't leave a ring.
Spray deodorant on the stain, then rub with a cloth. It should come off. If it doesn't come off straight away, but instead only fades after you have rubbed it, then spray more deodorant on the stain. :)
Source: My brother
Use hairspray to treat any type of ink stain (permanent marker, ink pen, etc.). Throw it in the wash machine and voila! No more stain. I have been doing this for years and it works fantastic. I bought a prom dress at 85% off because of the ink stain on it. The saleslady told me how to get it out all those many years ago and it is still the best for removing this type of stain.
By Diana from Las Vegas, NV
My sister works on Dubai; I live in the Philippines. Since Christmas is close she bought a new pair of Air Max Tr 365 for me. When I was writing with a marker it ran out of ink, then I got some refill ink. When I was refilling it the refill ink poured in my shoes. I removed some of it, but the back of my shoes that says "MAXAIR" got covered in ink.
So please tell me what to do because they are from my hard working sister and it's brand new, what should I use to remove it? If you don't know the Air Max TR 365 please search for it so you may see the back of it.

December 7, 2015
1

found this helpful
If you can find the manufacturers name on the ink bottle you could google to find a phone number and call them. They would best know how to remove the ink from your shoes. If the doesn't work, you might be able to paint over it with fabric paints from a craft store.
When I was doing laundry I discovered that my husband left an ink pen in his pocket. I have a knit top that I tried using Spray and Wash, Shout, and Oxiclean on and have washed 4 times, but nothing has worked. Is there anything that might work after all of this?
By Mary Beth from OH
September 5, 2016
0

found this helpful
If you wash the clothing in COLD water, the bleach will only affect the stained parts. Might save you the next time, and thanks for the hint, as my husband left a pen in his shirt which went through the washer AND dryer in the pocket! Yikes. I keep finding things that are affected. I will try bleach on a Q-tip on my favorite white jeans that got some tiny stains which are hardly noticeable!
September 5, 2016
0

found this helpful
How can remove ink pen stained from dried clothes. The ink pen explored in the dryer
October 20, 2016
0

found this helpful
My husband left a Bic grip roller black marker in his shirt pocket when I washed and dryed the clothes. Now I has black stains on the clothing. Some of the clothing is white and others are colored. Please help me.

Denise
October 25, 2005
0

found this helpful
I washed a load of whites, and when I took them out there were black spots, like something had been splattered all over them. I tried bleach twice and and it didn't work!! How do I get this out of my clothes and what is it?
December 3, 2006
0

found this helpful
How do I remove black roller ball ink on white cotton duvet.
August 23, 2016
0

found this helpful
I dried an ink pen with a load of clothes. I need to know how to get it out of cotton pants, cargo pants. Thanks for any help.
By Tareasa from Dallas, TX
January 5, 2011
0

found this helpful
Hello. This happened to me. A load of dark clothes was washed and dried with a red ink pen. I used hairspray on the clothes and had a cloth to rub the ink out. It works!
February 2, 2012
0

found this helpful
I heard that babywipes will get the ink out of clothes. They say use a baby to plot the stain and then lay it over with a bit of pressure let it set for a hour or more and the use a stain remover spray and wash. I havent got to try it yet but I do know that it worked on lock tight from when I worked at trailer factory. Good luck!
How can I remove red ink from a sweater?
By csiatta from Lansing, IL
September 27, 2009
0

found this helpful
I always had succes removing ink by using old fashioned hairspray in the can, just spray it to saturate, then blot well, and repeat until gone, or almost gone, then wash.
October 2, 2009
0

found this helpful
I spray ink with hairspray. Usually comes out. Judy - also from Lansing
My son had to have his fingerprints taken to enter the police force. He got the ink on his dress white shirt. Any ideas how to get it out?
Thanks,
Fran from Hamden, CT
August 4, 2008
0

found this helpful
I always heard that if you sprayed the ink with hair spray before washing, that that would remove ink. I haven't tried it myself, but it is in every article and book that I have ever read on stain removal.
August 5, 2008
0

found this helpful
If the shirt is cotton, or at least 80%, you can take an old toothbrush, dip it into bleach (I just pour a little into the lid) and brush the stain out. Wash immediately! If you leave it, it will eat a hole in the fabric but if you wash right away this is as good as those "bleach pens". They just add a thickener and the dispenser works as a brush. Good luck to your son!
How can I remove a gel ink stain from clothing? The suggested method on this site does not work.
By Jim L.
June 20, 2011
0

found this helpful
Have you tried hair spray, it works on ink pen in even after months of being on a car seat or floor mat but I am not sure about gel ink. You just buy cheap hairspray in can and spray it on the spot, then blot it with a paper towel. I probably will take a couple of times but it should come out and leaves no residue. Not as expensive at a lot of other things either. Good luck. I have taken out printer ink off my cloth seats in the van with this.
I washed and dried light clothing last night. I found them this a.m. with ink stains all over clothes and inside of dryer from a ballpoint pen left in pocket of pants. I cannot get the ink stains off of clothes or dryer. I tried spraying with Zapit and rewashing, then soaking it with hydrogen peroxide. They are soaking now. I am afraid they are set due to being in dryer.
By Lanie from Lake Jackson, TX
April 25, 2011
0

found this helpful
Try soaking it in milk over night. It used to work for me when we had fountain pens.
Related
You are viewing the desktop version of this page:
View Mobile Site
© 1997-2016 by Cumuli, Inc. All Rights Reserved. Published by
ThriftyFun
.
Page
generated on October 24, 2016 at 12:33:17 PM on 10.0.0.227 in 17 seconds. Use of this web site constitutes acceptance of ThriftyFun's
Disclaimer
and
Privacy Policy
. If you have any problems or suggestions feel free to
Contact Us
.