Smoke damage can be very difficult to remove even from a small house or kitchen fire. This is a guide about removing smoke odors after a house fire.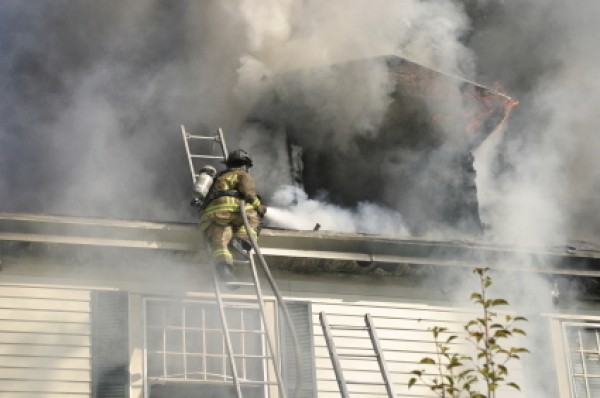 By cstaack 1
How do I remove the smoke smell from a mattress and garments that were in a house fire?
By cstaack from Columbus, NE
---
Best Answers
By guest (Guest Post) Flag
January 26, 20071 found this helpful
Two ways I know how to get rid of odors from fire.
1. Get a bowl of water and add white vinegar and let stay there without anyone in the room for a few hrs.
2. Put charcoal in the room in dishes, they use it here in Florida to get rid of musty odors.
---
By guest (Guest Post) Flag
November 17, 20081 found this helpful
I had a fire in my home this past year. I contacted a company on the internet BioWorld Products in Visalia, California. They have a odor eliminating product that removed all the smoke odor from my home. It worked absolutely great! I keep it on my shelf and use it for all kinds of odor when the need arises.
---
June 18, 2010
You will want to call a smoke and fire contractor. They rebuild after damage. You may not be able to get the smell out since it seeps into your wood, drywall and insulation. My friends just rebuilt after a small fire and they had to hire a professional smoke and fire contractor to remove all the smoke damaged parts of the house. Sorry.
---
By Tracy Baker 18 Flag
June 18, 2010
Sometimes professional cleaning services have ozone machines that they use to get rid of smoke damage smells. You might contact your insurance company for a recommendation.
---
Have you tried charcoal to remove the smell from the house and clothing and books? Take the clothing and books and put in a large trash bag. Place the charcoal in there first and then tie the end of the bag shut. Leave for about a week then remove and check for smell.
For the house, place charcoal in tin pans and sit around all over the house for a week. It should remove the smell.
For the smoke stains in clothes, try washing them in Oxiclean. I have never tried this but it came to me. It is suppossed to remove even the toughest stains.
Note: Use charcoal that does not have the starter added, just plain charcoal.
By Cassie
By Patti Mac 1 2
I have porcelain, glass, and wood items that are heavily smoke damaged due to a house fire. Many of these pieces are antiques and collectibles that I'd like to preserve as they belonged to my mother, who perished in the fire. What should I use on these different surfaces? Thank you very much!
By Patti from Everson, WA
---
Most Recent Answer
By Patti Mac 1 2 Flag
February 12, 2011
Thank You! I'll look into Totally Awesome!
---
How can I get the smoke smell out of our clothes and the smoke stains off after a small house fire?
By Danielle R.
---
Best Answers
August 4, 2011
Don't know if I can help, but two years ago my son had a fire in his house. Everything in the house was ruined from the smoke, but he had a favorite mattress he wouldn't through away. We keep it in our work shop til he could decide what to do with it. Thinking it was completely ruined, and because it was smelling up the shop, I decided to try ammonia (I had read about it somewhere) so I filled a pie pan full and left it on the floor near the mattress till it evaporated, it took a few days but slowly the smoke smell went away. The mattress was able to be used again and there is not a trace of smell left in it.
---
By Frugal Sunnie 11 1,695 Flag
August 5, 2011
Vinegar will also take the smoke odor out of clothes and mattress. Use the vinegar in the laundry by adding a cup to the wash cycle, repeat as needed until the smoke smell is gone. Make up a half water-half vinegar solution, dampen a washcloth or hand towel in the solution and wipe down the mattress. Should take the smell out but again, you may have to repeat.
---
By olsonrobin 1
Launder items using hot water, regular amount of detergent, and 1 cup each of white vinegar and baking soda. Repeat if any smoke smell remains. DO NOT dry until smoke smell is gone. This worked beautifully on my daughter's garments after her apartment complex had a fire. Most loads had to be run twice.
We had a mattress fire and some burn damage to the floor. There is no soot, but a smoke odor is there. The ceilings are textured white. What do I use to deodorize and get rid of the smoke odor permanently? I know I have to clean everything, but am not sure where to look for products or what to ask for. Thanks for any help. We have no insurance, so I am doing this myself! Thanks again.
By Sybil
---
Best Answers
thr522587 Flag
August 1, 2011
Even though you don't have insurance you could still call around to your local insurance companies to see what companies they use for fire/smoke cleanup. Then give those companies a call and I am sure they would be happy to give you some suggestions of what is the best thing to do and safest products to use.
---
By Frugal Sunnie 11 1,695 Flag
August 2, 2011
Vinegar will really help you get rid of the smoke stench and it is incredibly cheap. Mix it strong at one-to-one to create a washing solution for the floors, walls, light fixtures, switch plates, etc. Don't rinse it off as the vinegar smell will dissipate within a few hours taking the smoke odor with it. You may have to repeat the process once or twice depending on how long the surfaces were exposed to smoke.
You can also dampen a tea towel in full strength vinegar and wave it around the room, and set out shallow bowls of it full strength to deodorize the rooms.
How do you get smoke out of books after being in a house fire? The books are really old.
By Jeanette
---
Best Answer
By S Durgeloh 7 25 Flag
May 17, 2010
This works for books that smell of cigarette smoke so it may also work for house fire smoke. Put about a cup of baking soda in a large paper bag, place 2-3 books in the bag and close it tightly. Leave for three days or so then "test" to see if the smell is gone. Hope this works for you. Good luck!
By shannon 1
I had a house fire three months ago and lost most of my belongings that meant the world to me. I have a artificial tree that I love. It reeks of smoke damage and I want to know how to get that smell out?
By Shannon from Lacon, IL
---
Best Answer
thr522587 Flag
March 12, 2010
Gently wiping each leaf with a soft cloth with a water and distilled vinegar solution should help greatly. I know washing each leaf that way sounds time consuming, but I wash all my silk plants that way every spring. The vinegar will greatly reduce, if not remove, the smoke smell.
By Maggie 1
I put some 4 envelopes in the microwave to loosen the postage stamps to reuse. The envelopes caught on fire and the smell is awful. I have an open house tomorrow to sell my house. Ouch. Help.
By Maggie from White Lake, MI
---
Most Recent Answer
By PENNY K 14 564 Flag
March 8, 2010
Remove microwave to another location, like your Mom's garage. See how much odor is left. Turn on fan above range for few hours full blast. Do what you can to remove remaining scent with Febreeze room spray as suggested above. Early in morning add pleasant
cents as suggested above. The plastic in the microwave will continue to exude the odor, so it really needs to be out of the house, out of the garage, gone.
When all that fails and someone notices odor, just make a joke about doing in your microwave so they won't think you had a fire in the house.
---
I acquired a brand new cuddle chair which had been stored in a warehouse that had a fire. It really smells of smoke! I've tried Febreze, and air fresheners to no avail. Does anyone have any tips to get rid of the smokey smell please?
By Linzi
---
Most Recent Answer
February 9, 2015
Febreeze and air fresheners are only temporary fixes. If Febreeze did improve the chair, the company claims only a 30 day or so change. This limits any future liability.
I searched online and found many suggestions and companies offering their miracles. You may be lucky and find a good solution, however, most people give up after a few tries and dump the smokey item.
Caveat Emptor!
By idairlene 1
How do you get the soot and odor off of clothes, dishes, cookware?
By idairlene from Nelson, MO
---
Most Recent Answer
Is it safe to use cookware after being in a fire?
By Julia
How do you get the smell of a house fire off of appliances and will it work on the inside? I have a refrigerator where the smell outside is bad and the inside is faint, but still there. Will whatever I use turn it back to white it is a little yellow?
By Deb