Removing Smoke Odor After a House Fire
Smoke damage can be very difficult to remove even from a small house or kitchen fire. This is a guide about removing smoke odors after a house fire.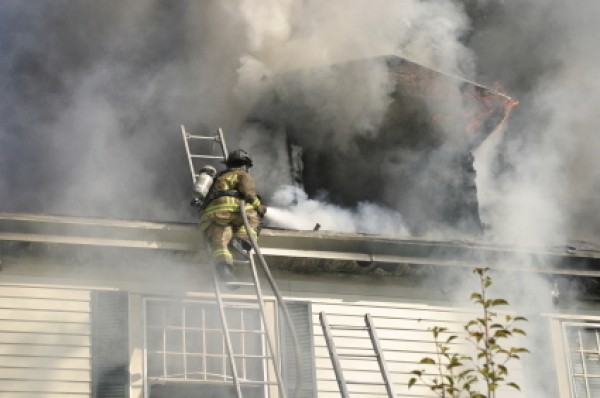 Filter

: All Articles
Sort

: Relevance
How do I remove the smoke smell from a mattress and garments that were in a house fire?
By cstaack from Columbus, NE
By guest (Guest Post)
Flag
November 17, 2008
1

found this helpful
Best Answer
I had a fire in my home this past year. I contacted a company on the internet BioWorld Products in Visalia, California. They have a odor eliminating product that removed all the smoke odor from my home. It worked absolutely great! I keep it on my shelf and use it for all kinds of odor when the need arises.
June 18, 2010
0

found this helpful
Best Answer
You will want to call a smoke and fire contractor. They rebuild after damage. You may not be able to get the smell out since it seeps into your wood, drywall and insulation. My friends just rebuilt after a small fire and they had to hire a professional smoke and fire contractor to remove all the smoke damaged parts of the house. Sorry.
June 18, 2010
0

found this helpful
Best Answer
Sometimes professional cleaning services have ozone machines that they use to get rid of smoke damage smells. You might contact your insurance company for a recommendation.
Read More Answers...
How can I get the smoke smell out of our clothes and the smoke stains off after a small house fire?
By Danielle R.
August 4, 2011
1

found this helpful
Best Answer
Don't know if I can help, but two years ago my son had a fire in his house. Everything in the house was ruined from the smoke, but he had a favorite mattress he wouldn't through away. We keep it in our work shop til he could decide what to do with it. Thinking it was completely ruined, and because it was smelling up the shop, I decided to try ammonia (I had read about it somewhere) so I filled a pie pan full and left it on the floor near the mattress till it evaporated, it took a few days but slowly the smoke smell went away. The mattress was able to be used again and there is not a trace of smell left in it.
August 5, 2011
0

found this helpful
Best Answer
Vinegar will also take the smoke odor out of clothes and mattress. Use the vinegar in the laundry by adding a cup to the wash cycle, repeat as needed until the smoke smell is gone. Make up a half water-half vinegar solution, dampen a washcloth or hand towel in the solution and wipe down the mattress. Should take the smell out but again, you may have to repeat.
August 11, 2011
0

found this helpful
They have Pure Air Candles, I guess they, are really good for smoke, also, activated charcoal is good for odor too, takes care of pet smell, and you get it at, pet supplies stores. Good Luck. Regina
Read More Answers...
Some of my house plants survived a major fire. I literally washed them with FIT and removed all old dirt to wash away the fire retardant and ash, etc. I repotted them in new pots with new potting soil, but they still smell like smoke. Any suggestions? They are temporarily in a new, smoke free location so it's not anything else, but the plants themselves that smell.
April 4, 2016
1

found this helpful
Plants are living things, of course, and perhaps their tissues have absorbed the smoke smell. If they were mine, and the weather was good, I'd put them outside and let them grow there for awhile. I think that if you just let them grow for some time, this smoke smell will go away.
It has been over 4 months since our house fire. There was heavy smoke damage. How do I get the smoke stains/smell out of trophies, tiaras, sashes, etc.?
Read More Answers...
We had a mattress fire and some burn damage to the floor. There is no soot, but a smoke odor is there. The ceilings are textured white. What do I use to deodorize and get rid of the smoke odor permanently? I know I have to clean everything, but am not sure where to look for products or what to ask for. Thanks for any help. We have no insurance, so I am doing this myself! Thanks again.
By Sybil
August 1, 2011
0

found this helpful
Best Answer
Even though you don't have insurance you could still call around to your local insurance companies to see what companies they use for fire/smoke cleanup. Then give those companies a call and I am sure they would be happy to give you some suggestions of what is the best thing to do and safest products to use.
August 2, 2011
1

found this helpful
Best Answer
Vinegar will really help you get rid of the smoke stench and it is incredibly cheap. Mix it strong at one-to-one to create a washing solution for the floors, walls, light fixtures, switch plates, etc. Don't rinse it off as the vinegar smell will dissipate within a few hours taking the smoke odor with it. You may have to repeat the process once or twice depending on how long the surfaces were exposed to smoke.
You can also dampen a tea towel in full strength vinegar and wave it around the room, and set out shallow bowls of it full strength to deodorize the rooms.
Launder items using hot water, regular amount of detergent, and 1 cup each of white vinegar and baking soda. Repeat if any smoke smell remains. DO NOT dry until smoke smell is gone. This worked beautifully on my daughter's garments after her apartment complex had a fire. Most loads had to be run twice.
Have you tried charcoal to remove the smell from the house and clothing and books? Take the clothing and books and put in a large trash bag. Place the charcoal in there first and then tie the end of the bag shut. Leave for about a week then remove and check for smell.
For the house, place charcoal in tin pans and sit around all over the house for a week. It should remove the smell.
For the smoke stains in clothes, try washing them in Oxiclean. I have never tried this but it came to me. It is suppossed to remove even the toughest stains.
Note: Use charcoal that does not have the starter added, just plain charcoal.
By Cassie
I have porcelain, glass, and wood items that are heavily smoke damaged due to a house fire. Many of these pieces are antiques and collectibles that I'd like to preserve as they belonged to my mother, who perished in the fire. What should I use on these different surfaces? Thank you very much!
By Patti from Everson, WA
February 7, 2011
0

found this helpful
First off, no one noticed or wanted to mention that your mom perished in the fire. I am so very sorry to hear that you lost her. Of course the things she left are doubly precious.
That said, TSP or Tri Sodium Phosphate is the one thing that will absolutly get them clean. It is especially formulated for nicotine and smoking damage to walls, windows, and items that are in the home of smokers. I hope this helps.
Please know that we will keep you in our hearts. I am sure it was because of the loss that no one wanted to mention it. We are a kind and generous bunch so know that if you are new to us.
Sincerely,
Poor But Proud
February 7, 2011
0

found this helpful
Patti,
My sincere condolences to you and your family. I can completely understand your need to restore these things to their original beauty.
I deal in antiques, in particular porcelain, china and glassware. There is no universal product or method to cleaning/restoring these types of pieces. There were/are so many methods used in the production of vintage and antique wares that great care must be taken - what will work fine for one piece, can destroy the next. For clear glass or crystal, whether cut or uncut, fill your sink with warm water and liquid dish soap just as if you were going to wash your regular dishes. To this add about 1/2 to 1 cup of vinegar (be generous). Wash the crystal using a soft toothbrush to gently scrub in any cuts in the glass. If there is still residue remaining, dip your wet cloth into some baking soda and use it to gently "scrub" the piece. Baking soda is a mild abrasive and does a nice job of cleaning tough residue and it doesn't take a lot of elbow grease. Finally, rinse the item well in warm water and dry with a soft cloth right away. I've always used this technique and have had success cleaning some pretty tough pieces. You'll be amazed at how they will sparkle!
In the interest of not turning this post into a book, please feel free to contact me about cleaning any other types of items. Once I know what they are I can better help you go about it.
Take care!
February 12, 2011
0

found this helpful
Thank You! I'll look into Totally Awesome!
Read More Answers...
I acquired a brand new cuddle chair which had been stored in a warehouse that had a fire. It really smells of smoke! I've tried Febreze, and air fresheners to no avail. Does anyone have any tips to get rid of the smokey smell please?
By Linzi
February 9, 2015
0

found this helpful
Febreeze and air fresheners are only temporary fixes. If Febreeze did improve the chair, the company claims only a 30 day or so change. This limits any future liability.
I searched online and found many suggestions and companies offering their miracles. You may be lucky and find a good solution, however, most people give up after a few tries and dump the smokey item.
Caveat Emptor!
How do you get smoke out of books after being in a house fire? The books are really old.
By Jeanette
May 17, 2010
0

found this helpful
Best Answer
This works for books that smell of cigarette smoke so it may also work for house fire smoke. Put about a cup of baking soda in a large paper bag, place 2-3 books in the bag and close it tightly. Leave for three days or so then "test" to see if the smell is gone. Hope this works for you. Good luck!
I had a house fire three months ago and lost most of my belongings that meant the world to me. I have a artificial tree that I love. It reeks of smoke damage and I want to know how to get that smell out?
By Shannon from Lacon, IL
March 12, 2010
1

found this helpful
Best Answer
Gently wiping each leaf with a soft cloth with a water and distilled vinegar solution should help greatly. I know washing each leaf that way sounds time consuming, but I wash all my silk plants that way every spring. The vinegar will greatly reduce, if not remove, the smoke smell.
I put some 4 envelopes in the microwave to loosen the postage stamps to reuse. The envelopes caught on fire and the smell is awful. I have an open house tomorrow to sell my house. Ouch. Help.
By Maggie from White Lake, MI
March 8, 2010
0

found this helpful
I have great 3 suggestions for you:
1) Put 1 part white vinegar (or any kind of vinegar) into 4 or 5 parts of water & microwave this until it boils & starts to produce steam, then open the microwave door so the steam from the vinegar-water goes out all over the kitchen & rest of the home... Believe it or not, vinegar removes odors! ...If your microwave still stinks, simply keep the microwave door shut & boil for a minute or 2 so the steam will penetrate the inside of the microwave. Do this at least 2 or 3 hours before your guests arrive, not right before or the house will smell like vinegar!
2) Run out & buy yourself some vanilla Febreze room or fabric spray & spray it all over your furniture & carpeting because the burnt smell may have gotten into the rugs & upholstered furniture. I suggest Vanilla because it's a light scent & is supposed to be a scent that most people love because it reminds us of when we were young & our mother baked cookies. Don't do this right before your guests arrive, do it at least an hour before they arrive so the scent dissipates.
3) Instead of using smelly room sprays that many people hate, right before your guests arrive turn your stove burner on to low then sprinkle a tiny bit of plan ground cinnamon powder directly on to the burner then immediately turn the burner off. The cinnamon will make your home smell like you've been baking! Yummy!
* A NOTE: Be sure the cinnamon powder does not contain any sugar!
March 8, 2010
0

found this helpful
Remove microwave to another location, like your Mom's garage. See how much odor is left. Turn on fan above range for few hours full blast. Do what you can to remove remaining scent with Febreeze room spray as suggested above. Early in morning add pleasant
cents as suggested above. The plastic in the microwave will continue to exude the odor, so it really needs to be out of the house, out of the garage, gone.
When all that fails and someone notices odor, just make a joke about doing in your microwave so they won't think you had a fire in the house.
© 1997-2016 by Cumuli, Inc. All Rights Reserved. Published by
ThriftyFun
.
Page
generated on July 24, 2016 at 10:07:12 AM on 10.0.1.7 in 572 msecs. Use of this web site constitutes acceptance of ThriftyFun's
Disclaimer
and
Privacy Policy
. If you have any problems or suggestions feel free to
Contact Us
.