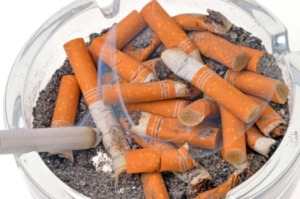 Whether you are a former smoker or have acquired some used furniture from smokers, the odor is not pleasant and can be difficult to remove. This is a guide about removing smoke odors from furniture.
Ad
---
Product Recomendation
Where to Buy OdoBan Odor Eliminator
Eliminate cigarette smoke and other offensive odors with OdoBan Odor Eliminator!
Solutions: Removing Smoke Odors from Furniture
Read and rate the best solutions below by giving them a "thumbs up".
After cleaning the cabinet with vinegar and keeping a pan of charcoal in the cabinet for a couple of days, it still smelled like smoke. I sprayed it inside and out with orange scented furniture polish, then wiped it down. Now it smells like oranges!
Give a "thumbs up" to the solution that worked the best! Do you have a better solution? Click here to share it!
Questions
Here are questions related to Removing Smoke Odors from Furniture.
We bought a suede couch and the people before us smoked and it smells so bad. Please tell me what I can use to get that smell out.
By JGreene from KM, NC
My husbands Aunt gave us a chair with a stool. The problem is that she smokes and the chair smells terrible. I tried to Febreeze it. I Febreezed it to death but can't seem to get rid of the smell. The chair was well taken care of otherwise. I don't know what to do. Please help.

Denise from Marion, NY
AnswerWas this interesting? Yes No
Ad
---
---
Most Recent Answer
By Susan (Guest Post) 09/03/20080 people found this helpful
Maybe you are using the wrong Febreeze. Try Febreeze Antibicrobial. My friend works for a car company and she uses this to clean the insides.
---
How do I remove smoke ordor (from a fire) from wood furniture?
By John from CT
AnswerWas this interesting? Yes No
Ad
---
---
Most Recent Answer
By JJG 1 04/09/20110 people found this helpful
OK, just been down this road. Bought a really nice walnut dresser, art deco circa 1960s and was it probably around smoke since.

I realized it was a smoker's home when I walked in, but didn't figured on how difficult it would be to remove the smoke smell. I came home the next day and the whole apartment wreaked of cigarette smoke. I almost gagged while trying to sleep, and I'm an occasional smoker.

I washed it every day for a week with vinegar and baking soda. Every pail of water I dumped out looked like coffee with a bit of milk in it and smelled like nicotine. The water would only get marginally lighter. This piece had a varnish on it as well so I know I was not removing stain. The stain did not fade

Bottom line, after all the cleaning, washing, rinsing, incense, freshners, deoderizers, I decided to revarnish it with a Minwax dual stain / Polyurethane. Three coats, including inside the drawers. Finally, the smoke smell is 95% gone. If I try harder and sniff real close, I can still detect it, or maybe its in my head. But at least the smoke smell is gone from the house. It that hadn't worked, I would have thrown it out.

This $35 dresser ended costing an extra $25 with all the stuff I tried.

So my advice; if you are not up to refinishing the item, then don't buy it. Forget trying to clean it.
---
What can you use to clean wood bedroom furniture that smells like smoke? They say to use baking soda. Do you mix it with water? How do you use it to clean? Thanks.
By Sugar Nanny from Mt. Pleasant, TN
Archives
Thrifty Fun has been around so long that many of our pages have been reset several times. Archives are older versions of the page and the comments that were provided then.

We inherited a nice leather recliner that reeks of cigarette smoke. How do we remove the odor? I don't want it in my house until this is done.

Yvonne from Portland OR
Answers:
RE: Smoke Smell Removal from Furniture, Rugs, Etc.
I would call your local "ServiceMaster" or similar cleaning business & seek their advice. They have to deal with removing smoke odors after fires, etc. So they should know. (12/31/2004)

By FrugalFriend
RE: Smoke Smell Removal from Furniture, Rugs, Etc.
I have heard that vinegar and water work well. If you put apple cider vinegar in a bowl and let it sit it will absorb the odor. Also after my house fire we used Orange Glow cleaner to clean our wood products and paneling and it really helped (01/08/2005)

By Jennifer
RE: Smoke Smell Removal from Furniture, Rugs, Etc.
I am in the same boat. I bought a couch at a yard sale, and it smells awful of cigarette smoke. I have shampooed it twice, once with a product that was guarenteed to remove the oder, which it did not. I am thinking I am gonna have to get rid of the couch, cuz it is stinking up the whole house. I don't know what to do. Good Luck (11/12/2005)

By Linda
RE: Smoke Smell Removal from Furniture, Rugs, Etc.
We had a wooden dresser from my in-laws when we got married. It stunk of smoke. I put about 5 charcoal brickets in each drawer for a full week. After that, I put a new dryer sheet in with our clothes in each drawer for about a month. That worked alright. But if it is not a dresser, like a rocking chair I have this problem with, I don't know if charcoal will absorb the odor. (11/28/2005)
RE: Smoke Smell Removal from Furniture, Rugs, Etc.
Anything with Cinnamon will neutralize heavy smoke order: going through a 3-level apartment fire, we came out with heavy smoke and water damage. We saved our Enduro suede couch by covering every inch with "carpet fresh" baking soda that included cinnamon. We left it on for a minimum of twenty-four hours, then vacuumed it. That was one year ago in April, and the smell never returned. Scope (two capfuls in laundry) will also remove the heavy smoke odor without perfume, it is the TSP (trisodium phosphate. I think) that is what the American Red Cross gave us. I never came across the smell on my wood, but I aam wondering if you spray the scope, then wipe it down? I also washed down all my wood with Murphy's oil soap after we moved (to remove dust/ash and leaves) so maybe that helped. (08/06/2006)

By camo_angels
RE: Smoke Smell Removal from Furniture, Rugs, Etc.
Because wood is porous and soaks up odor the only 100% way to remove odor from wood is to seal the odor into the wood using shellac or blowing the furniture up. :P This is very inexpensive and will do the job everytime. A quart will run around $8-12 depends on where you buy, but make sure you buy clear shellac and not anything tinted if you wish to keep the same color of the wood. Just apply the shellac like painting any peice of furniture.
If you need smoke removed from your house or apartment you absolutely need to seal the walls and ceiling. I personally recommend BIN becuase it is shellac based and it dries within 10-15mins after application, however if the odor is not strong you might get away with Killz. A gallon of sealer can be $20-26 (BIN being more expensive, but WELL worth it!) 5 Gallons will cover around 2400 Sq Feet. Keep in mind you need to account for each wall and cieling when figuring your Sq footage. After the sealer dries apply your choice of paint and you are finished.
You may still have smoke odor in your cabinets, those will need to be shellaced. You can use either Parson's cleaner or Murphy's cleaner to prep the areas first.
The vents will have the smoke odor also, however depending on the what material the duct work is. If fiberglass duct work was used the smell is in here for good unless you rip it out. You can minimize the odor by getting a better air filter.
By sealing the walls, ceilings, and cabinets you should be able to remove 95-100% of the smell.
(10/25/2006)

By Brian Jarrett
RE: Smoke Smell Removal from Furniture, Rugs, Etc.
I bought a dresser form a garage sale and it smelled so badly. I used Orange Glow and it worked for a while but I find the smell keeps coming back, but it's no longer that strong. Please advise what can I use to get rid of the smell totally. (09/03/2007)

By Siza
We're looking for advice on how to clean cigarette smoke smell from a coffee table. The top is marble, and the base is wood. Any tips for what is the best cleaning agent for the marble and the wood? Thank you!

Tara from St Paul, MN
Feedback:
RE: Smoke Smell Removal from Furniture, Rugs, etc.
For smoke smell I have used the orange cleaner that has d'limonene in it, and you can use this for any smoke smell and it works great. For the wood and marble table you can use the orange cleaner then treat it after with this method. 12oz Granite and Marble Spray Polish works great on the marble. Home Depot sells it at a low price.
(01/23/2008)

RE: Smoke Smell Removal from Furniture, Rugs, etc.
A product available at Home Depot that is made by ZEP. It comes in a spray can and is a Smoke Odor eliminator. All you do is spray the room 2 times a day and the smell will go away. Got this tip from my son's Realtor when he was listing his home for sale. He is a smoker and she suggested he use this and smoke outside until the home is sold. At the end of a week she returned and could not smell smoke odor. Great stuff. (01/27/2008)

By ESMERALDA
RE: Smoke Smell Removal from Furniture, Rugs, etc.
Just got a smoker's leather couch. I used a lot of different ways, to get the odor off. Finally, dog odor remover helped. (01/07/2009)

By Pepper
How do I remove smoke odor (from a fire) from wood furniture?