Sometimes your sink may have stains that are difficult to remove. This is a guide about removing stains from a porcelain sink.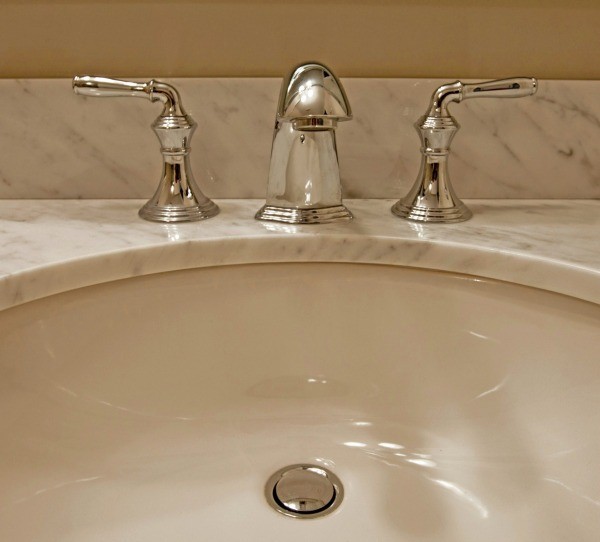 Filter

: All Articles
Sort

: Relevance
How do you get the gray mark out of your kitchen sink. My sink is just a year old and the marks are getting worse. I use cleanser but it doesn't budge them. Please help.

Jean from Banning, CA
September 14, 2008
0

found this helpful
I'm going to try some of the other users' suggestions. I've used Restore-4 for porcelain, and it works well. Just a note though - it stinks! Open your windows. Make sure sink is completely dry before spraying it on with a spray bottle. Let soak for 15 minutes, then scrub with a scrub brush. It's a pain, but it works.
December 27, 2008
0

found this helpful
Toothpaste! OMG it worked great and my new-ish sink is new again. Try it.
February 6, 2010
0

found this helpful
Use some smooth cook top cleaner on a paper towel, rub & within seconds, the scratches will disappear, guaranteed! This also works great on bath/jetted tubs also.
Read More Answers...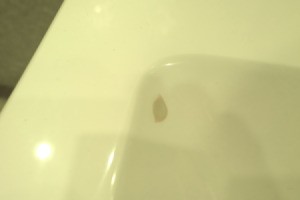 I have a hair removal cream stain on my white sink. It has been there for 3 weeks. Now the stain is dark grey. What can I do? Please help me!
By Jolanta
February 28, 2015
0

found this helpful
Have you tried Magic Eraser? It removed some of the stains in my bathroom that products had left behind. Some of the stains had been there for over 10 years, and it took them right off. May be worth a try for you.
June 8, 2016
0

found this helpful
Use Barkeepeer's Friend and a scouring pad. Took out iodine stains.
My wife likes to use Windex to clean everything! Well, she was cleaning the guest bathroom sink and there was an area where the porcelain enamel had rubbed off unbeknownst to her. Once the spray hit that spot, it absorbed the blue spray and now there is a big discolored blue spot where the enamel had rubbed off. Does anyone have any suggestions how I can remove the stain? Any help would be greatly appreciated.
By Morgan F.
December 9, 2014
0

found this helpful
Try putting hot water in the sink with a bit of bleach. Maybe that will help. It helps with stains in my kitchen sink, anyway.
December 15, 2014
0

found this helpful
You can try getting a small container, sold in hardware stores, of white enamel touch up paint for just for this purpose for chips.
Syd's 2 cents
It appears that some eye medicine my mom used has made stains on my bathroom sink. I tried several things, but nothing works. Any suggestions?
By Gloria
August 31, 2015
0

found this helpful
We have a white kitchen sink, yes strange, but it is white. We rinsed a bowl and a plate then left them in the sink before we went overseas for 3 weeks. When we returned we found circular yellow stains where the blowl and plate had been. Tried scrubbing with Jiff, Ajax Professional Mould Remover and OzKleen Mould power, all to no avail. I then wiped the sink as dry as I could and sprayed on 30 Seconds Indoor Mould Remover, thinking this won't work either. But about 3 minutes later, I couldnt believe my eyes. THE YELLOW WAS COMPLETELY GONE. You can buy this product at Bunnings.
I have used hand soap dispensers on my porcelain bathroom sinks. Unfortunately, they have left yellow circles/rings on the sinks now. I have tried many things, but I just can't find a solution to remove these stains. Please help. My bathrooms are only 3 years old. Thanks.
By lhanson from Georgetown, KY
June 8, 2009
0

found this helpful
If the stains are on the sink itself like my stains from soap dispensers are try using dishwasher gel. Put some on the area, with a rag rub it in, let it sit a bit and then rub and rinse off. This is all I ever use to clean my sinks and tub after wondering one day why the side of the sink the dishwasher drained on was always so clean. Sadly, I no longer have the dishwasher, but I do have my gel to clean with. I use a store brand, but any kind should work.
June 10, 2009
0

found this helpful
This is a common problem for me under my RubberMaid mat. I just use bleach!
Jim in Jax
June 11, 2009
0

found this helpful
I have the same problem and I use baking soda with water vinegar made into a paste. Mix it, let it set for 10 min, and rub with a cloth. Works for me. Good Luck.
Got stains that won't come out of your sink? Use nail polish remover on a cotton ball and it will come right off, no matter what the stain.

By Anna K.
I have a grey porcelain bathroom sink that I love. Around the drain there is quite a bit of rust. I really don't want to replace the sink. Does anyone know how to get rid of rust once and for all? Or could I sand down the rusty spots and apply paint for porcelain over it and have it last? Thanks.
By Cyd from CO
November 11, 2010
0

found this helpful
"Have you tried Bar Keeper's Friend? I had a stained porcelain sink (marks from my cast iron skillet, plus rust from something else), and nothing else helped. My mother-in-law recommended Bar Keeper's Friend, and it worked like a charm! I found it in the cleaning supplies near Comet. Best of luck!"
February 19, 2011
0

found this helpful
I tried the pumice stone that was suggested on this page and it worked! It's not 100% yet, but close (98% gone). I'd recommend this over the chemicals. At least, give it a try first. Thanks Kristal.
I have a alabaster porcelain sink. I really don't know what happened, but there is a white ring mark in the sink. I can't get it out. I'm thinking someone put a pan that was too hot in the sink. How can I remove this white ring?
By Celeste from Waterbury, CT
April 11, 2010
0

found this helpful
Have you tried baking soda?It should work, good luck.
I have a blue stain around my new sink in the bathroom upstairs, but I don't have it in my main floor bath. Any suggestions? I would be grateful. Please help. Thanks in advance.
By Brenda from Lac Baker, NB
Dab dishwasher gel on any stains in your sink, and let it set overnight. In the morning the stains will be gone!

By Linda
Got a stain on your tub or sink? Clean them quick and easy. Add cream of tartar and hydrogen peroxide and make a paste. Spread the paste over the stain and scrub lightly with a brush. Let the paste dry and then wipe or rinse it off. That's it you're done. No back-breaking work here! Hope this helps. Take care of you and those you love.

By Suzanne S.
Please help! My boyfriend is a mechanic and there are motor oil stains in our bathroom sink! Does anyone know how I can get these pesky stains off the porcelain?

Lacey
September 17, 2004
0

found this helpful
Well, we are deisel freaks here and teh only thing I use on grease any where any time gets it ever time from carpet to refridgerator door handle to teh knobs on the tub and the faucet in the sink and everything in between..... DAWN (the old blue kind not with any lotions or oils or scents) dishsoap and a little sponge and water..... I am often ask by others in our trucking field how we keep teh clothes and carpet and driveway and tools and selves clean from the grease.. I jsut smile and say DAWN. I leave a bottle in the bathroom at all times so he and I can wash with that instead of bar or liquid soap. the grease just lingeres with everything else!
Dollar general store still carries teh old blue kind I have come to know and love for still only a dollar a bottle. wallmart I think has it for 97 cents. and if that doesn't work let sink dry completely rub a genours amount of WD40 on all effected areas rub it in to the stains..... this will loosen teh stains , Now use the DAWN and it will come out. Good luck.
November 19, 2004
0

found this helpful
My boyfriend always has motor oil on his tighty whiteys! They wont come out! If you think that is bad then try getting out the gasoline stains! holy cow! ! !
October 3, 2005
0

found this helpful
Lacey I sell a cleaner that's made for cleaning oil stains E-mail me and i can send you a sample to try.
Read More Answers...