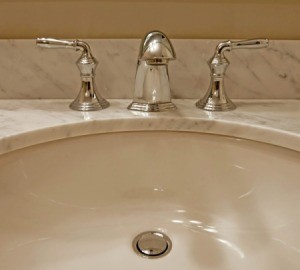 Sometimes your sink may have stains that are difficult to remove. This is a guide about removing stains from a porcelain sink.
Ad
---
Solutions: Removing Stains from a Porcelain Sink
Read and rate the best solutions below by giving them a "thumbs up".
Got stains that won't come out of your sink? Use nail polish remover on a cotton ball and it will come right off, no matter what the stain.

By Anna K.
Dab dishwasher gel on any stains in your sink, and let it set overnight. In the morning the stains will be gone!

By Linda
Got a stain on your tub or sink? Clean them quick and easy. Add cream of tartar and hydrogen peroxide and make a paste. Spread the paste over the stain and scrub lightly with a brush. Let the paste dry and then wipe or rinse it off. That's it you're done. No back-breaking work here! Hope this helps. Take care of you and those you love.

By Suzanne S.
Give a "thumbs up" to the solution that worked the best! Do you have a better solution? Click here to share it!
Questions
Here are questions related to Removing Stains from a Porcelain Sink.
How do you get the gray mark out of your kitchen sink. My sink is just a year old and the marks are getting worse. I use cleanser but it doesn't budge them. Please help.

Jean from Banning, CA
Ad
---
---
Most Recent Answer

By Mark02/06/2010
Use some smooth cook top cleaner on a paper towel, rub & within seconds, the scratches will disappear, guaranteed! This also works great on bath/jetted tubs also.
Please help! My boyfriend is a mechanic and there are motor oil stains in our bathroom sink! Does anyone know how I can get these pesky stains off the porcelain?

Lacey
Ad
---
---
Most Recent Answer

By American Rekrete of SA at aol.com (Guest Post)10/03/2005
Lacey I sell a cleaner that's made for cleaning oil stains E-mail me and i can send you a sample to try.

How do I remove stains from a plastic bathroom sink? I bought a house a few months ago. The bathroom sink is plastic and a beige color. There are stains in the sink that look like someone just brushed their teeth, spit out the toothpaste, and didn't rinse the sink. I have scrubbed with several types cleaner, to no avail. It is embarrassing because it is in my guest bath. What can I do?
By Rhetta from Lumberton, MS
---
Most Recent Answer

By Rhetta Domingue [3]09/06/2009
Thank you all for your suggestions. I got the stains out with OxyClean.
I have used hand soap dispensers on my porcelain bathroom sinks. Unfortunately, they have left yellow circles/rings on the sinks now. I have tried many things, but I just can't find a solution to remove these stains. Please help. My bathrooms are only 3 years old. Thanks.
By lhanson from Georgetown, KY
---
Most Recent Answer

By tawana [2]06/11/2009
I have the same problem and I use baking soda with water vinegar made into a paste. Mix it, let it set for 10 min, and rub with a cloth. Works for me. Good Luck.
My wife likes to use Windex to clean everything! Well, she was cleaning the guest bathroom sink and there was an area where the porcelain enamel had rubbed off unbeknownst to her. Once the spray hit that spot, it absorbed the blue spray and now there is a big discolored blue spot where the enamel had rubbed off. Does anyone have any suggestions how I can remove the stain? Any help would be greatly appreciated.
By Morgan F.
---
Most Recent Answer

By Syd's 2 Cents12/15/2014
You can try getting a small container, sold in hardware stores, of white enamel touch up paint for just for this purpose for chips.

Syd's 2 cents
I have a grey porcelain bathroom sink that I love. Around the drain there is quite a bit of rust. I really don't want to replace the sink. Does anyone know how to get rid of rust once and for all? Or could I sand down the rusty spots and apply paint for porcelain over it and have it last? Thanks.
By Cyd from CO
---
Most Recent Answer

By NG02/19/2011
I tried the pumice stone that was suggested on this page and it worked! It's not 100% yet, but close (98% gone). I'd recommend this over the chemicals. At least, give it a try first. Thanks Kristal.
I have a alabaster porcelain sink. I really don't know what happened, but there is a white ring mark in the sink. I can't get it out. I'm thinking someone put a pan that was too hot in the sink. How can I remove this white ring?
By Celeste from Waterbury, CT
---
Most Recent Answer

By kathleen williams [23]04/11/2010
Have you tried baking soda?It should work, good luck.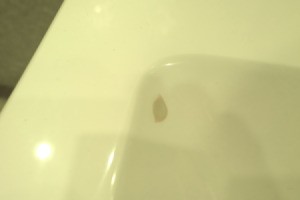 I have a hair removal cream stain on my white sink. It has been there for 3 weeks. Now the stain is dark grey. What can I do? Please help me!
By Jolanta
My hot water heater makes my hot water yellow which has in turn yellowed my white kitchen sink that's only 3 years old. Bleach, vinegar, and baking soda did nothing. Help!
By Mick from LHC, AZ
It appears that some eye medicine my mom used has made stains on my bathroom sink. I tried several things, but nothing works. Any suggestions?
By Gloria
I have a blue stain around my new sink in the bathroom upstairs, but I don't have it in my main floor bath. Any suggestions? I would be grateful. Please help. Thanks in advance.
By Brenda from Lac Baker, NB