Removing Stains from a Porcelain Sink
Sometimes your sink may have stains that are difficult to remove. This is a guide about removing stains from a porcelain sink.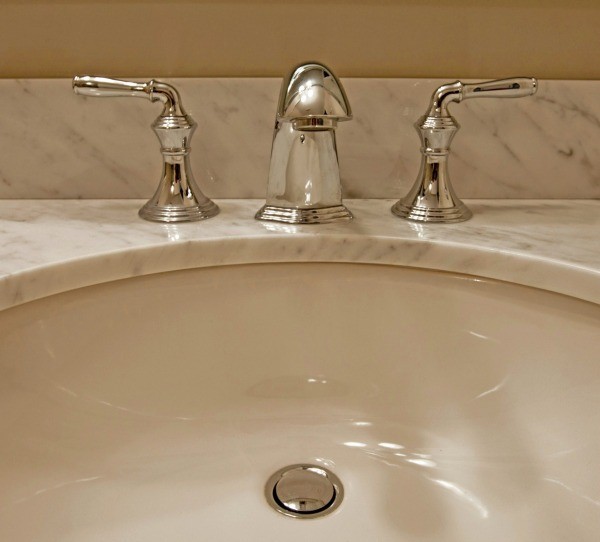 Filter

: All Articles
Sort

: Relevance
I had a plug-in air freshener over my bathroom sink and it leaked into the face bowl. There is an ugly yellow stain that I have tried everything to remove. Please offer a solution to remove it without replacing the whole counter top.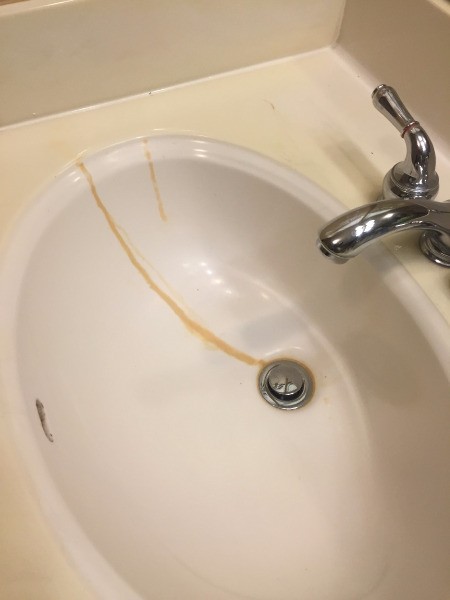 How do I get white stains out of a brown porcelain sink?

My wife likes to use Windex to clean everything! Well, she was cleaning the guest bathroom sink and there was an area where the porcelain enamel had rubbed off unbeknownst to her. Once the spray hit that spot, it absorbed the blue spray and now there is a big discolored blue spot where the enamel had rubbed off. Does anyone have any suggestions how I can remove the stain? Any help would be greatly appreciated.
By Morgan F.
December 15, 2014
0

found this helpful
You can try getting a small container, sold in hardware stores, of white enamel touch up paint for just for this purpose for chips.
Syd's 2 cents
Got a big stain off my sink. I ordered Barkeepers Friend online. My sink is shiny, looks like new again. It's three years old.
Use BAR KEEP.
TOOK LARGE STAIN OFF
LOOKS LIKE NEW.
TOLD BY RE-BATH TO TRY
GREAT
How do you get the gray mark out of your kitchen sink. My sink is just a year old and the marks are getting worse. I use cleanser but it doesn't budge them. Please help.

Jean from Banning, CA
February 6, 2010
0

found this helpful
Use some smooth cook top cleaner on a paper towel, rub & within seconds, the scratches will disappear, guaranteed! This also works great on bath/jetted tubs also.
January 9, 2016
0

found this helpful
I just actually removed lots of coffee stains from my porcelain kitchen sink with Crest whitening toothpaste! A tip from above, nail polish remover, didn't work. I remembered I had removed a stain from my favorite white shirt with the whitening toothpaste, so why not my white sink??!! I had to scrub really hard though, but it's all I had on hand at the moment, but it worked!
My new sink had a big stain
Get. BARKEET. WE HAD TO ORDER
IT. JUST LIKE NEW
Got stains that won't come out of your sink? Use nail polish remover on a cotton ball and it will come right off, no matter what the stain.

By Anna K.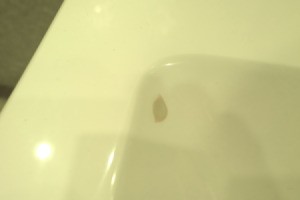 I have a hair removal cream stain on my white sink. It has been there for 3 weeks. Now the stain is dark grey. What can I do? Please help me!
By Jolanta
February 28, 2015
0

found this helpful
Have you tried Magic Eraser? It removed some of the stains in my bathroom that products had left behind. Some of the stains had been there for over 10 years, and it took them right off. May be worth a try for you.
June 8, 2016
0

found this helpful
Use Barkeepeer's Friend and a scouring pad. Took out iodine stains.
It appears that some eye medicine my mom used has made stains on my bathroom sink. I tried several things, but nothing works. Any suggestions?
By Gloria
August 31, 2015
0

found this helpful
We have a white kitchen sink, yes strange, but it is white. We rinsed a bowl and a plate then left them in the sink before we went overseas for 3 weeks. When we returned we found circular yellow stains where the blowl and plate had been. Tried scrubbing with Jiff, Ajax Professional Mould Remover and OzKleen Mould power, all to no avail. I then wiped the sink as dry as I could and sprayed on 30 Seconds Indoor Mould Remover, thinking this won't work either. But about 3 minutes later, I couldnt believe my eyes. THE YELLOW WAS COMPLETELY GONE. You can buy this product at Bunnings.
I have a grey porcelain bathroom sink that I love. Around the drain there is quite a bit of rust. I really don't want to replace the sink. Does anyone know how to get rid of rust once and for all? Or could I sand down the rusty spots and apply paint for porcelain over it and have it last? Thanks.
By Cyd from CO
November 11, 2010
0

found this helpful
"Have you tried Bar Keeper's Friend? I had a stained porcelain sink (marks from my cast iron skillet, plus rust from something else), and nothing else helped. My mother-in-law recommended Bar Keeper's Friend, and it worked like a charm! I found it in the cleaning supplies near Comet. Best of luck!"
February 19, 2011
0

found this helpful
I tried the pumice stone that was suggested on this page and it worked! It's not 100% yet, but close (98% gone). I'd recommend this over the chemicals. At least, give it a try first. Thanks Kristal.
May 8, 2016
0

found this helpful
make a paste of baking soda and hydrogen peroxide with a ratio of 2:1. Spread it on the stain area and let stand for at least 45 min. Scrub it gently. Repeat it again regularly.
Please help! My boyfriend is a mechanic and there are motor oil stains in our bathroom sink! Does anyone know how I can get these pesky stains off the porcelain? Lacey
Read More...
I have used hand soap dispensers on my porcelain bathroom sinks. Unfortunately, they have left yellow circles/rings on the sinks now. I have tried many things, but I just can't find a solution to remove these stains. Please help. My bathrooms are only 3 years old. Thanks.
Read More...
Related
© 1997-2016 by Cumuli, Inc. All Rights Reserved. Published by
ThriftyFun
.
Page
generated on September 25, 2016 at 10:04:38 AM on 10.0.1.7 in 6 seconds. Use of this web site constitutes acceptance of ThriftyFun's
Disclaimer
and
Privacy Policy
. If you have any problems or suggestions feel free to
Contact Us
.