Cleaning Toilet Bowl Stains
Whatever kind of stains you may have in your porcelain toilet bowl, they can be a difficult to remove. This guide is about cleaning toilet bowl stains.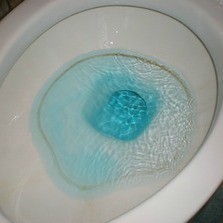 Related Product:
Filter

: All Articles
Sort

: Relevance
I am a real nutcase about my bathrooms. Our toilets are still fairly new, so there is no need for them to have brown stains. I had a ring around my bowl and streaks coming down where the water runs into the bowl. Since I use CLR on my faucets I decided to dump some into the toilet bowl to try and get rid of that stubborn stain that wouldn't go away. It worked! Now the bowl is new potty clean.
Sometimes those toilet stains are from bad water and should be dealt with as such. Regular bowl cleaners won't work on mineral deposits. I wrote an email to the CLR people to suggest they make a little disc to put into the flush tank to clean as you flush. I'll let you know what their response is.
By MartyD from Houston, TX
To clean stubborn stains from your toilet bowl, first if you have a wet/dry vacuum, suck out all the water so you have a virtually liquid free bowl. Then, pour in hydrogen peroxide. It will get rid of all stains and lime. I would suggest using 1/2 a bottle for each cleaning. You might need more or less.
It is cheaper than buying the cleaners made for a toilet bowl, even if you use a whole bottle of it. Many times you can get it on sale for 2 for $1.00. Don't buy any more than you can use before the date expires, because it will turn to water eventually and be ineffective.
Source: This Old House magazine and Eons group
By Elaine S. from Belle Plaine, IA
Trying to get rid of those stubborn sink and toilet mineral deposits? Use a superfine grit sandpaper and gently run a folded corner around the faucet or drain area with the hard water or mineral deposits and voila, they are gone!
Read More...
How do I remove a brown stain from the toilet?
By Donna from Wallsend, NSW, Australia
April 3, 2016
0

found this helpful
Best Answer
I had black mineral stains on three toilet bowls due to the flapper not making a good seal. Replace all three flappers and used 320 and 600 grit wet/dry sandpaper. The sandpaper did the trick. good luck.
July 28, 2016
0

found this helpful
hOW TO REMOVE MINERAL DEPOSITS FROM TOILETS
We have iron and sulfur in our water. Our toilet has a brown water ring at the water's edge. One time, when I cleaned the the toilet, I forgot to flush. Now it has a blue ring around the brown ring. I have tried different things with no success. Please help.
By Cindy I.
June 3, 2011
0

found this helpful
Best Answer
Yes, I just used the pumice stone the other day & it works when nothing else will!!! I bought mine (on a handle and made especially for that) at my local grocery store for $7.50. It wore down some, but I probably have 20 more uses out of it, at least. You can buy it at most hardware stores.
June 4, 2011
1

found this helpful
I use this stuff called the works on my toilet. I have hard water also and I just pour it in and let set for about 10 to 15 minutes and it works great. Hope that helps.
Christine
I am just wondering if anyone had a tip on how to get rid of brown stains at the bottom of the toilet bowl. I have tried everything and nothing is working at all.
September 4, 2016
0

found this helpful
Domestos leave it overnight and brush next morning very good with toilet brush....or white vinegar and bicarbonate of soda!
What is the best way to clean a hard brown stain in a toilet?
By Dee from Covington, KY
January 10, 2011
0

found this helpful
Best Answer
Muriatic (Hydrochloric) acid sold for pools follow directions carefully. do not spill on you or other things. ventilate bath close door do not breath fumes. let set 1/2 hour. Go back in rub with brush and flush. Tried it after father in law was here. He told me about it.
EDITOR'S NOTE: The department of environmental protection says "Do NOT dispose Muriatic (Hydrochloric) acid down the drain or in storm drains." Wikipedia says"Concentrated hydrochloric acid (fuming hydrochloric acid) forms acidic mists. Both the mist and the solution have a corrosive effect on human tissue, with the potential to damage respiratory organs, eyes, skin, and intestines."
January 12, 2011
0

found this helpful
My son is single and does not like to "clean" all the time so he just keeps a jug of white vinegar in his bathroom and pours a little around the inside before going to bed. Seems to work for him.
I have brown stains that run down from the rim where the water comes into the bowl. There is actually a hard buildup that I cannot get off with Lime Away or CLR. What will remove this?
August 28, 2016
0

found this helpful
A pumice stone, I got really hard brown deposits removed using a good old pumice stone, which you can buy cheap at any hardware store, and it lasts a long time. My toilet looks new now!
I used Lysol toilet bowl cleaner, and some of the liquid got on the toilet seat, leaving a blue stain. The seat is injection molded plastic. Any ideas about how to remove this stain? Thanks.

Susana from Houston, TX
December 2, 2008
0

found this helpful
Best Answer
how about a Magic Eraser they have removed many stains for us from a magic marker to koolaid
December 10, 2008
0

found this helpful
Best Answer
Thank you all!! The stains are mostly gone (there's a little one that resists to go)
I tried a combination of two tips: bleach and magic eraser. (BTW, I had tried magic eraser alone and bleach alone, and they didn't work)
This is a guide about cleaning hard water stains from a toilet. Hard water leaves mineral deposits on many surfaces.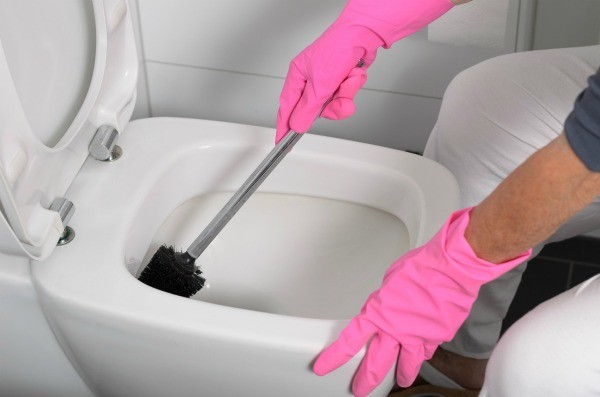 Read More...
Related
© 1997-2016 by Cumuli, Inc. All Rights Reserved. Published by
ThriftyFun
.
Page
generated on September 25, 2016 at 4:07:22 AM on 10.0.1.252 in 4 seconds. Use of this web site constitutes acceptance of ThriftyFun's
Disclaimer
and
Privacy Policy
. If you have any problems or suggestions feel free to
Contact Us
.