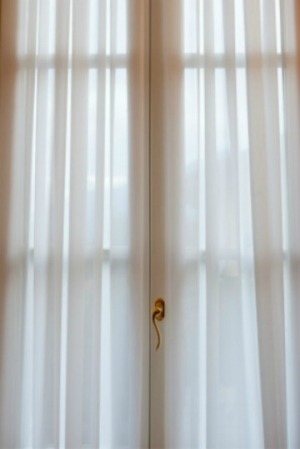 Sheer curtains often come out of the package with wrinkles from being folded. They may also develop wrinkles when being cleaned. This is a guide about removing wrinkles from sheers.
Ad
---
Solutions: Removing Wrinkles from Sheers
Read and rate the best solutions below by giving them a "thumbs up".
Make hoops of color hung on fish line in groups by the craft room, in the windows like stained glass windows, or in the hallway to the day room.
Approximate Time: two sessions about 30 minutes each or as long as it takes.
Supplies:
large hoops (round)
synthetic or silk (I like acrylic diluted thin white synthetic)
paint
pieces of sponge
water bowl for sponge
newsprint for table
paper towels
fish line for hanging
thumb tack for hanging
Instructions:
Show a finished hoop to your group or the individual. Hang one in the window of the day room or art room before you start.
Stretch synthetic or silk in the hoop. Let the resident(s) help you. Trim edges to one inch and again later when done.
Give your group sponges and water bowls. Let them handle the sponges.
Talk about what colors they like and suggest a theme (sky, rivers, forest, mountains, etc.)
Use little cups of diluted colors for project, but use only one at a time near the artist.
Guide success. In my picture, a river ran across the hoop. We used several blues. We had juice while the river dried and then we decided what to add. We added sky and clouds (more blue and some white on top). (new sponge) We added trees along the river.
The next day we talked about the painting and everyone wanted fish and birds. I had brought in pictures of ponds from a computer and cards (copied) for another project. We got them and the group of ladies now involved in this (8) decided what to add and where to put them.
I left the hoop at the nursing home when it was to be sold and my job eliminated. Best job I ever had. This is just a suggestion. I never thought to make photos of our projects because I loved my job and had no idea the job would end.
By Barbara from Ewing, NJ
Give a "thumbs up" to the solution that worked the best! Do you have a better solution? Click here to share it!
Questions
Here are questions related to Removing Wrinkles from Sheers.
If I hang my wrinkled sheers and then spray them with Wrinkle Release, will the wrinkles come out? I hate to hang them and then have it not work. I've tried everything and nothing will take them out.
By Trish
AnswerWas this interesting? Yes No
Ad
---
---
Most Recent Answer
By Cricket 205 896 04/22/20130 people found this helpful
I found a cheaper and easier way to "hang" the wrinkles out of my curtains. I found the solution in the sports section of Wal Mart. I simply bought some fishing weights. Now after washing my curtains, I hang them back up immediately after taking them from the washer. Then I put a fishing weight into the bottom hem every 5-8 inches or so. This extra weight pulls them down just enough to take the wrinkles out.
Once they are dry I take the weights out till the next time they are washed.
No more tiresome ironing of curtains!
---
Wrinkles in my sheers won't come out either using a hot steam iron, or hanging wet and stretching, or wetting then ironing. I'm out of ideas. Anyone know a better way to de-wrinkle sheers?

Thank you for any ideas.

Pam from NJ
AnswerWas this interesting? Yes No
Ad
---
---
Most Recent Answer
By Pam from NJ (Guest Post) 10/05/20060 people found this helpful
Using 'vinegar & water' sounds like a great idea. Last night I tried cleaning my iron w/vinegar. I rinsed it out.

Then I tried to iron one very wrinkled sheer and the wrinkles came right out! It must be the residual vinegar in the iron. Thank you!

I'm going to try ironing the rest of the sheers today. If the wrinkles become troublesome, I'll spray some 'vinegar & water' on them.
---
I purchased window sheers (polyester) and can't get the wrinkles out of them. I washed them and dried them in the dryer. I even ironed them, but the wrinkles still there. Help!
By trvlmap
AnswerWas this interesting? Yes No
---
Most Recent Answer
By Frugal Sunnie 11 1,654 11/21/20110 people found this helpful
You may have 'set' in the creases when you washed and dried them the first time. Even hang-drying can 'set' the creases in some fabrics like silks, synthetics, and linen.

First, read the label for the correct washing/drying/ironing instructions and information. The label will tell you the highest temp water the fabric can stand.

Then you can try soaking the curtains in the hottest water the fabric will stand-leave the curtains in the soak for at least an hour or two. Make sure there is enough water for the curtains to move freely-you need WAY more water than curtain so the curtain fabric can 'relax' without crowding in the tub of water.

Wring the excess water out either by hand or machine and then try pressing them again-while still very damp. Use a pressing cloth. Let the curtains hang-dry after pressing.

If soaking and re-ironing gets rid of the creases, you'll probably always need to press them straight from the washer while still damp, and then hang-dry after ironing.
How do I remove wrinkles from sheers after washing them?
By P
How do I remove wrinkles in sheers? Can a dry cleaner remove them?
By JM from Toms River, NJ