We have adopted a problem dog from the local dog rescue who spent the first 18 months of his life locked in a barn of a puppy farm. He is of a beautiful nature but has not had any socialization and is a nervous wreck. He is scared to death of anything and everything and even has a problem going into the garden as he is terrified to leave the sanctuary of our kitchen. He is basically a dog with agoraphobia and we could do with advice on how to proceed with him. He is neutered and is two years old and otherwise very healthy.
Margaret from Swansea UK
By guest (Guest Post)
March 29, 2005
0

found this helpful
Best Answer
I agree. All he needs is a lot of love and patience. My dog came from an abusive situation and it took her a year to wag her tail and play with us. She was afraid for me to touch her when I first got her and still 3 years later is wary when I have any object in my hand even if it is a plastic bag or something silly. Food was a great way to get her to trust us. I just talked to her and petted her gently on her terms and spent a lot of time with her and gave her treats. We allowed her to have her own space at the top of the stairs where she felt safe. She actually took to my husband first and she started walking around with her tail up instead of tucked under. It was heartbreaking to see her so sad and her spirit broken. Then I got her to play ball a year after we got her and we were ecstatic. Now she is very sweet and loves for us to pet her, but hides behind me when around other people. Let him open up on his own time. I'm sure he is incredibly grateful to have a wonderful home now and will be a sweet and affectionate companion with time.
By guest (Guest Post)
March 29, 2005
0

found this helpful
Best Answer
Hi
I am not a dog expert but I have had many abused animals over the years. Recently, I have adopted four dogs from a chow rescue. Two have come from puppy mills/farms. One is similar to what you have described with your dog. My experience with traumatized animals is that they need lots of time to heal and learn to trust. Food and hand feeding is a good way to build trust. To socialize, take him on short walks, very short to start with, and keep extending them until he becomes comfortable. This will take a long time because you only want to advance at the dog's pace (when the dog is ready). Go with him outside and spend time talking to him. Eventually, you will see a changed animal, but it takes lots of loving time.
I wish you the best and the world needs more loving people like you to take in abused/traumatized animals. He will learn to love you and you will not find a more devoted pet.
Susan in Oregon, USA
March 29, 2005
0

found this helpful
Best Answer
Find your local health food or organic store and get something called Rescue Remedy. I would also purchase from the same line (BACH Flower) Aspen and Mimulus. You can add all these to his water or give directly by mouth. You also might want to try some Valerian Root.
By guest (Guest Post)
March 29, 2005
0

found this helpful
Best Answer
Do a web search on "clicker training" for dogs. This method is used very successfully to rahabilitate traumetized horses. I am sure there is someone doing it with dogs too. It is totally based on positive reinforcement and anyone can do it.
Rene
March 29, 2005
0

found this helpful
Best Answer
Most scared dogs don't like to be touched and even some normal happy hyper dogs too. Wait till they are just about to go to sleep and very quietly, gently, sweetly caress them, lightly stroking them all over. It's relaxing for them & very bonding. ( this works with people too :)
By guest (Guest Post)
January 20, 2007
0

found this helpful
I just adopted a lab puppy and she is very scared of me and my fiancee, she will not eat and every time that one of us tries to pick her up she runs from us. I don't know what to do with her and we are getting aggravated because we wanted a playful, fun loving water dog. What should we do?
<b>Editor's Note:</b> Dogs from puppy farms quite often are not used to humans. They've basically been locked up and not cared for well. Let her come to you and please have patience. She has had a rough start and it will take a while. She needs to learn that you are her friends and family.
By guest (Guest Post)
October 16, 2008
0

found this helpful
In March of this year I adopted a 9 yr old breeder dog rescued from a puppy mill. She wouldn't come out from under the car the first week. She cowered in the corner and made herself as small as she could get. I bought her a crate/kennel - which she loved since she felt safe there. After a few weeks I took the top off the crate so I could pet her more often. Eventually, she moved to a bed and the crate is only used for transport. It took a while. Patience, love, attentiveness work. Keeping a journal helps you remember "back when" when you feel discouraged.
Last week or so she started walking outside without constant encouragement. But unexpected noises and strange places still cause her anxiety. She does recover more quickly these days. Don't lose heart.
I set up a blog so the other people involved in her rescue could keep track of her, and it's my journal. It's at http://(no w's)fur-licity dot blogspot dot com
By guest (Guest Post)
October 20, 2008
0

found this helpful
I adopted a 2 yr old abused Akita who is afraid of even the airconditioner when it turns on. For over 2 weeks now I even have to carry her outside to go for walks. What seems to be helping is our nightly visits to the dog park. I do not take her inside yet but walk the outside of the fence and the other dogs come to her and smell through the fence. She gets the interaction but still feels safe. She watches the interaction between the other dogds and the dogs and people. Seems to be getting it slowly. Go figure, a scared Akita. Just goes to show you any dog can be scared if abused.
By guest (Guest Post)
February 14, 2009
0

found this helpful
I'm so glad to hear we are not alone. We adopted the most adorable Mastiff a week ago. She's 50 lbs and will not move without us carrying her. Oh our backs. She came to us from a puppy mill. She is afraid of her own shadow and everything else. We have to crawl on the ground to get near her. I was very happy to read the postings that all we have to do is continue being patient and loving her for her to come around. THANKS!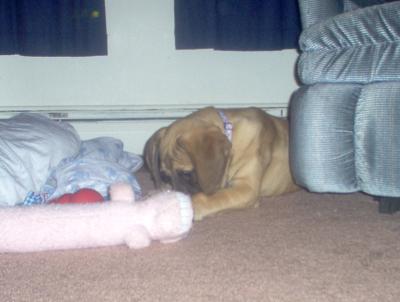 June 22, 2010
0

found this helpful
This can be tough. I rescued my dog a little less than a year ago and before then, he spent 4 years being beaten with his owners and being tossed into a rescue shelter. Time and training are very important. 2 years old is still pretty young so he can be trained. With a dog this nervous/anxious, you may want to call in a professional, because it can be hard to 'make' your dog do things that will have him anxious, but it will help 'break the anxiety' he is used to.
Read More Answers