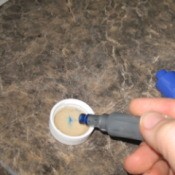 Dried out dry erase markers? Your whiteboard markers may have more life in them. Dip the tip in a little ordinary rubbing alcohol. If color is drawn down into the alcohol, there's life in your marker, and you can write with it some more now that you have treated it. If this does not work, then the marker is probably out of lasting power.
By Kirsten from Logan, UT
Is there any way to recondition a dry eraser marker? I know it still has plenty of ink, but the cap didn't click well enough.

Thank you!

Maria from Derwood, MD
September 29, 2007
0

found this helpful
Wow - I just tried it and swinging the marker around on a string really does work brilliantly! and instantly!
Thank you for the idea!
September 8, 2008
0

found this helpful
Wow, the spinning thing works well. I got a little too over zealous on the spinning and was winging it around like a helicopter, I think 3-5 good spins is enough. If not -do more. The ink does pool in the cap and I think i wasted a lot. If you have a hard time attaching string to your marker, just tie it then wrap tape around it too, this should be secure enough. Good luck.
December 5, 2008
0

found this helpful
Thanks for the spinning idea. Worked like a charm for a homeschool mom on a budget:)
February 11, 2009
0

found this helpful
Spinning with a string works like magic! I had a set of 4 dry erase markers that had stayed for 3 years in their packaging, still unused. When I tried them, 3 seemed dried out. I still wonder how it is possible, with the cap sealing well and all. Anyway, I was pissed. I had the idea to put them tip down in alcohol. After a couple of hours, one of them revived. But even after 3 days in the alcohol, the remaining 2 were still inkless. I found this thread via google, tried Atwilkes' spinning trick, and seconds later, the 2 stubborn markers were revived! Thank you Atwilkes.
Related Content
(article continues below)
February 4, 2010
0

found this helpful
The spinning thing works like a charm! Thanks, atwilkes!
March 12, 2010
0

found this helpful
Tried spinning around on a string, worked great, for about 3 minutes and then dried up again :(
November 19, 2014
0

found this helpful
Holy Guacamole! I have an old pre-1980's test tube centrifuge. A few seconds in that baby and voila. Just like new. Make sure to wear goggles.
January 19, 2016
0

found this helpful
You can possibly take the end off of the dry erase marker with a pair of pliers and fill it with rubbing alcohol or water and put the end back on and wait over night.
Read More Answers
My Expo Dry Erase markers are not old, but one just dried up and the lid was on it. Is there anything you can do to "rewet" them?
By Gypsy
March 31, 2013
0

found this helpful
Dip tips in very hot water, cover with cap for a few minutes.
January 27, 2016
0

found this helpful
Put them in rubbing alcohol!
It worked for me!
January 27, 2016
0

found this helpful
Put them in rubbing alcohol
I was just wondering if anyone would know how to revive dried out dry erase markers. My 2 year old got ahold of them and left the caps partly off when she was done and now they are dried out. Any tips on getting them to work again would be much appreciated!
Amy from PA
Answers:
Reviving Dry Erase Markers
Try storing them upside down for a couple days with the tips facing down. The ink may refill the tip that way. Sometimes it works. It probably depends on how dried out they are. (07/20/2004)

By Anne H.
Reviving Dry Erase Markers
Here's a tip that was just posted, it reminded me of your request:
http://www.thriftyfun.com/tf933016.tip.html (08/16/2004)

By ThriftyFun