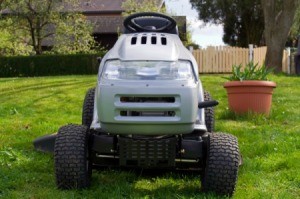 How can you get the lawn mowed when the battery won't hold a charge? Perhaps a bit of troubleshooting will help you discover the cause and make repairs. This is a guide about riding mower battery won't hold a charge.
Ad
---
Questions
Here are questions related to Riding Mower Battery Won't Hold a Charge.
I have a MTD Pro 15.5 hp riding lawnmower that will not stay charged. The battery is new and once charged the mower will run until shut off and will then need to be re-charged. Any suggestions/comments?
By sdokis from Ontario
Ad
---
---
Most Recent Answer

By Linda04/29/2011
Our John Deere mower does the same thing!
I have a 16.5hp MTD riding mower and the battery keeps being drained. We purchased a new battery. As soon as we put it in we had to jump it off. Now it won't even jump off. This is only the second time we have tried to use it since the new battery was installed, 2 weeks ago!
By Michelle
Ad
---
---
Most Recent Answer

By Deanj07/31/2011
1. I would have the battery checked to see if it indeed drained.
2. What kind of engine do you have.
Reason I ask is I have a John Deere L120 with a Briggs and Stratton engine and it would not start. I though it was the battery. I had it checked at a battery store and they told me it had a full charge. They told me there may be an open ground on the mower. I bought a new battery with more cranking power. I installed the new battery and not even a burp from the engine. I asked a JD dealer what could be the problem. He said the valves were out of adjustment. ( Two dealers have told me the same thing.) He explained I had a Briggs and Stratton engine and they have made junk engines for the past 10 years. He gave this bit of information for me to try. On the top of the engine is the air intake screen. With your hands move the screen in reverse or counter clockwise until you have resistance to the turning. Stop and try starting the mower. It worked for me. So every time I want to start the machine I have to counter turn the air screen untill I feel the resistance. Then it starts. As for the open ground,I checked all the connections as well as the safety connections and found nothing. Maybe this will be of some help for you.
Last year it was working perfectly. After the first lawn cut I turned the tractor off. On the next use it was dead. I noticed the black negative battery cable was all messed up and melted. I bought a new cable and battery and it fired right up, but after each use the battery is dead and needs charge. Any suggestions? I have no way to take it to a shop nor do I have the money. I am living on SSD. It's not the battery. Help! It is an old, but in good shape, Poulan Hyrodrive.
By Roger B
My John Deere Sabre riding lawn mower battery keeps dying? I have changed the starter and the solenoid, but the battery keeps dying between uses. How can I find out if there is some short or if there is a constant drain on the battery?
By David
I have a Poulan pro rider. Something is draining the battery. I replaced it twice and I still have to charge every time we mow.
By Julie from MO
I have a Craftsman riding mower. Every time I use it after about 15 minutes of cutting, it cuts off. It drains the battery which I then have to recharge. I have replaced the battery, ignition switch, had the starter rebuilt, solenoid switch replaced, and seat wiring. Any suggestions?
By NS
I have a Murray riding mower. It has a brand new battery and solenoid, but I have to jump it off because the battery won't stay charged while running. How can I fix it?
By Stephen from Memphis, TN
Solutions: Riding Mower Battery Won't Hold a Charge
Do you have knowledge about this guide topic? Feel free to share a solution!