At times, I stock up on grocery items and household supplies when I can get them at a bargain price. I also shop end of season sales for clothing. These items sometimes end up getting packed away for a few months until the weather is right for wearing them. Although, I'm not a packrat, there are times when my pantry, closets and cabinets can get rather full. This is when I go on a home shopping spree.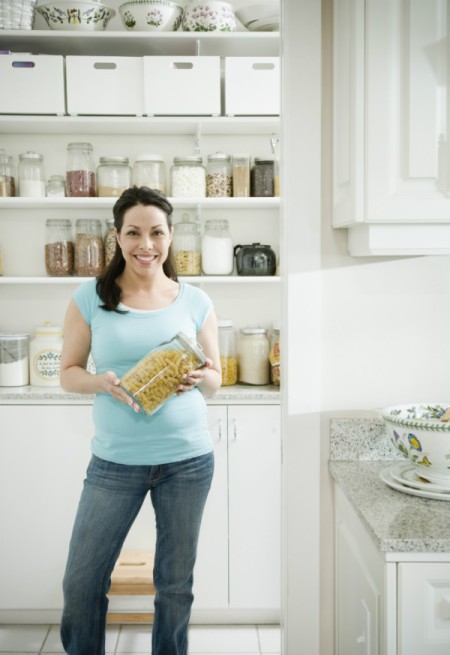 Instead of heading to the grocery store, I go through the items I have in the freezer and pantry and for a week, maybe two, I prepare meals from the items I have on hand. This is a great way to use up items that are nearing their expiration date. It gives me a chance to work through the items I have purchased in bulk or in large quantities in order to get them at a good price. It also provides an excellent opportunity for creating new recipes. I've invented some dishes that have become some of our favorite meal ideas during my cooking from the pantry adventures.
I designate one month, as often as I feel necessary, to work down my accumulation of household cleaning products, detergent and other items I have extra amounts of. Not having to buy these items as part of my monthly shopping experience gives me an opportunity to put a little extra money aside for unforeseen expenses, or better yet, for fun activities.
There have been many occasions when I have been able to revise, update, or accessorize articles of clothing instead of buying something new. I always look through the items I bought at a seasonal sale to see if they can be modified to meet a current need. Sometimes, all it takes it a little creativity to give something ordinary or outdated a new and trendy appearance.
One other area where I find shopping at home a great money-saving experience involves pet related items. Pet beds and toys can be made from things I no longer use such as old clothing, pillowcases, comforters, socks and numerous other items that would otherwise be thrown away. There are some people foods that are safe to feed dogs. I take advantage of sales on vegetables such as green beans and carrots and use them to help stretch my pet food budget. On the weeks I refrain from grocery shopping, I often pull some vegetables from the pantry to supplement my dogs' dry food.
I love having money left over on the months I shop at home. I also enjoy the opportunity if offers me to stretch my imagination and release my creativity.

Showing: Comments
Sort

: Relevance
August 26, 2013
0

found this helpful
I think a lot of people believe doing little things here and there to save money is not worth the effort and just plain boring. In fact, it can be interesting, creative, and provide a sense of accomplishment. Your excellent post shows all three to be true. Thanks!
Reply
Was this helpful?
Helpful?
Yes
August 26, 2013
0

found this helpful
I too like to buy in bulk or in large quantities when on sale. If you make the effort to use up what you've stocked up on, it's an opportunity to get creative and save money. Today I made brownies with some hot breakfast cereal I'd stored in the freezer. I searched and found a recipe on-line. My kids liked the brownies more than the cereal itself!
Reply
Was this helpful?
Helpful?
Yes
Add your voice! Click below to comment on this post or add your answer to this question. ThriftyFun is powered by your wisdom.