My husband takes half of a pill, and I was having so much trouble with the cutter that I bought from the Pharmacy. It would cut the pill, but lots of times it crumbled into pieces instead of splitting it in half. I mentioned this to my Pharmacist, and he gave me this simple, but effective way.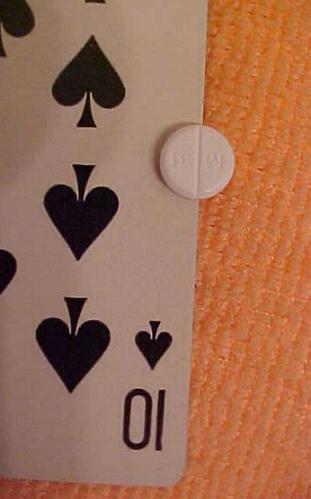 Take about 3 playing cards from a deck, and place them on a flat surface. Using the photos as your guide, place the pill with the dividing mark on the straight edge of the card stack. Next, with your left index finger, hold the left edge of the pill in place while you press the right edge with your right index finger.
This works almost 100% of the time. It will work best if the pill is flat.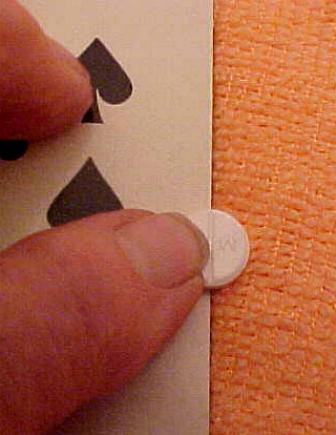 March 22, 2013
0

found this helpful
This makes little sense to me, and I tried. Sorry. But hey, I'm glad it worked for you, those cutters at the pharmacy do not work very well and using a knife is just out of the question.
March 22, 2013
0

found this helpful
I get it and if it works well, I might even glue three cards together for a permanent pill-splitter! Thanks so much for the tip!
March 23, 2013
0

found this helpful
Thanks for the card idea. Pill splitters do seem to be a waste of money. I do a similar thing with my mom's caplets. they're just a tad too big and breaking them makes her get a little more fluid (she's on thickened liquids & doesn't like it). The edge of her hutch is raised a little and the pills snap with not a lot of pressure. I've used the blade of a butter knife the same way.
April 10, 2013
0

found this helpful
That is the most useful tip I have read on here! Love it!
June 25, 2014
0

found this helpful
Those thickened liquids are awful! My dad had to be on them for a while. Never has that man begged so for a bottle of water! I like your pill-splitting idea - seems it should work well for larger, round pills.
I got excited seeing the title for this tip, because I need to quarter Lasix (Furosemide) pills for my cat. Those are the tiniest, most incorrigible, crumble-prone pills I've ever encountered! And they're football-shaped, which makes halving the half without crumbling nearly impossible! I'd like to find whoever decided to make them cute and unround and...
Anyway, my search goes on. Pill splitters stink for them; the thinnest knives we own and razor blades are worse.
Thankfully, this last batch came pre-split...maybe they heard my loud lamenting from miles away?
July 1, 2014
0

found this helpful
An old credit card, with one side cut with scissors to get rid of age worn, rounded edges, works even better than a stack of playing cards. Beats the silly blade cutters from the pharmacy 100:1!