Sometimes to make footware more comfortable, you need to make them bigger. This guide is about stretching shoes and boots.
Filter

: All Articles
Sort

: Relevance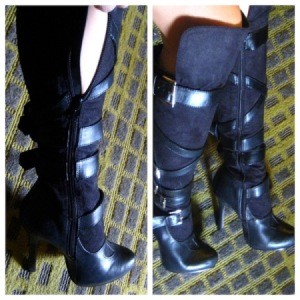 I have really big muscular calves and wide feet (thanks, Mum!), making it very hard for me to fit into shoes I fancy. I bought these suede boots and pumps online because they were dirt cheap and super cute. When they arrived, not surprisingly, I could not fit into them.
I was able to stretch them with this solution:
Mix 3 parts water to 1 part isopropyl rubbing alcohol. Dampen a clean rag or cotton ball with the mixture and generously rub on the inside of your boot or shoe. Try them on again, slowly they will stretch out. Leave them on for a bit. You may have to do this process one more time. Ta-da! Happy feet!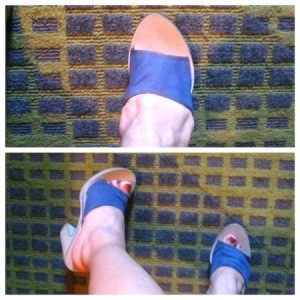 By attosa from Los Angeles, CA
I have bought an expensive pair of boots online, but they only zip 3/4 of the way up. The lace up has a tongue that is attached to the boot. I am afraid to ruin them with water or rubbing alcohol. I have considered saddle soap, but the inside lining of the boots is a linen cloth material that is somewhat rough to touch. I do not want to return them.
By Mindy
February 21, 2014
0

found this helpful
Best Answer
Find a shoemaker that can sew on leather. they can sometimes put a gusset (leather insert) into the seam to make more room for your calves. Saddle shops may have these people. Also motorcycle cops know where they are, as they have their boots adjusted. It can be expensive work.
February 22, 2014
0

found this helpful
Best Answer
If they were expensive, it may be worth paying a bit extra to get them professionally stretched by a shoemender. At least a craftsman is likely to be honest with you if s/he thinks it can't be done.
February 22, 2014
0

found this helpful
Is the lace up part a fake lacing or can it be undone and loosened? If it can be, try that before you think about stretching the boot. A shoemaker can do book stretching too, I believe.
Read More Answers...
Please Note: The use of this instruction is at your own risk and cost. I suggest not using this method in cold or freezing weather. Also note that it is the least costly, no chemical and safest way to exactly stretch your footwear to your feet.
Put very hot water from your sink or tub tap into your boots/shoes. Let sit until you feel that you can place your foot in the boot/shoe without burning your foot. The water may be warm, but the colder the water, the longer time it takes to stretch to your feet. After observing the water temperature, dump the water out of boot/shoe and place your feet into the wet boot/shoe with socks on, two pair if you choose or to stretch more or later. Wear the boot/shoe as much as possible. I usually have to do this procedure several times, but this works on all but rubber/plastic type footwear.
Think of this method as walking in the rain, stream, or puddle jumping. PS: The boot/shoe should somewhat fit your foot.
Something about my feet, I've had one foot broken leaving me with a high arch and the other foot mashed leaving it wider than the other. This is my long trial of using this method and it works on my footwear.
Thank you for your time and I hope this inexpensive way works for you. Happy New Year (2016)
What is a good way to stretch shoes?
April 25, 2015
0

found this helpful
If shoes are tight, get a bottle of body spray from the dollar store, and saturate the area of the shoe that is tight inside and out, then wear the shoes until they are dry. Repeat if needed. This works on smooth leather and fake leather shoes. It also works on suede shoes, but may change the color or texture. You can also use alcohol, but the bath spray smells better. I have a hammer toe on one foot, and this works well for me. I spray the area over the toe, and shoes don't rub on it. Hope this is helpful to you.
April 27, 2015
0

found this helpful
Put a bread bag inside the shoe, push it up into the toes and heel, then put the excess bag over the edges of the shoe. Fill the bag with water and put into the freezer for 24 hours. This should stretch the shoes enough to be wearable. I have done this and it does work.
I am looking to stretch a pair of ankle boots that I have. Instead of buying an expensive stretch spray, does anyone know of a homemade solution?

Marie from FL
December 20, 2008
0

found this helpful
Put the shoes on and spray them down with water and wear them until they are dry. They will fit much better, I once had a pair of shoes I could only wear little while. I chased my 2 yr old son in damp grass and then just wiped the shoes off and kept going. The next time they never hurt my feet.
December 21, 2008
0

found this helpful
Thank you all for your suggestions. I just have a question though.....will the water harm my leather boots?
December 21, 2008
0

found this helpful
I had my husband take my boots and after a little thought he cme up with the follwing method. It stretched the calves of my tall boots :) almost 2 ".
Get small inflatable rubber balls, about 6 " or 10" depending upn the width of the boots. After treating them very well, almost to the point of being wet with leather softener, insert the rubber balls as they fit into the areas needed to stretch, pump up slowly until the leather starts stretching, you will hear it and it is uniform all around as the ball gets tight in the boots. leave sit for at least 2 hours, pump up slowly 2-3 more pumps and let sit another hour. Deflate the balls, recondition the boots and try them out. my success was awesome. no tears, no marks in the leather and it even worked near the top of the zippers, just make sure you go slow near them and use extra softener. Good luck.
Read More Answers...
I saw that some time ago, someone requested a way to stretch shoes. Well, there is a way. Bunch up newspapers, wet the bunch, and stuff it in your shoes. The key is to make sure there is enough newspaper in each. Then place the shoes in the freezer until the newspaper is frozen. Remove from the freezer and wait until it thaws, then remove the newspaper. The shoes should be somewhat stretched out.
Source: My friend.
By Estypesty from Baltimore, MD
If you have shoes that are uncomfortable, spray the uncomfortable area of the shoes inside and out with bath spray (also called body splash and body spray), then wear the shoes until they are dry. Repeat if needed.
I have purchased leather clogs on line from a manufacturer whose product I have worn for years. The medium is a bit too narrow and I know the wide would not work. I am not having much luck stretching them using all the suggested methods, stretching spray, heat, wooden stretcher, and socks! Help.
By Nonnie
October 26, 2013
0

found this helpful
Soak a pair of cotton socks in rubbing alcohol. Wear the wet socks, while wearing your shoes. Wear the socks and shoes, until the socks are dry! This should stretch your shoes!
I purchased a pair of Dawgs rubber clogs, size 10 regular. Size 10W is too wide, but regular is a little too tight. Anyone know of a way to stretch the width on these a little?
By Gayle from Rochester, NY
May 26, 2011
0

found this helpful
Rubber is difficult to stretch permanently-you could take the shoes to a shoe repair store and ask what can be done. I've had some very good results from my favorite shoe repair person who helps me with shoe modifications for my old ballet feet. For a less aggressive approach: If you wear socks with them, try wearing two pair or thicker and much thicker socks.
May 26, 2011
0

found this helpful
Put plastic bags inside the shoes, fill the bags with water and then freeze the whole thing, this seems to stretch the shoes enough to wear.
I have extra large wooden shoe trees, but wonder if soaking the leather shoes (in water?) before using the shoe trees might work? Or does someone have a better idea that worked?
By Sylvia
October 9, 2012
0

found this helpful
Before using water on leather shoes, I'd try heating with a hair dryer. I've put on a thick pair of socks and stuffed my feet into the shoes, warmed with a hair dryer, and walked around the house. Repeat a couple times and it does the trick for me.
I wrapped my calf with two long ace bandages. Then I warmed my boots with a hair dryer. Get the leather of the boot very warm but not hot. Put the boot on and force it to zip. Wear for about an hour and heat again with hair dryer.
Have a new pair of shoes that's just a tad too tight or uncomfortable? Try wearing them with socks a little while each day. I had a cute pair that I loved, but knew they weren't more than 'fifteen minute' shoes.