I have very tiny bugs - the size of the top of a straight pin in my kitchen around the windows and on my white floor. When you step on them or use your finger to smash them, they leave a reddish, brown streak. I tried spraying and caulked the baseboard area. It is a new home, less than 2 years old. How do I get rid of them?

newyork062 from Raleigh, NC
Answers:
Tiny Bugs In My House
Hi,
I know this is going to sound crazy but it works. Get a couple "jumbo" packs of Wrigley's Spearmint gum,
clean all surfaces where bugs have been, then put unwrapped sticks of the gum around where the bugs have been, and everywhere else, like cupboards counter-tops where you don't want them to be. I had bugs that fit your bugs' description and had tried everything to get rid of them, including a "professional" pesticide job! The gum worked and they've been gone for almost 9 months so far! Hope this helps. It has to be Wrigley's spearmint gum, something about that particular gum drives/keeps them away! (03/14/2006)
By CLK
Tiny Bugs In My House
They are called clover mites. They don't do much, but are ugly to look at. I used to just take a wet paper towel and wipe them all away. They seem to like windows that have moisture around them. I've never heard of the gum idea. I would definitely try that! (03/14/2006)

By Kathy
Tiny Bugs In My House
Kathy (Guest Post),
Thank you. In researching the Internet about clover mites, that is the problem. I appreciate your help.

CLK (Guest Post),
I guess I'll just have to chew the Wrigley's Spearmint Gum (SMILE). Thanks for the suggestion. (03/15/2006)

By newyork062
Tiny Bugs In My House
Thank you for letting me know what those bugs were called, I have a phobia with bugs and will notice the smallest possible bug, I was very creeped out and scared. Thanks again. (12/06/2006)

By Jo
Tiny Bugs In My House
I think I have found the same little bugs as Shirley. Brown, little, microscopic, sliver-like creatures which move around. The largest ones are about as thick as 2 or 3 hairs and no longer than 1/16 of an inch. Most are even shorter than that.

I tried to take a picture of them but they are too small to focus upon clearly. I can zoom in and doctor in Photoshop, but the color isn't really accurate. They are more of a tan color with a darker head (I think it is a head).
They seem to bite, or at least irritate the skin, when we are sleeping. I have been searching for hours on the net but I haven't had any luck finding out what these things are. I was thinking spring tails but spring tails seem more complex than these if that makes any sense.

Any info would be greatly appreciated.

The orange object in the picture is a tic-tac... coins reflected too much light.

Thanks, Johnny in NY. (06/13/2007)

By Johnny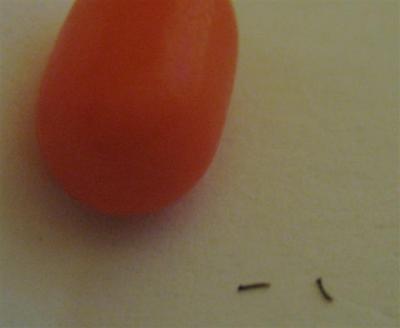 Tiny Bugs In My House
The tiny bugs in my house (on walls) kind of look like the ones in johnny's picture. They resemble a millipede/worm but they are REALLY tiny. These bugs are clover mites. (08/13/2007)

By aaron
Tiny Bugs In My House
Bay leaves work well for these bugs. After washing your cupboards out lay bay leaves inside, not many and the bay leaves can stay for months. I have used these many times in many houses I have cleaned. (12/21/2007)

Tiny Bugs In My House
Someone suggested using Wrigley's spearmint unwrapped gum sticks all around affected area. They also said they were called clover mites. I bet spearmint oil might work also, I am going to try it now. (03/17/2008)

By jo sheldon
Tiny Bugs In My House
Just wanted to say a big thank you to newyork062. We just got these same things and didn't know how I'd ever find out what they were. I did a search for "tiny bugs" and this popped up. Perfect! Never heard of clover mites before but I am now empowered to get rid of them. Thanks again! ~Tucson, AZ. (03/24/2008)

By Wendi
Tiny Bugs In My House
I found these tiny reddish-brown worm like bugs in my house. They seem to like dark warm places like under the heating vent or in a pile of dirty cloths. Any one know what these might be? I also know they shed their skins. They almost look like those bugs in that picture, but they're not clover mites. (04/14/2008)

By christina
Tiny Bugs In My House
These little bugs are very small and remind me of microscopic silverfish. They are on my desk and under my papers, etc. They kind of jump a little when you're trying to smash them with your fingertip. Yes, they are tiny and probably no harm, but enough is enough already. Gum, bay leaves, what else? (06/09/2008)

By Tom Doligale
Tiny Bugs In My House
I found these little tiny bugs on my window sill that has my air conditioner in it. They look like dust or the end of a pin, like a white to gray color and don't leave a mark when they are squished. But I get itchy when I touch them and if I try to squish them, then they jump or move quickly. What are they? Has anyone tried the gum thing? Does it really work? (08/01/2008)

By dee
Tiny Bugs In My House
I don't know what they are either, but I cleaned my bedroom and they were there. They are tiny black on top and white on bottom, and have given me bites before. How do I get rid of them? What are they? (08/25/2008)

By rachel b.
Tiny Bugs In My House
They are carpet beetles. (09/09/2008)

By b
Tiny Bugs In My House
I know I don't have clover mites. I don't know what it is that I live with, but maybe someone can help me. I have little tiny worms that don't look like centipedes. They don't have many legs, are a reddish brown, and tiny. They like to hang around my dirty clothes and live in my base boards, but I see them all around my house. I can't find a pic of them anywhere and they so far don't seen to be harmful, but I would like to get rid of them. Can someone please help me? (11/16/2008)

By roxxy.
Tiny Bugs In My House
I am infested with these things. I've seen some which are white, black; white on one side, black on the other. I've seen the little worm. Nothing has succeeded against them.

I just realized that I first began to notice these tiny things after I eradicated fleas from my dog and yard. Maybe fleas eat these little things.

I've been infested now for six months - they are literally killing me. Physical ailments are worsening and am becoming "foggy". Perhaps these are the Morgellon's pest reported by some. Perhaps this is the noisome and grievous boil spoke of in Revelations. (11/25/2008)

By Tom - JAX, FL
Tiny Bugs In My House
Tom, I don't think a bug can be called a boil so I think you're safe there and fleas don't eat bugs. Catch some and take them to the local extension service and ask them. (11/25/2008)

By Glenn'sMom
Tiny Bugs In My House
Last night I woke up from a bite from a bug that looks like a scorpion. It was black but long with two fangs. I crushed it but it stung me. It's a black bug, long, and has two fangs. It is not a scorpion, but looks like it. What bug can that be, and is it dangerous or harmful? It looks like an earwig. (12/23/2008)
Tiny Bugs In My House
Around my window sill I've been finding round, small, black, yellow, brown (and a tiny bit of white), bugs, they are absolutely tiny, and really hard to notice, but I want to research them to find out what they are and if they bite or how to get rid of them etc.

Please help.
contact me at:
Jennie-733199 AT hotmail.co.uk (02/26/2009)

By Margaret
Tiny Bugs In My House
About the post for the little reddish brown bugs. I found 2 just like that in my bed, on separate days over the past week. I am freaked out, what are they? I have cats so maybe they came off the cats?

They don't look like bed bugs and I thought carpet beetles are hairy with legs. These are like little red larvae worm things. I don't see fur, legs, a head or anything distinguishable. They are so small I can't take a picture.
(02/26/2009)
Tiny Bugs In My House
Hi,
Two nights last week my wife was bitten several times by some unknown bug as we slept. The bites were clustered together and they swelled up similar to mosquito bites, but "hurt" more. So we searched and searched for some sort of bug, but couldn't find anything. Every so often I'd re check the bed and then I started poking at bits of lint and then one lint ball. It wasn't a lint ball, but some tiny BUG! I rushed to get a glass and trap it.

Finally a suspect, an incredibly small suspect. So with specimen in hand I searched the internet for it and came across nothing really concrete until this thread. It looked just like those pictured with the tic tac on this thread. So I had a buddy come by with his DSLR and super-macro lens and we had a picture of it up close. Can any one ID this critter?

Also if you'd bother them, it will roll up into a ball slightly bigger than a poppy seed. (03/08/2009)

By twizttid1
Tiny Bugs In My House
I don't know how something so small can bite people! Here's another shot of it. (03/08/2009)

By twizttid1