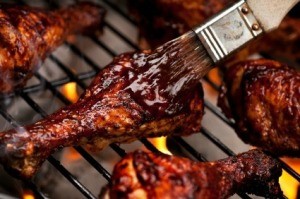 The type of meat, cut, etc. can require different cooking methods. This is a guide about tips for cooking meat.
Ad
---
Solutions: Tips for Cooking Meat
Read and rate the best solutions below by giving them a "thumbs up".
Freezer burn does not make food unsafe, merely dry in spots. It appears as grayish-brown leathery spots and is caused by air reaching the surface of the food. Simply cut these portions away either before or after cooking.
By fossil1955 from Cortez, CO
My tip is about cooking on top of the stove. Our oven went out and isn't repaired yet. I talked to my mother-in-law, she kind of laughed and said that I've discovered "Country Cooking."
Take whatever piece of meat you have and thaw it if necessary in the refrigerator. I normally get meat on sale and freeze it.
If the meat is beef, you may want to cut it into chunks and dust it in flour, then cook it in a little oil to brown it, small batches at a time, putting the beef batches into another container until all of it is cooked.
Whether or not you wish to cut beef into chunks and brown it, it's time to put the meat/poultry into a large stockpot, and cover the meat with water. I am using about 1 - 1 1/4 gallons of water. I am doing this with beef roast, pork roast, and turkey breast. Chicken would be fine, too.
Bring to a boil, then reduce to simmer, and let the meat/poultry simmer a few hours until it's cooked through. Let it cool on the stove top, then put the stockpot in the refrigerator (you may have to remove a shelf to do this.) Let it cool overnight or for a couple of days.
Take the stockpot with the meat and broth out of the refrigerator, remove all of the fat from the top of the broth, and discard, or save for birds, etc.
If the meat is poultry, chicken, turkey, duck, then take off all the skin, and remove all of the bones, and dispose of them. Save all of the meat.
Strain all of the broth (the water the meat was cooked in) through a strainer and save it.
All of the meat, or some of it can be prepared immediately.
Put the meat you want into a stove top casserole (small stockpot), and add several cups of broth, depending on whether you want it to stew or make a soup or make a gravy.
Put the rest of the meat and meat broth into containers that can be refrigerated or frozen for another day.
Make what you want: soup, stew, or gravy. For soup, add several cups of broth and any veggies you have, and heat through. For stew, add less broth, and any veggies you have, then take about one half cup of cold broth, with about a quarter cup of flour, mix it together, and add to the hot broth, meat, and veggies. For a gravy, add about 1 cup of cold broth mixed with 1/2 cup of regular flour, and poured into the boiling broth, meat, and whether or not you added veggies, stirring it for about a minute, and then turning it down to a simmer, and letting it thicken.

I used this method to make a beef stew that we started eating the same day, and ate for several days.

I also used this method to cook a raw turkey breast that we got on sale, then split up the turkey into portions, using a couple of cups of it in a stove top casserole (3 quart stockpot) where I added about 3 to 4 cups of the turkey broth, about two handfuls of noodles, and once it got to boiling. I added about a cup of turkey broth that I mixed with about a half cup of regular flour, let it cook for about a minute, then turned it down to simmer. I poured this "turkey gravy" over cooked, smashed potatoes, and froze the rest of the turkey and turkey broth for later use.

I also used this method to cook an 88 cent per pound pork shoulder roast (about eight pounds), and will use the pork shoulder roast to make pulled pork, for sandwiches, and use the broth (with flour added to thicken, see above), to make a gravy to pour over homemade buttermilk biscuits.

Also, in order to cut costs, I have stopped buying "cultured buttermilk" and use the substitute recipe of using about two tablespoons of regular vinegar, then filling the cup with regular milk, and letting it sit for about 5 minutes.

Just for fun, I have tried making my own buttermilk biscuits without any measuring cups at all. So far, they are very tender, and very "relaxed." They don't stand up at all, but spread in our toaster/oven, and they are still delicious.

If your regular oven is out, or if you are just trying to cut down on utilities, start using your toaster oven, or buy one. Since our oven has been out, and truthfully, we don't always need the size of a regular oven, I have been using our small toaster oven with some regular success.
Source: I got the idea to use vinegar with regular milk from a Betty Crocker "New Cookbook Everything You Need To Know," Published 1996 by General Foods, and MacMillan Publishers.
By Carol L. from South Bend, IN
Tough cuts of meat are best cooked with moisture, like stewing or using a slow cooker. The moisture will soften tough cuts of meat and make them more appetizing. Tender cuts of meat should be cooked with dry heat, like pan frying, barbecuing, or oven roasting.
By ThriftyFun
Give a "thumbs up" to the solution that worked the best! Do you have a better solution? Click here to share it!
Questions
Here are questions related to Tips for Cooking Meat.
Do you salt meat before it's cooked or after? I heard salting before or while cooking made meat tougher and not as juicy?
By Lynn from LaCrosse, WI
AnswerWas this interesting? Yes No
Ad
---
---
Most Recent Answer
08/11/20100 people found this helpful
In my experience it depends on the cut of meat and how it's being cooked or the recipe. I definitely don't salt the steaks when marinading them and some steak cuts are just so tasty stand alone that I can't bring myself to add anything to them before or after ;-)
---
Archives
Thrifty Fun has been around so long that many of our pages have been reset several times. Archives are older versions of the page and the comments that were provided then.
Is there any way to marinade, cook, etc. meat that is freezer burned?
By S.L.
Feedback:
RE: Cooking Freezer Burned Meat
I suggest not to cook or eat freezer burned meat, good luck. (01/25/2010)

By kffrmw88
RE: Cooking Freezer Burned Meat
I found this on an educational website which is listed below, the info is on freezer burned meat. I have used freezer burned boneless skinless chicken breast. I just cut off the freezer burn pieces and cooked the rest. No problem.

Here is the info:

Question 3: Is it safe to eat food that has "freezer burn"?

Answer: "Freezer burn", a condition in which the surface of food appears light-colored and dried out, occurs when moisture on the surface evaporates. Proper cooling, air removal, moisture-vapor-resistant packaging, a tight seal and an appropriate length of storage help prevent freezer burn. Keep your freezer at 0 F or lower.

While a food with freezer burn is safe to eat, the quality is lower. You can cut away freezer burn spots either before or after cooking. If a food is heavily freezer-burned, it may be desirable to discard it for quality reasons.

For more information about how to freeze food to help prevent freezer burn, check these links:

Containers for Freezing
National Center for Home Food Preservation
uga.edu
Packaging and Labeling Foods
National Center for Home Food Preservation
uga.edu
Cold Storage Chart
USDA/FDA
foodsafety.gov
lancaster.unl.edu (01/26/2010)

By Indianone
RE: Cooking Freezer Burned Meat
I recently found a three year old chuck steak in my freezer. It appeared badly freezer burned, but had been frozen solid the whole time, so I felt it was safe to eat. I cut it into small cubes, browned it on the stovetop, then put it in the crock pot with sauteed onions and bell peppers, and a mixture of barbecue sauce and ketchup. It turned out fine, and I had no ill effects. (01/27/2010)

By ChloeA
When meat has freezer burn, is it safe to simmer it down for a soup stock or should I throw it out?
By Sandra from PA
Feedback:
RE: Cooking Freezer Burned Meat
If the meat is not badly freezer burned, trim the burned areas and use it. I have done so with no ill effects. If badly burned, or if you decide not to use it, you could offer the frozen meat on Freecycle. People who feed their animals a raw diet would love to have it. I've done this too. (05/18/2010)

By Omanana
RE: Cooking Freezer Burned Meat
Do not eat it. Federal safe food guidelines say no. (05/18/2010)

By Lilac
RE: Cooking Freezer Burned Meat
As long as you originally froze it by the original "sell by date" and it has not been thawed even once since then it is completely safe to eat according to the FDA and simply won't be as tasty. I am not sure if you would want to use it to make soup stock though because the flavor is degraded once freezer burned, but you can use it to bulk up soup or skillet recipes. Please be sure to thaw it in the refrigerator though. (05/18/2010)

By Deeli
RE: Cooking Freezer Burned Meat
The trouble with anything that's freezer-burnt is that a lot of times it has a bad taste to it. (05/20/2010)

By Maryeileen