Two of a Color (Dwarf Rabbit)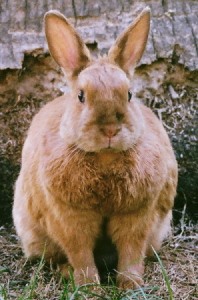 Two of a Color is a 5 year old dwarf rabbit. About ten years ago, my family adopted two rabbits, a male and a female from the Arizona Humane Society. Since then, we have had many generations of rabbits, between which we would bring in a couple of other rabbits to prevent in-breeding. This specific rabbit, which was born in 2007, is the son of a rabbit named Snowball and Chocolate. He was born in a litter with 4 white rabbits and 3 brown rabbits. Two of a Color (named because of his eyes) loves to eat grass, bananas, carrots, zucchini, eggplant, cucumbers, anything! He and one of his sisters are inseparable. They play follow the leader and run throughout the backyard all day long. He also loves to pose for the camera. Each of his eyes has two different colors in it. Instead of just being brown or just blue, each of his eyes has both brown and blue in it. This is where he gets his name, Two of a Color. He lives outside with the rest of his family.
By GuinevereW from AA
Feedback
Read feedback for this post below. Click here to post feedback.
Post Feedback
Add your voice to the conversation.