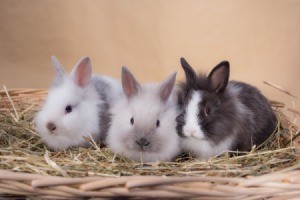 Dwarf rabbits make wonderful pets. In the right environment, they are highly social and enjoy the company of people and other animals especially other rabbits. Here is some basic information on acquiring and caring for these charming little animals.
Purchasing Dwarf Rabbits
A good place to obtain a pedigreed dwarf rabbit is from a reputable pet store or from a rabbit breeder that has been recommended to you by a local breeders club (see source link below). Wait until the rabbits are at least seven to eight weeks of age before you buy them. They will have been weaned from their mother by then, and their ears will have grown long enough to make it easy to tell whether or not they are truly dwarf rabbits, or just undersized ordinary rabbits being passed off as dwarfs.
Determining the sex of a young rabbit isn't easy, so you will have to trust the seller's expertise when making your purchase. Both males (bucks) and females (does) make good pets. Males are typically neutered between four and six months of age in order to eliminate certain undesirable sexual behaviors like restless scratching and territorial marking. Females don't need to be spayed, but they should be housed separately from other rabbits (and other pets) during their heat period as they can become aggressive.
Housing Dwarf Rabbits
It's a good idea to acquire housing large enough to contain two rabbits. These highly social animals are happiest when they have a companion so it is a good idea to start with housing large enough to contain two dwarf rabbits. For that you will need a wire cage at least 3 feet (90 cm) long, 20 inches (50 cm) wide, and 18 inches (45 cm) high. Ideally, the cage should be 4 to 6 times as large as your rabbit is when lying fully stretched out. Remember, your rabbit's enclosure is a nest, not a permanent cage. Bigger is always better! Place it in a well-ventilated and well-lit area, away from cold drafts and heat sources, and out of direct sun. In the summer, you will need to provide a safe, open-air enclosure in the yard or on a balcony for exercise.
Housing Tips:
Choose a cage made with uncoated, galvanized wire. Plastic coatings are easy to chew off and can cause health problems. Make sure the rabbit has something solid and comfortable for flooring (other than a wire cage bottom) or it will spend all of its time in the litter box.

The cage should come with a plastic tray on the bottom that is deep enough to prevent litter from spilling out, but shallow enough that the rabbit can still see out. It should be equipped with a front door that allows the animal out for daily exercise and a roof that can be opened to remove the rabbit and clean the cage.
The cage needs to have one or two food dishes, a water bottle, and a hay rack.
Like their wild cousins, dwarf rabbits like to burrow. Provide a little hut or hidey-hole where it can go to seek protection or when it just wants to be alone. Be careful when choosing edible hide-away products as they sometime contain ingredients (e.g. pine shavings) that may not be safe for all animals to eat.

Wood shavings with a layer of straw and small animal straw pellets are good materials for bedding.
Put a cat litter box or rabbit toilet into one corner of the cage. High-sided litter boxes work well for avoiding accidental misses.

A piece of tuffstone in the little box with a layer of straw pellets over it can help wear down the rabbit's claws as they dig.
The Dwarf Rabbit Diet
Rabbits should be fed twice daily, in the morning and evening, and have access to fresh water and hay all day.

Menu:
-Dry rabbit food (pellets) contains dried greens, grains, assorted seeds, dried fruits and vegetables, and vitamins. Feed according to package directions.
-Fresh greens and juicy foods such as dandelion, carrots, and parsley.
-Twigs from deciduous trees and from unsprayed fruit trees are healthy chewing material.
Feed fresh food only, never wilted, soiled, or moldy food, and remove any uneaten fresh food each morning. Greens and vegetables from the grocery store should be washed thoroughly before feeding to remove potential pesticide residue. Avoid gathering fresh greens near the side of the road or near freshly fertilized fields.
Routine Care
Grooming: Short-haired rabbits should be brushed regularly with a soft natural bristle brush. Long-haired rabbits should be combed at least twice a week using a comb designed for their long hair. Regularly inspect the teeth and nails. Incisor teeth and claws that grow too long should be trimmed by a veterinarian.
Housekeeping: Wash food dishes in hot soapy water daily, and use a bottle brush to clean the water bottle two or three times a week. The rabbits bedding should be fluffed daily and the bedding and litter box should be changed completely twice a week. When you change the bedding, wash the litter pan in hot, soapy water. Thoroughly clean the mesh cage and the sleeping house once a month with hot, soapy water.
Building the Human/Rabbit Bond
Rabbits respond well to slower movements, soothing voices, and gentle petting. Interactions using slow, deliberate movements and a gentle touch will help a rabbit learn to trust their human companions. Children need to learn from their parents how to take responsibility for the animal and handle it properly. Although rabbits enjoy being scratched behind the ears, most dislike being touched on more sensitive parts of their bodies like under the chin or belly. They are also sensitive to being disturbed while they are sleeping, eating, or grooming themselves. Loud noises and poking and prodding can provoke even the friendliest rabbit to suddenly bite in protest. You should never try to catch a dwarf rabbit by force. In fact, in extreme cases, chasing or suddenly grabbing a rabbit can actually frighten them into having a heart attack.
Dwarf Rabbits and Other Pets
Just as dogs and cats, and cats and birds can learn to live together, with a lot of time, patience, and supervision, most companion animals can learn to coexist happily with dwarf rabbits. Unfortunately, there are never any guarantees. Sometimes friendships develop (or at least a mutual tolerance develops), and at other times certain animals just never learn to get along. In either case, different species should never be left alone together without your supervision. Before you commit to keeping a dwarf rabbit as a pet, ask yourself whether or not you are willing to keep your pets permanently separated if they never learn to get along.