A strong smelling cleaning agent that has been manufactured since 1929. It is effective for a variety of jobs. This guide contains uses for Pine-Sol.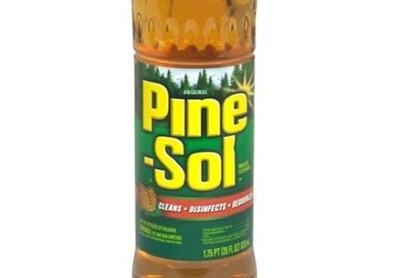 Keep a spray bottle of half Pinesol/half water under your sink spray outside garbage cans or anywhere you have a pest problem. Animals like rodents, opossums, raccoons, etc. don't like the smell.
I know I recently posted a request about my dogs fleas but now they are worse! She keeps scratching her neck and now she's bald there! Can I use pine-sol on her? I have heard many different responses to this! Please help, thanx!

Emily from TX

Editor's Note: Pinesol is toxic to pets, even using it on your floors is considered a hazard by some. Never use it on your dog.
---
Most Recent Answer
September 8, 2015
A Quick and cheap solution to a a dog with flea infestation or the mange(a type of dog louse) Seargents Skip flea shampoo, its the green stuff. Bath with lots of lather repeat after a week, then use deterrent product to keep them away. I use Trifexis, a chewable tablet lasts for 30 days.
---
I had a problem with our cats wetting in places other than their litter box. I found out if I wash the floor with PineSol they would stay away from that spot. They soon went back to the box where they were suppose to be using.

By Connie
By shortygal 1
Is it safe to boil Pine Sol? I will sometimes put a small amount in a big pot of water and boil to give the house a fresh clean smell, is that safe?
By Shortygal from MO
---
Most Recent Answer
October 22, 2009
I just heat cinnamon, cloves, allspice, spices like that, in a pot of water. I have a small pot that that is the only thing i use it for! It smells wonderful in the house. And you can buy those spices at the dollar store now, so it is very inexpensive.
---
By Andrea Tucker 3 5
Save on window cleaners and paper towels. Mix Pinesol (or any nonabrasive cleaner) in a bucket of water and use a rag to wash your window and another rag to wipe it clean. Works great!
By Mikilittle from Anywhere, USA
When you mop the kitchen floor with Pine Sol and water, does it disinfect the floor of germs and bacteria?
By jazzy774 from Pasadena, CA
---
Most Recent Answer
July 8, 2009
To my knowledge, Phenol is only used in Lysol, NOT Pinesol. When I called the company to try to find the original Lysol, which has been discontinued in favor of Les-toil, the company confirmed that the original Lysol had Phenol, the reason they discontinued it. Hospitals use some brand of Phenol, but it is not easily available to general public their staff says.
Best best is to use some chlorine, but with plenty of ventilation, with whatever else you use other than Ammonia that will explode when mixed with Chlorine. Good luck and God bless. : )
---
I have a Hoover Steamvac and would love to use my Pine-Sol cleaner solution in it. Would this damage the cleaner?
Thanks.
By Betsy S.
---
Most Recent Answer
September 29, 2011
Just make sure you don't use Pine-Sol around cats; it's poisonous to them.
---
By Lydia 1
Will PineSol hurt my pet dog if sprayed on weeds?
By Lydia from Houston, TX
---
Most Recent Answer
By Cricket 205 896 Flag
September 17, 2010
I've never had any problem using Pine Sol around my pets as long as it was diluted well and the room was well ventilated. Never heard of spraying it on plants. Seems to me it would clog up the "pores" on them.
---
I sometimes pour a small amount of Pine Sol into my sink drains and toilets when I want the fresh smell of clean and don't actually need to clean or "feel like cleaning"! Anyone visiting will think you've been cleaning all day.

By Michelle from Lanett, AL
By kimery 2
After cleaning your home, you want it to smell clean. If you don't have anything else, use scented Pinesol. In a small unused pot, dilute with water and simmer. It makes the whole house smell good and it's cheaper than expensive oils, etc. You can also use it in a warmer.

By Kimery from Hampton, GA