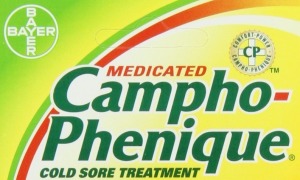 Campo-Phenique is a topical medication often used to help dry up and relieve the pain associated with cold sores. This is a guide about using Campho-Phenique.
Ad
---
Questions
Here are questions related to Using Campho-Phenique.
Is Campho-Phenique safe to use as a vaginal healing product for irritations and raw spots?
By madownie from Brunswick, GA
AnswerWas this interesting? Yes No
Ad
---
---
Most Recent Answer
By beckogcarol1961 04/26/20140 people found this helpful
I've used it on a boil I had down there, it helped with the pain and healing. It did burn, I used a Q-Tip.
---
Can anyone please tell me what Campho-Phenique does?

Daphne from Adelaide, Aus
AnswerWas this interesting? Yes No
Ad
---
---
Most Recent Answer
By Anonyone 05/31/20110 people found this helpful
Yes this is the best product ever for Fever blisters, I have suffered with fever blisters since childhood. The embarrasment of this just killed me emotionally. For years they have come and gone, I have used any and every product to cure them and nothing ever worked salt rubs, alcohol and peroxide all made them worse and made my lip swell up more than it already was. A few years ago while having another episode I came across campho phenic at CVS, this is a miracle product. Within a day or two my blister dried up and the pain and swelling gone. The trick is to use this product immediatly at the first sign you are getting a blister, itching and or a bump and continue to use it until it is gone. I love this product and also always carry it on hand and at home. Definetly better that Abreva.
---
Solutions: Using Campho-Phenique
Do you have knowledge about this guide topic? Feel free to share a solution!