This paint can make a blackboard in a lot of different places. This guide is about using chalkboard paint.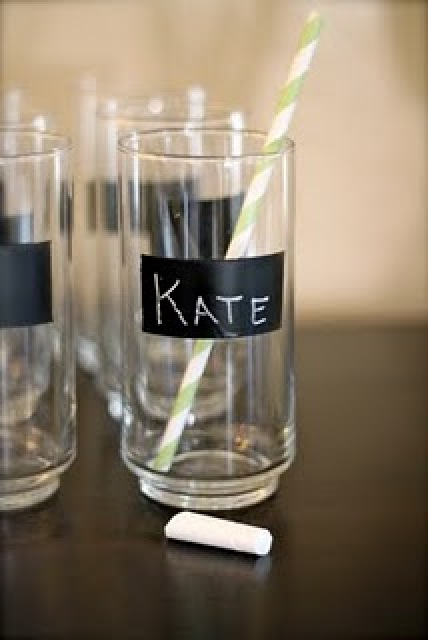 I never had a place to make a note and could never find a pen and paper when I needed it. I purchased some chalk paint at Home Depot. I taped off a section on a pantry cabinet I have and spray painted the section with the chalk paint. I actually did 2 light coats and used a sponge brush to smooth it over. It's very easy to use, the craft stores have a brush on chalk paint that you can buy. It dried fast and looks really nice. Now I always have a place for a note or I can write a cute message for my husband on it.
By Jill from Blue Bell, PA
By Benetta 221 118
I do monthly grocery shopping, when I buy groceries in bulk. However, I buy fresh produce and items such as bread and milk, on a regular basis. Sometimes, though, I run out of milk, because I tend to forget that the milk is running low. This chalk memo board on the fridge will make it easier to remember when it is time to stop at the nearest grocery shop on my way home from work.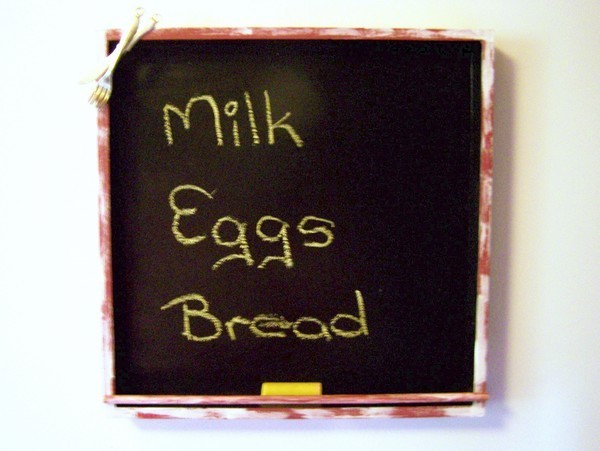 Approximate Time: 1 hour 30 minutes
Supplies:
small wooden box size 7.6 x 7.6 inch *
one bamboo skewer
scrapbook embellishments of a fork and a knife
blackboard paint
acrylics paint in the following two colors: plum and white
water-based varnish
10/32 inch brush
fan-shaped paint brush
thin paintbrush
self adhesive magnetic sheet
strong bonding glue
scissors
pencil
fine sanding paper
small handsaw
old dry cloth
few sheets of old newspaper to protect the working area
piece of colored or white chalk

* You may of course use any size wooden box, depending on availability, and on your personal needs.
Instructions:
Sandpaper the whole box thoroughly inside and out. Dust well with a dry cloth before starting to paint.
Using a 10/32" brush, paint the side ends of the box, inside and out, with the plum-colored paint. Allow the paint to dry thoroughly.
Clean the brush and then, using the same brush again, paint the inside bottom of the box and the insides of the side panels with the blackboard paint.
Allow the paint to dry thoroughly and apply a second coat of blackboard paint, and allow the paint to dry thoroughly again.
Using a fan-shaped paint brush, give the plum-colored outer sides and the edges of the box a wash with the white acrylic paint. Remember not to use too much paint when using a fan-shaped brush, as this will lose the fan-shaped effect. Remove excess paint by dabbing it onto a sheet of newspaper before starting to paint. Allow to dry thoroughly.
Use the 10/32" brush to paint the outer sides and the edges of the box with a water-based varnish. Allow to dry thoroughly.
Turn the box upside down. Cut strips from the self adhesive magnetic sheet, peel the protecting paper off and adhere the strips to the back of the box. I used 3 strips, but if necessary, you can apply more strips.
Measure the bamboo skewer to the length of the bottom of the box. Make a pencil mark and use the handsaw to cut it to the correct length.
Use the thin paintbrush to paint the skewer with the plum-colored acrylics. Let it dry thoroughly, and then give it a wash with the white paint. Allow the paint to dry thoroughly again before painting the skewer with the water-based varnish.
Using strong bonding glue, glue the shortened skewer in position. The skewer will prevent the chalk from falling off when the door of the fridge is opened or closed.
Glue the scrapbook embellishments in place and voila! Your chalk memo board is ready!
By BessieBessie from Pretoria, Gauteng
I AM DESPERATE FOR HELP!! I am trying to make chalkboards. They are 2'X2' so I want to paint them with a roller. I am now on my 3rd can of paint and no chalkboard.

Does anyone know if you can get a nice smooth finish with chalkboard paint? After trying to make them on Masonite, I was fortunate to find chalkboard material in 2'X4' pieces. Problem is that they are green and I need black. So, the man at the paint store told me I could just paint them black with the chalkboard paint. Great idea, so I thought. Unfortunately, I still have the same problem. I can't get a nice smooth finish. They look kind of like they are textured.

The man at the paint store said it is orange peel. I have gotten so many tips about what to do - make sure surface is smooth and clean, use the right size roller, don't shake the paint, stir it enough, don't press down on the roller, don't paint if it's too hot
etc. So, I incorporated all the tips, but to no avail. I have tried different kinds of paint and bought expensive rollers (1/4" nap for ultra smooth finish) and foam rollers. I want to make several of these, but it is getting very expensive so I really need to find out what to do. I won't use spray paint without a paint booth so that is out. I'm not good with a brush because I get too many lines. I really want to use the roller. Does anyone have any suggestions? I'll appreciate any help at all.

I'm ready to cry, but I'M DETERMINED NOT TO GIVE UP!
Thanks in advance for ANY help you can give me.


Ann from Elmira, NY
---
Most Recent Answer
By guest (Guest Post) Flag
September 13, 2008
After using a clean sponge roller (not the yellow type, but the white ones) take a large sponge brush and gently pull it along the wet surface. This will help smooth out all the lines. I have done this oodles of times and it works super well each and every time!
---
We have an old home. The doors have 4 panels in them. I painted the door panels with chalkboard paint carried at home improvement stores. I then painted the name of each grandchild on a panel. The older children got the higher panels with younger children getting lower panels. I keep chalk in the house and use wet paper towels for cleaning. Even teenagers put something on their panel. A great extra; I frequently get loving messages; even from friends' visiting children.
Source: I have learned so much from this site. This one was my own idea.
By Eiw from Lancaster, PA
Create chalkboard labeled glasses for your next party!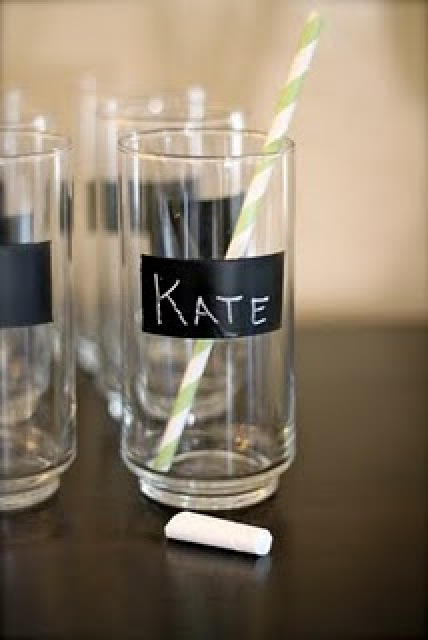 Approximate Time: 30-45 minutes
Supplies:
glasses
chalkboard spray paint
painting tape
Instructions:
First I used painter's tape to make rectangles on the center of the glasses.
You could measure them so they are all even, but I just estimated.
Make sure to cover your glasses with the tape so the paint doesn't get anywhere else on the glass. By using extra wide painter's tape it makes it much easier.
Next spray the glasses and let them dry.
Once dry, pull back the tape and you're done.
Note: I hand washed my glasses with warm soapy water and the labels held up great. I am not sure how they would do in the dishwasher.
By Domestic Charm from AZ
We are having a family get together soon. For the grown-ups, I wanted to try to paint a strip of chalk on plastic cups so everyone can write their name on the cup. I end up doing so many dishes over a weekend, it would be nice to have less to do. What do I prime the cup with and then can I paint a strip of chalkboard paint on top? Will it adhere? I wanted to use insulated plastic cups. Thanks.
By Sarah
---
Most Recent Answer
August 4, 2011
A better bet is to use chalkboard vinyl which you can cut into any shape you want. It is self adhesive and used by crafters in cutting machines like a Cricut machine. Maybe you can find it at a craft store, but I've only seen it online.
---
I have a round plastic picnic table with removable legs that I set up in the children's play room for our grandchildren. They like to use it to color, play with playdough, etc. I was wondering if I could paint the top of this plastic table with chalkboard paint, and if it would adhere. Does anyone have any experience with that?

By Deb S.
---
Most Recent Answer
By Louise B. 6 2,509 Flag
December 21, 2014
I have no experience with this, but my first guess would be to say no. Paint doesn't like to adhere to slick surfaces, and plastic is always slick. However, you could contact the manufacturer of chalkboard paint; most manufacturers have a website with a Q & A section, and you could ask if their product will adhere on plastic.
By Linda Sue 1
I want to paint an 8' tall mirrored closet door with chalkboard paint. Is this possible? Can it be removed at a later date?
By Linda Sue from Windsor, CA
---
Most Recent Answer
By Tatorbug 5 22 Flag
November 17, 2009
Not sure, but if you contacted Lowe's or Home Depot they may be able to tell you.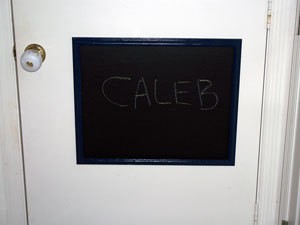 I spray painted an old photo frame. Traced the inside on my kitchen door. Painted the space with black chalkboard paint and attached the frame with high quality glue.

By Jennifer from Riverview, FL
I was thinking about recycling my old table and using the top as a chalk board using blackboard paint, however the table is veneered. Is this possible to do and if so will the chalkboard last if used often?
By Lyndsey
When I paint on the plastic jar with the chalkboard paint it comes out in a light gray color. What should I do?
By Bernadette H
You can make a chalkboard to fit any size of frame. Just take a thin, smooth board (smooth plywood works well for this), cut to the desired size and paint it with dark primer. Let that dry and spray paint it with chalkboard paint, which you can buy at your local hardware store.
I loved the idea of using chalkboard paint in a child's room, but in our tiny apartment we just didn't have enough wall space. To give my son a place to draw, I decided to paint the front drawers of his dresser and armoire instead (with chalkboard paint). It was really just wasted space and now he's got plenty of room to draw!

By Trix
If you have an available wall in a playroom or basement, paint the lower half with chalkboard paint. The kids will have a ball writing on the wall!

By Chell