Using Chalkboard Paint
This paint can make a blackboard in a lot of different places. This guide is about using chalkboard paint.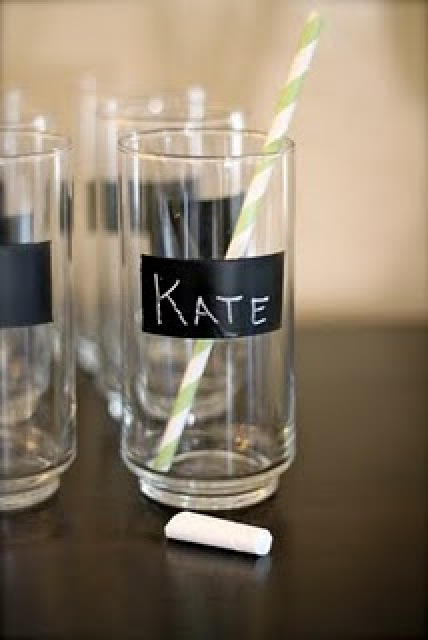 Filter

: All Articles
Sort

: Relevance
I never had a place to make a note and could never find a pen and paper when I needed it. I purchased some chalk paint at Home Depot. I taped off a section on a pantry cabinet I have and spray painted the section with the chalk paint. I actually did 2 light coats and used a sponge brush to smooth it over. It's very easy to use, the craft stores have a brush on chalk paint that you can buy. It dried fast and looks really nice. Now I always have a place for a note or I can write a cute message for my husband on it.
By Jill from Blue Bell, PA
Create chalkboard labeled glasses for your next party!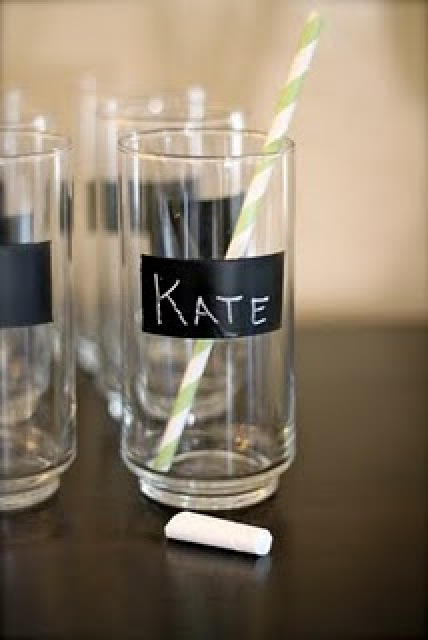 Approximate Time: 30-45 minutes
Supplies:
glasses
chalkboard spray paint
painting tape
Instructions:
First I used painter's tape to make rectangles on the center of the glasses.
You could measure them so they are all even, but I just estimated.
Make sure to cover your glasses with the tape so the paint doesn't get anywhere else on the glass. By using extra wide painter's tape it makes it much easier.
Next spray the glasses and let them dry.
Once dry, pull back the tape and you're done.
Note: I hand washed my glasses with warm soapy water and the labels held up great. I am not sure how they would do in the dishwasher.
By Domestic Charm from AZ
We have an old home. The doors have 4 panels in them. I painted the door panels with chalkboard paint carried at home improvement stores. I then painted the name of each grandchild on a panel. The older children got the higher panels with younger children getting lower panels. I keep chalk in the house and use wet paper towels for cleaning. Even teenagers put something on their panel. A great extra; I frequently get loving messages; even from friends' visiting children.
Source: I have learned so much from this site. This one was my own idea.
By Eiw from Lancaster, PA
We are having a family get together soon. For the grown-ups, I wanted to try to paint a strip of chalk on plastic cups so everyone can write their name on the cup. I end up doing so many dishes over a weekend, it would be nice to have less to do. What do I prime the cup with and then can I paint a strip of chalkboard paint on top? Will it adhere? I wanted to use insulated plastic cups. Thanks.
By Sarah
August 3, 2011
0

found this helpful
You could save yourself alot of time and expense by simply supplying a sharpie pen of a different color from the cups for people to use to write their names on. I am assuming you're going to be using disposable plastic cups that will be recycled. Sharpie pens work and adhere quite well on any surface and sometimes too well on surfaces you don't even want them to - LOL ;-)
August 3, 2011
0

found this helpful
Oh, one more thing! If you're talking about your regular plastic kitchen cups just place strips of painters masking tape (easier to remove than regular masking tape) around the cups. Have your guests write their name with the sharpie on the tape.
August 3, 2011
0

found this helpful
For re-usable plastic cups, just put a piece of Scotch "Magic Tape" on the cup You can write on it with a pen or sharpie. I usually fold a tab on the end of the tape so that it's easily removable. It doesn't have to be Scotch but it shouldn't be the shiny cellophane tape - that doesn't work so well. If you find that your writing smears, put a piece of tape over the ink!
August 4, 2011
0

found this helpful
A better bet is to use chalkboard vinyl which you can cut into any shape you want. It is self adhesive and used by crafters in cutting machines like a Cricut machine. Maybe you can find it at a craft store, but I've only seen it online.
I AM DESPERATE FOR HELP!! I am trying to make chalkboards. They are 2'X2' so I want to paint them with a roller. I am now on my 3rd can of paint and no chalkboard.

Does anyone know if you can get a nice smooth finish with chalkboard paint? After trying to make them on Masonite, I was fortunate to find chalkboard material in 2'X4' pieces. Problem is that they are green and I need black. So, the man at the paint store told me I could just paint them black with the chalkboard paint. Great idea, so I thought. Unfortunately, I still have the same problem. I can't get a nice smooth finish. They look kind of like they are textured.

The man at the paint store said it is orange peel. I have gotten so many tips about what to do - make sure surface is smooth and clean, use the right size roller, don't shake the paint, stir it enough, don't press down on the roller, don't paint if it's too hot
etc. So, I incorporated all the tips, but to no avail. I have tried different kinds of paint and bought expensive rollers (1/4" nap for ultra smooth finish) and foam rollers. I want to make several of these, but it is getting very expensive so I really need to find out what to do. I won't use spray paint without a paint booth so that is out. I'm not good with a brush because I get too many lines. I really want to use the roller. Does anyone have any suggestions? I'll appreciate any help at all.

I'm ready to cry, but I'M DETERMINED NOT TO GIVE UP!
Thanks in advance for ANY help you can give me.


Ann from Elmira, NY
August 24, 2007
0

found this helpful
How about not using chalkboard paint that needs a brush and simply purchase Krylon Chalkboard Paint in a spray can? Spraying on the paint is what gives the smooth surface without any orange peel (roller) or brush strokes. You need to spray it on lightly, not to get any runs. Two coats are best. It works on all types of surfaces. A much simpler solution.
December 21, 2007
0

found this helpful
i dont think that its anything that you are doing, as i have had similar effects with both brushes and with rollers. The solution as far as i am concerned is to get up a good few layers and then sand it down progressively (with finer emery cloth). The paint seems to be designed so that this is required however the manufacturers seem to give no instruction to this effect.
August 7, 2008
0

found this helpful
Use Chalkboard vinyl instead.
September 13, 2008
0

found this helpful
After using a clean sponge roller (not the yellow type, but the white ones) take a large sponge brush and gently pull it along the wet surface. This will help smooth out all the lines. I have done this oodles of times and it works super well each and every time!
I have a round plastic picnic table with removable legs that I set up in the children's play room for our grandchildren. They like to use it to color, play with playdough, etc. I was wondering if I could paint the top of this plastic table with chalkboard paint, and if it would adhere. Does anyone have any experience with that?

By Deb S.
December 21, 2014
0

found this helpful
I have no experience with this, but my first guess would be to say no. Paint doesn't like to adhere to slick surfaces, and plastic is always slick. However, you could contact the manufacturer of chalkboard paint; most manufacturers have a website with a Q & A section, and you could ask if their product will adhere on plastic.
I spray painted an old photo frame. Traced the inside on my kitchen door. Painted the space with black chalkboard paint and attached the frame with high quality glue.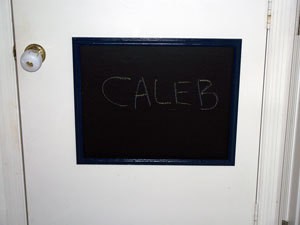 Read More...
I want to paint an 8' tall mirrored closet door with chalkboard paint. Is this possible? Can it be removed at a later date?
By Linda Sue from Windsor, CA
November 17, 2009
0

found this helpful
Not sure, but if you contacted Lowe's or Home Depot they may be able to tell you.
You can make a chalkboard to fit any size of frame. Just take a thin, smooth board (smooth plywood works well for this), cut to the desired size and paint it with dark primer. Let that dry and spray paint it with chalkboard paint, which you can buy at your local hardware store.
I loved the idea of using chalkboard paint in a child's room, but in our tiny apartment we just didn't have enough wall space. To give my son a place to draw, I decided to paint the front drawers of his dresser and armoire with chalkboard paint.
Read More...
Related
© 1997-2016 by Cumuli, Inc. All Rights Reserved. Published by
ThriftyFun
.
Page
generated on September 23, 2016 at 12:24:22 AM on 10.0.0.168 in 3 seconds. Use of this web site constitutes acceptance of ThriftyFun's
Disclaimer
and
Privacy Policy
. If you have any problems or suggestions feel free to
Contact Us
.