There are creative ways to use this product to help save you money. This guide is about using liquid fabric softener.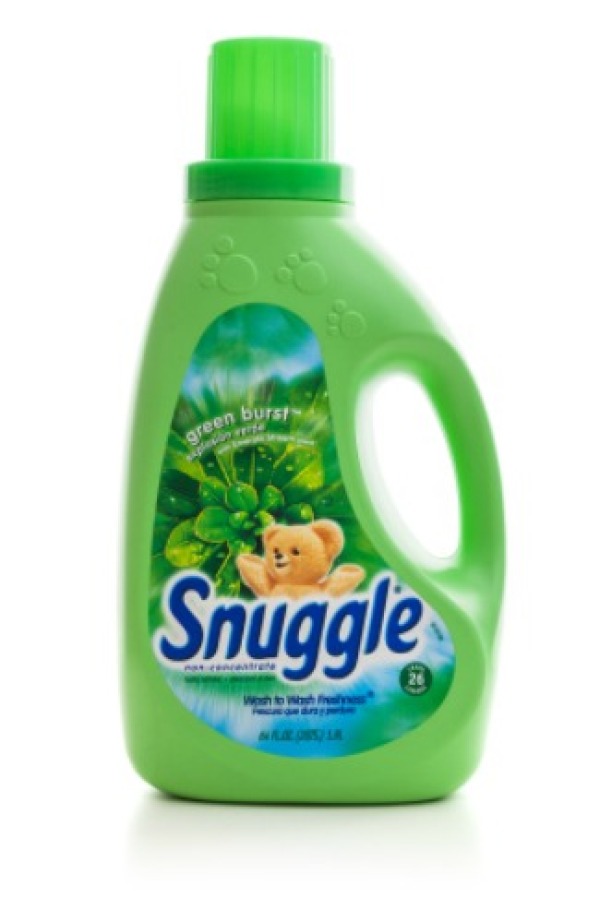 Filter

: All Articles
Sort

: Relevance
Instead of buying expensive fabric softener sheets, I put fabric softener in a spray bottle diluted 1:1 with water, spray Pellon interfacing material or a soft washcloth with about a dozen sprays, and throw it in the dryer.
Never use liquid fabric softener in your clothes washer! By doing so, you will cause yourself more service calls (repair costs!), and ultimately lessen the life expectancy of your washer.

Fabric softener coats and clogs the hoses (and other parts, depending on the type of washer you have). I am not a repairman, but spent many years working for a major retailer supervising a customer service group specializing in major appliance "issues". I worked closely with senior technical assist repair personnel with 20 plus years field experience that passed on several "words of wisdom" to me.

I remember the day I asked this one extremely experienced tech "Well, if liquid fabric softener shouldn't be used in clothes washers, then why are special compartments made ON some washers specifically FOR fabric softener?" (Thinking I had him!). He responded with a grin on his face "Because that is what consumers want on their washers for "convenience". In turn, manufacturers give consumers want, they want, not necessarily what they need (or in this case DON'T need)." Oh, I get it now, we, as consumers, are to blame for our own desire for conveniences.

By Liz from Austin,TX
In response to the folks out there with musty towels. We've tried a lot of approaches and only one actually worked. The first thing we did was get rid of the liquid fabric softener. We then cleaned the washing machine by brush, using bleach and water.

We found that by running through 2 full hot water loads using only oxy clean and white vinegar (2 cups) that the machine smelled much better. We then washed our clothes using a mixture of oxy clean and borax with the white vinegar in the rinse dispenser. Works like a charm. The culprit is the Downey type products. They are not good for the machine, the pipes or the clothes. You must try this, if you want to end the problem, for once and for all. Good Luck

By Joe V. from Liverpool
I use vinegar in my final rinse when I do my laundry because I've found that my towels don't have so much lint, but I love the smell and softness of fabric conditioner. I was wondering if I could mix the vinegar with the fabric conditioner to get the best of both worlds, so to speak. Vinegar is great to prevent lint, but my laundry is much softer and smells much better with fabric conditioner. I don't want to use essential oils. They are very expensive here in Malta which makes them very uneconomical. Any suggestions or ideas please?

Cettina from Malta, Europe
Answer
Was this helpful?
Helpful?
Yes
Don't ever use fabric softener on your towels. It removes all the properties that absorb water when you dry off. That's why you still feel moisture after drying off (unless you live in a very humid climate).
Reply
Was this helpful?
Helpful?
Yes
Read More Answers...
In using wash cloths as dryer sheets, how do you prevent lint from getting on clothes that are drying?
By Rita
Answer
Was this helpful?
Helpful?
Yes
Microfiber cloths do not cause lint. If you use one for your fabric softener cloth, you will not have lint from it. These can be bought in the dollar store. Hope this helps.
Reply
Was this helpful?
Helpful?
Yes
I have been using dryer sheets to soften my clothes in the dryer for a while now. Recently, I found a deal on liquid fabric softener that I couldn't pass up (free!), and am wondering if anyone has tips on using liquid softener in a machine without an automatic dispenser. I know one company sells a ball to use, but I don't know whether that works or if it's even worth the expense. I really appreciate any ideas! Thanks!

Amy

Answer
Was this helpful?
Helpful?
Yes
By guest (Guest Post)
Flag
I also use the Downy Ball and it works just great! I would recommend it!
Reply
Was this helpful?
Helpful?
Yes
Read More Answers...
When using fabric softener, is it best to use only on the rinse cycle? Can the fabric softener be added at the same time as the laundry soap? Thank you.
By Theresa from Phoenix, AZ
Answer
Was this helpful?
Helpful?
Yes
I haven't used fabric softener-sheets or liquid-since trying bio-friendly laundry powder (I use Country Save, available @ London Drugs in SK, CA).
Reply
Was this helpful?
Helpful?
Yes
Read More Answers...
To get the rest of the glue off the walls after removing wall paper try saturating wall with cheap liquid fabric softener; the cheaper the better. Let it soak in for at least 1/2 hour than scrape off with plastic spatula. It does the trick very well.
By Sandy from Nova Scotia
Comment
Was this helpful?
Helpful?
Yes