Mod Podge is an easy to use product for your decoupage projects. This is a guide about using Mod Podge on glass.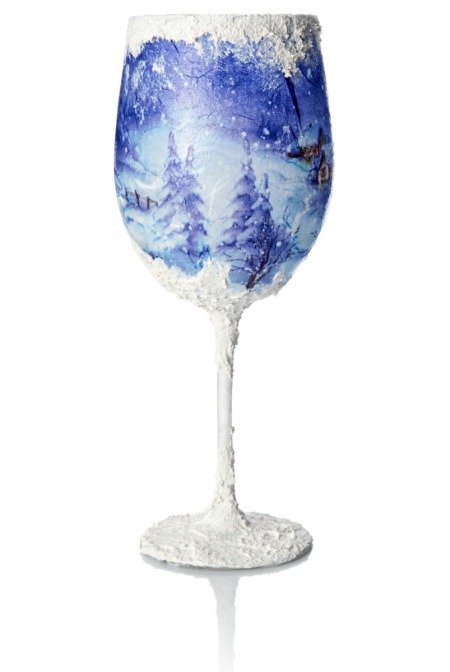 By Bev Henricks 1 3
I am trying to put fabric onto the back of glass plates using mod podge but when it dries I get streaks across the glass. How do I stop this streaking? Thank you.
By gamma13 from Belleville, Ontario
---
Most Recent Answer
By Bev Henricks 1 3 Flag
July 25, 2009
Thank you all very much for your tips. I will try cleaning the glass with alcohol first.
---
Okay, I have never used Mod Podge, but I constantly see the name when searching crafts. My question is, can it be used to transfer a saying onto a glass, such as a wine glass from Wall-Mart? If so, how? I'm trying to make personalized glasses for my wedding in October and would very much like to use a specific font, but due to the shape of the glass I cannot properly trace it with a Sharpie. Any and all help is appreciated, thank-you!
By Stephanie S. from Des Moines, IA
---
Most Recent Answer
August 19, 2013
Mod Podge is essentially Elmer's school glue in a jar. What it's used for is to seal pictures onto items. I don't think it would work for your purpose. It would make a sticky mess. What I would suggest, is find a custom sticker maker and see if they can do stickers in your font. Vinyl or something else. Or you could etch the glasses. Make a good sturdy stencil, and etch each one.
---
By janice88 1
I have used Mod Podge on glass to put an image on the back of it. No matter how hard I press I see some tiny bubbles and it's milky when dry. I'm trying to make pendants with domes, but if this Mod Podge is going to be milky looking then the stuff is not good for what I"m doing. Any suggestions?
By janice88
---
Most Recent Answer
June 18, 2012
GuyB may be right about your Modge Podge being too old for use based on the milky look after it's dry. However it's important to remember 2 things with Modge Podge:
1) AVOID causing any bubbles! This includes handling the Modge Podge bottle carefully and slowly to avoid air bubbles which can cause the bubbly look after it's dry.
2) The second thing to remember is which brush is the RIGHT brush. For most Modge Podge projects they recommend a foam brush (rather than those sponges or squeegee ones that create air bubbles). Foam brush are those black foam (duh) brushes that don't look like tradition paint brushes at all. When I first did Modge Podge, I used a squeegee roller paint brush and it actually gave it the bubbly look to the roller. :(
My advice to you is to try again with dipping the Foam brush gently/smoothly in the Modge Podge and making sure the Modge Podge has plenty of time to dry between coats. If it's still giving you trouble, check the expiration date or call the company.
Good luck, K.
---
Can I use Mod Podge to stick fabric to my glass top table?
By Maureen
---
Most Recent Answer
If I used Modge Podge to apply a label to glass, would it dry clear? And would you be able to tell where the Modge Podge was applied? Thank you.
By Gayle
I mixed Mod Podge with food coloring and coated the inside of a wine bottle. I let it drain upside down then set it right side up and placed it in a 170 degree oven for about 1 1/2 hrs. It became a beautiful clear blue color, but later developed a bit of cloudiness. Why?
By Joanne E
When using the spray to seal the glitter on the glass, it doesn't dry clear. It makes the glass look frosted. How do I keep the glass from looking like that?
By Julie