I have a German Shepherd that has to have baths due to a yeast situation on her coat, etc. I have to get her bathed and have it be efficient. I have tried bathing by putting shampoo on a dry coat. That never works. The next time, here is what I did. Keep in mind this recipe is for dogs:
I took a red Solo cup (like Toby Keith sings about) and I filled it up about an inch full in the bottom with blue Dawn dishwashing soap. Then I put a capful, not a cupful, a capful of tea tree oil, which you can get at the pharmacy. It is in a brown bottle and it is around 12 dollars. It kills cats so don't use it on them.
Then I fill the cup up with water and mix it with my hand. Then I set it aside in a safe place, and wet the dog with the shower. I really work the water into its coat. Then I pour the shampoo concoction on the coat of the very wet dog and rub it in. I keep putting more water into the cup and mixing it with my hand to get all of it out. I then massage this into the coat, deep down, like a wonderful massage.
I wish I could say I leave it on for ten minutes, but that never happens. The most I have been able to do is about two minutes. Then I rinse and get all the shampoo off, all the time telling Dutchess how good she is and massaging her. After this is off, I take a human shampoo, just a small amount and put it on the top of her coat, just a small amount. I don't work this in. I quickly rinse it off.
After I do this, I dry her off, since it is the winter here. Then I blow dry her and then I go in the car for a long drive in a very heated car, not so much as to be uncomfortable but nicely warm. This is a treat for taking a bath at all.
Anyway, I did this before I took her in for her vet's appointment. She usually comes out with prescription shampoo, to get rid of yeast, and also pills and all sorts of expensive stuff. The shampoo he gives me is expensive and it has to be used each week. When the vet saw her coat, he looked all over her and said she was in such good shape that she didn't need the pills or the shampoo at all.
He did say that the Comfortis is the best way to go for fleas now, because fleas are immune to the other topicals. With Comfortis, it doesn't matter if you get them wet, etc. So she is on this now. He said after Comfortis has been on the market for fifteen years, fleas will become immune to it also. Comfortis is a huge chewable tablet that they take like a treat and it is given once a month.
After I did this bath and for weeks after, I noticed she really seemed to be happy and not digging on herself, like she does when she gets that buildup from the yeast, etc. The yeast will show itself on the skin by looking like mold, or black trimming around the ears. The vet had showed me this before.
I had looked at her stomach a day or so after the bath and I could see where I actually missed. There were black dots on part of it where I couldn't see where I was massaging. The place the shampoo touched and was massaged in was perfectly clear of the yeast.
I was really impressed with this recipe which is also a lice remedy when combined with white vinegar. It makes her happy. I don't think any other form of shampoo would be such an anti-fungal as the tea tree oil and Dawn. Dawn has long been used on animals and such. As harsh as it sounds, it is actually very gentle, and I always use it because I know how much I always used it on my foster animals. I really never thought of using it on a full grown dog, such as mine, but I am so glad I did and so is she.
Remember to keep it off of cats. Also, never use oatmeal shampoo on dogs with a yeast problem because it only feeds the yeast and then they multiply faster.
By Robyn Fed from Tri-Cities, TN
January 22, 2012
0

found this helpful
This is helpful, thank you for posting it. Paul Mitchell has a PET line that includes a tea tree shampoo. I have been using it for years for hot spots but it never seems to quite take the itch fully away. One of my dogs, a lab/shepherd mix, has horrible hot spots. He will eat his fur off until he gets to his bare skin and then continues until it bleeds. The only thing that seems to help is Prednisone but he's already a heavier dog and it makes him so bloated looking. I will have to try this concoction!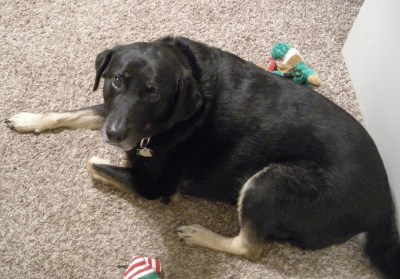 January 22, 2012
0

found this helpful
Tea tree oil is good for human scalps as well. You can also buy it in the vitiman dept. in Walmart and now about 9.00 dollars. When the depression hit it was 3.98 and now because folks buy it it is about 9.00 dollars. It is full strength but if you buy it at a Health food store you need to watch what the strength is and size of bottle. I really like my tea tree oil.
January 22, 2012
0

found this helpful
I am so sorry Robyn and please know I am not saying to not use a diluted solution of tea tree oil but be careful and do some research about it's usage even on dogs, especially small to medium size dogs. In some cases it can still cause liver damage over time to large dogs even with dilution. Here are just a couple of links to read before deciding whether to use or not and there are oodles of other links with the same information:
http://sheltienation.com/2009/03/di ... w-tea-tree-oil-is-toxic-to-dogs.html
January 27, 2012
0

found this helpful
It is so true that you never need to use full strength tea tree oil on pets...always dilute it. If you have any concerns and especially if yours is one of the breeds of dogs that might be sensitive to many things, such as corgis or greyhounds, then you certainly don't have to use it.
Just remember to not use it on cats at all, diluted even.
For humans, a drop in the palm and then held up to the nose can increase immunity. It is hard to do at first it is so smelly but it is like vick's on acid!
Once again, if you are sensitive, you would know it immediately and you wouldn't want to use it.
Robyn
October 10, 2013
0

found this helpful
Caution: Please do NOT use Tea Tree Oil on your dogs or cats before reading what the dangers are. It is a toxin and can effect dogs differently depending on their size, health or sensitivity. It can be fatal or can cause serious illness to your dog, diluted or not. People posting information like this is just wrong. There are too many gullible people that read posts like this and just because they think they are saving a few bucks by not taking the dog to the vet, can easily kill their pet instead.
August 10, 2015
0

found this helpful
Very nice article. I like your eloquence.. very entertaining.
February 11, 2016
0

found this helpful
Thank you for sharing your experience and advice. My mom's dog has been suffering & you are right the prescriptions are expensive
April 4, 2016
0

found this helpful
Have you read the warnings on the meds that vets give for our pets or the medicated shampoos to use on them? They scare me far more than the tea tree oil. By-the-way, you only have to use a few drops and not a capful.
What are the side effects of spraying a small dog with bad case of fleas with diluted tea tree oil directly onto the coat?
By Kayann from Muswellbrook, NSW, Australia
April 1, 2011
0

found this helpful
Here is what I do when I see my dogs have fleas:
If it is a bad infestation, it is cheaper to get the shot at the vet that kills them all within less than a day. Then you can treat your house by vacuuming all the time and putting a flea collar in the vacuum bag and a plastic over the end of the hose, so the fleas don't get out.
I always sprinkle the rugs, under the bed sheets and etc with salt and just leave it for a few days. Fleas dislike salt. I use tea tree oil on my own hair for lice treatment if I ever find a live one in my hair. I use about 1/3 cup dawn and 1 1/2 teaspoon tea tree oil, it stinks a lot like Vicks, and then about two tablespoons of vinegar.
I put all this in my hair and leave for 15 minutes. This is great and it kills lice. Don't know if it will kill fleas or not, but never use on cats as tea tree oil can kill them.
If you have a really bad infested kitten with fleas, I would use baby shampoo and peroxide mixed up and leave it on the kitten for about 7 minutes and then rinse off. Keep the kitten warm, kittens get so stressed and feel hot and cold more than other animals so be sweet and loving and talking softly.
Hope this helps,
Robyn
April 2, 2011
0

found this helpful
I bought my little bottle of tea tree oil at Walgreens pharmacy.
When someone takes a bath who has athletes foot fungus I always put a little spritz of the oil in the back of the empty tub after they are done bathing or showering... and then rinse it downward with the shower head to the drain, it helps keep the fungus from spreading. Tea Tree Oil does smell, but it is not really a bad smell, just like Vicks vapor rub on steroids. LOL
Here are some natural flea remedies that some people swear by, it is at earthclinic.com...use your own judgement...
April 2, 2011
0

found this helpful
I personally would try diluted Grapefruit seed extract. It is non toxic to humans & animals. Can be given internally or externally. http://www.nutriteam.com/pets.htm I bought my 2oz bottle in the Health food section on Fred Meyers. It can also be bought on Amazon or other sites.
June 19, 2011
0

found this helpful
Remember Tea Tree Oil is extremely toxic to cats.
Looking for home remedy for pet with hot spots or best place to purchase tea tree oil shampoo.

BT from Gettysburg, PA
October 16, 2007
0

found this helpful
1800petmeds.com
jefferspet.com
i couldnt find a homeade recipe for it,sorry.
October 16, 2007
0

found this helpful
The best 'tea tree oil' you can find will be from Melaleuca.com. Through the website you can find a local person to buy from--Melaleuca Alternafolia is the purest tea tree oil out there--grown in a protected place in Aust.--and Melaleuca makes great products, all to help not only your dog, your shampoo, but also in cleaning agents for the household!
October 16, 2007
0

found this helpful
I use a shampoo from Sally's Beauty supply. It's paul mitchell's tea tree oil shampoo, but Sally's has a generic version, called Generic, haha. It's in a white bottle with a black cap. It should be close to the paul mitchell or in with all the other generics. The small bottle costs about 5 bucks, and the huge bottle is like 10 dollars. It lasts a long time. It also has peppermint in which soothes the skin. I use this on my cat who has sever skin problems and I have used it on the dog who has hots spots as well. I also have a very sensitive scalp and I use it once a week to keep my skin from hurting near my part.
Another perk is that I've found it lathers and rinses much easier than pet shampoo for skin, which felt more like dishwashing liquid than shampoo.
Hope that helps!
By guest (Guest Post)
Flag
October 17, 2007
0

found this helpful
I buy my Tree Tea Oil Shampoo and Conditioner from http://www.Aloetherapy.com Very reasonable and a good Aloe Vera company. Aloe is in their products and it is very good for the skin. Very soothing and healing.
October 17, 2007
0

found this helpful
I agree with the 3rd posting, that Melaleuca has the best tea tree oil, there is no cancer causing agents, and all there product are healthier, safer for your family, pets, home and envirorment. If you would like more information on these products or have any questions, I would be happy to help you. Just e-mail me. Jpcasino17@aol.com
By guest (Guest Post)
Flag
October 17, 2007
0

found this helpful
You can add about 10 drops of TTO to regular baby shampoo, or 10 drops of TTO to 8 OZ of warm water. Rinse the dogs with it after bathing, or mix in spray bottle. It really works on hot spots on my dog. We finally found out it was the dog food that was giving him hot spots. Now he eats lamb and rice food.