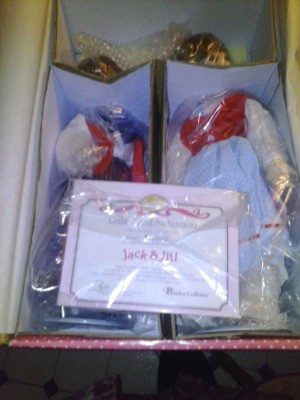 I have 17 mint condition porcelain fairy tale dolls. They are in the original boxes/packaging with authenticity certificates for each, as well as, custom stands for all dolls. They include such dolls as Cinderella, Jack and Jill, Little Miss Muffett, Hansel and Gretel, Lil Bo Beep, and many more, all from Ashton-Drake or Paradise Galleries made in the 80s and early 90s. Any idea what the whole collection is worth?

By Meg
Answers
Please be sure to rate the answer which works best for you. Do you have a better answer? Click above to answer this question.

By newse82503/29/2013
Go on eBay and see if someone else is selling them. Sadly, I did this for some Ashton Drake dolls I ordered in the 70's and 80's. They are brand new in box with all the papers, etc. When I looked on eBay recently I found they were selling for less than what I paid when I originally bought them. Hopefully, you'll have better luck. Just gives you a good idea of what they are worth now.
Answer This Question
Add your voice to the conversation. Click here to answer this question.