Getting Rid of Odors Inside Your Car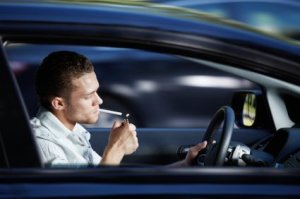 From someone smoking or built up moisture, car odors can have a multitude of causes. Eliminate those odors and get your car back to smelling like new. This is a guide about
getting rid of odors inside your car.
Solutions
Share on ThriftyFunThis guide contains the following solutions. Have something to add? Please share your solution!
Here's a solution that works for getting rid of odor problems on anything and anywhere; such as on clothing, furniture, refrigerators, freezers, rooms, semi-trailers with stinky cargo (see below); anything and everything! No matter what the odor! At least, I've never heard of an odor it wouldn't get rid of!
Years ago, I had an old upright freezer that was full of rock shrimp my brother brought back from Louisiana. My young son accidentally left the door ajar, and it had defrosted long before we discovered the mishap. Talk about stink, and it was throughout the insulation too. There's not much that stinkier than rotting seafood! I tried everything I knew, then tried everything everyone else told me to try. Nothing worked. We finally set it outside with the door removed to let the sunshine and fresh air work on the smell. That didn't work either. Nothing worked until an acquaintance told me what to do.
My acquaintance was a long-haul truck driver. His route took him back and forth to Mexico. He hauled freight to an industry down there. He would then pick up a load of untanned cow hides to deliver to an industry back here in the US. He had a refrigerated truck, so no problem, right? Wrong! On one trip with a load of those hides, his truck broke down, and was down for a couple of days in 100+ degree weather, with no refrigeration! He couldn't get any repairs done for at least 24 hours, so he was hoping that, if he didn't open the trailer doors, the remaining coldness would be enough to keep the hides cool until he could get the refrigeration back on. Wrong, again! Well, the odor that hit him in the face when he opened the trailer doors 24 hours later is unimaginable! He off-loaded the stinky cargo, but it had already permeated every porous part of the trailer, wooden framework, floor, etc.!
Luckily, someone who worked in the stockyards there told him to set an open can of fresh coffee grounds inside the trailer and close it up for 24 hours. He didn't believe it would work, I mean, "one 13oz. can of coffee, no way!" But he gave it a try anyway, he didn't have anything to lose and he couldn't go anywhere until the repairs could be made. After the time was up, he carefully opened trailer doors. Voila! Stinky smell all gone!
So, if you have a small item (smaller than a freezer or semi-trailer, that is), do the following:
Place item(s) into an appropriate size plastic bag, along with an uncovered bowl (or other OPEN container) with about 7 oz. (half a can) of fresh coffee grounds in it. Seal bag with twist tie, but be careful not to spill the coffee grounds. It probably won't harm your item, but why take the chance? Leave bag sealed for a few days. Remove item from bag, do sniff test, the offensive odor should be gone.
NOTE: if you are a frequent eBay buyer, and hate receiving smoky smelling items, this will take care of the problem.
Oh, yes, don't try making coffee with the grounds, but don't throw them in the trash either. Sprinkle them in your flower bed. Your flowers will love you for it!
Donna in the Land of Oz, USA
April 1, 2010
1

found this helpful
I use coffee in a spray bottle if one of our dogs has an accident in the house. I let it set for awhile and then shampoo it up. No stain. No odor. No expensive over the counter sprays.
Read More Comments
March 19, 2005
3

found this helpful
If you don't have a lot of time to deodorize your car, use dryer sheets. You just hold or tuck one in the vent and turn the fan on! It works for me and sends a nice scent through the car. Also, I slip one under the seats.

By Jessica
April 28, 2011
0

found this helpful
You Stink! And it could be killing you. Think I'm exaggerating? Read on...
5.09.2008
Why you should avoid dryer sheets and fabric softeners.
Although they may make your clothes seem soft and smell "sweet", fabric softener and dryer sheets are some of the most toxic products around. And chances are that the staggering 99.8 percent of Americans who use common commercial detergents, fabric softeners, bleaches, and stain removers would think twice if they knew they contained chemicals that could cause cancer and brain damage.
Here is a list of just some of the chemicals found in fabric softeners and dryer sheets:
Benzyl acetate: Linked to pancreatic cancer
Benzyl Alcohol: Upper respiratory tract irritant
Ethanol: On the Environmental Protection Agency's (EPA) Hazardous Waste list and can cause central nervous system disorders
Limonene: Known carcinogen
A-Terpineol: Can cause respiratory problems, including fatal edema, and central nervous system damage
Ethyl Acetate: A narcotic on the EPA's Hazardous Waste list
Camphor: Causes central nervous system disorders
Chloroform: Neurotoxic, anesthetic and carcinogenic
Linalool: A narcotic that causes central nervous system disorders
Pentane: A chemical known to be harmful if inhaled
So how could products with pretty names like Soft Ocean Mist, Summer Orchard and April Fresh be so dangerous?
The chemicals in fabric softeners are pungent and strong smelling, so strong that they require the use of these heavy fragrances (think 50 times as much fragrance) just to cover up the smells. Furthermore, synthetic fabrics, which are the reason fabric softeners were created in the first place, do not smell good either when heated in a dryer or heated by our bodies ... hence the need for even more hefty fragrances.
Fabric softeners leave an oil coating on clothes, which doesn't really leave them softer or fluffy. This oil builds up on the fibers and takes the absorbency out (oil repels water). In the dryer, fabric softener leaves a sticky residue on all the components like the moisture sensors and drum of the dryer. This residue is very flammable, which is why on the back of some fabric softeners it tells you not to use on towels, terrycloth or fleece. The number one cause of house fires is the dryer. Fabric softeners even take the fire retardant out of baby's clothes.
There are alternatives:
Anti-Static Ball (slightly different than dryer balls)
Dryer Balls
Here are some home-made DIY ideas
The Static Eliminator Dryer Sheet System
Do yourself and your family and your neighbors a big favor and skip the dryer sheets and fabric softener. Thanks, in advance, for your consideration.
Read More Comments
While vacationing at our home in Baja, a bag of fish guts leaked into the carpet of our Suburban. We tried to clean it with carpet cleaners but the still the odor was terrible.
Read More...
Questions
Ask a QuestionHere are the questions asked by community members. Read on to see the answers provided by the ThriftyFun community or ask a new question.
The car sat for over a year and smells horrible inside. We tried baking soda, shampooing the interior and the trunk with a Rug Doctor machine, even added vinegar to the cleaning solution. Nothing worked. Then we found 3 different mouse nests - 2 in the back speakers, and 1 in the air vent blower below the dash board. We've removed the nests and bleached these areas, but it hasn't helped. Now it's cold out so I'm not sure how to clean/get rid of the smell now. My clothes smell from it and I can't believe it's a good thing to breathe while driving. Help!
By Jesse H. from Osseo, MN
April 18, 2017
0

found this helpful
Try buying a 13 oz can of cheap coffee and open it,sit it in vehicle with windows up for 24 hours and that should work. Throw coffee away when finished. Read this in an article.
I went to a restaurant with my friends, we ordered a lot of food, so I had to take it home with me. Three hours after I got home I remembered that I left the food in my car. When I went down to get it, my car smelled so bad and it lost the new car smells that it use to have, and it still smells like Chinese. I tried everything, opening the windows for 2 days, cleaning the car, buying air fresheners, nothing works. :(
April 9, 2015
0

found this helpful
A neighbor recently bought a used vehicle that the former owners said the dealer had put some spice scent in the vehicle. It's been 3 months and it still is one horrible smell.
We were wondering if anyone has had any experience with a chemical smell that coffee works to resolve?
By L Eastman
I have a problem. I spilled baked beans in the back of my truck, and when I cleaned it I used Pine Sol and water and, not good. After about 6 hours I have this really bad order in my car it smells like spoiled milk or something spoiled. What can I do to remove the smell? I did try to re-scrub it with just soap and water and that didn't work. Please help me someone!
By Elonda from Barberton, OH
August 10, 2010
0

found this helpful
Go for a spot cleaning at your local car detailing service.
August 11, 2010
0

found this helpful
Ditto the spot cleaning; you can also try activated charcoal (aquarium charcoal). Put some in an old sock and put that in your trunk for awhile.
Good luck!
October 24, 2014
0

found this helpful
We found a dead mouse in the frame under the back seat of our BMW x5. It is in a very small hole. How do we get it out and how do we get rid of the smell?
By Diana
We bought a car and it smelled pretty good for a few days. All of a sudden the smell is out. It is baby poo. It actually smells like someone filled the car with dirty diapers. I have tried everything short of pulling up the carpet and changing out the seats. Please help.
By Linda from Winlock, WA
January 24, 2010
0

found this helpful
I am curious if it is baby poo or dog poo you are smelling. In either case I think you could treet the interior the same way you do an accident on the carpet in the home. Nature's Miracle is a liquid neutralizer that you can spray on the area, let sit for a bit and then sop up with towels. I would just be certain to color test with it first and follow directions on the bottle. You can find this at most pet supply places in containers from a pint to a gallon.
August 27, 2013
0

found this helpful
When I get out of my car my clothes often have a medication, vitamin smell. This hasn't always been the case as the car is brand new and it started about 3 months after I bought it. I do run the air conditioner all the time, but don't smell any odor when it is on. I don't notice it when I get in the car, but when I get out I can smell it on my clothes. What could this be caused from? I literally have to change my clothes afterwards.
By Susanne H
Archives
ThriftyFun is one of the longest running frugal living communities on the Internet. These are archives of older discussions.
January 23, 2010
0

found this helpful
I just bought a used car that has a really strong chemical smell in it. I think it is paint thinner that the former owner must have spilled in the car. I have had it detail cleaned, but the smell will not go away. Does anyone know how to clean up paint thinner or at least get rid of the fumes/smell?

By Ashler from UT
Answers:
Getting Rid of Odors in a Car
Open a bag of charcoal briquettes and put it in the car for a few days. (05/11/2009)

Getting Rid of Odors in a Car
I'd become the best bloodhound in history until I found the exact location, then I'd sprinkle plain baking soda for as long as it smells. If that doesn't work, I'd try coffee grounds. If that doesn't work, I'd try the mouthwash idea, same as if for pet urine. It should work. As a last resort after vacuuming each of the above up between applications, I'd use vinegar. It may be WD-40 which is fish oil and very strong when in an enclosed place. Because it is oil, if this is the chemical, I'd also add a little Ivory liquid to the vinegar/water, and wash before trying the second thing mentioned above.

If it's a spill in the crack of the seat, on the floor, or all over the car from cleaning with it, I'd open all of the windows every time I drove, and park out of the sun where possible.

What sort of chemical smell is it? Minty, oily, alcohol, perfumy, woody, tarry, leathery, or what? It could simply be some bad cologne that went rancid, or a combination of things the owner tried to
clean with in desperation?

Certainly try the charcoal briquettes, but I'd put them in a double paper grocery sack and crush them with a hammer first. It's one of the best air fresheners for a lot of things, even soured swamp water and sewer smells.
Airwick or Renuzit has a neutralizer spray that kills many odors that might also work, but the aerosol could be dangerous to breathe so be careful about using it then trying to drive before it evaporates over 13-36 hours. Many aerosols are formaldehyde that have killed teens. Good luck and god bless you. (05/19/2009)

By lyndagayle62
Getting Rid of Odors in a Car
Go to the local auto parts store and ask for a bottle of "Pink Stuff" (it's the actual name) this will work on kerosene, gas, etc. It should work on paint thinner. First I always put down baking soda, vacuum and try again.

I put the Pink Stuff in one of those little green machines (rug shampooer) and did my dh's car when he spilled kerosene. This worked great. I did have to do it more than once, because he didn't have anything to mop up the spill with so it was a bad spill (this is the disadvantage of having a clean car, in mine there would have been something).
Ria (05/21/2009)

By HSLINKS
May 11, 2009
0

found this helpful
I recently bought a used car, the only problem I have with it is the smell. The previous owner spilled transmission fluid in the back floorboard. He also smoked in the car and the car has an underlying musty smell. I have shampooed the floors and seats with Lysol, but I can't get rid of any of the smells. Does anyone have any other ideas? Thanks

Christy from Fulton, MS
Answers:
Getting Rid Of Odors In A Car
Try Oust spray. (03/30/2008)

Getting Rid Of Odors In A Car
How about letting baking soda sit on the smelly surfaces overnight before vacuuming? (03/30/2008)

By kladybug
Getting Rid Of Odors In A Car
Odo-Ban is great! It can be purchased by the gallon or in a spray bottle. Amazing stuff! (03/30/2008)
Getting Rid Of Odors In A Car
Put shallow baking trays filled with un-used fresh coffee grounds in the car with the windows closed for a few days or longer. If you pour the coffee directly onto the upholstery or carpeting it might leave a stain when vacuumed up. (03/31/2008)

By kidsNclutter
Getting Rid Of Odors In A Car
White Vinegar: straight from the bottle. Pour into shallow trays or bowls and place in the car w/ the windows closed for at least 24 hours. The vinegar should absorb odors. Any vinegar smell will quickly dissipate once the car windows are opened and it is aired out. (03/31/2008)

By kidsNclutter
Getting Rid Of Odors In A Car
I've always used bi-carb soda sprinkled on the fabrics and carpets, rub in with a hand or soft brush leave for as long as possible before vacuuming up. Alternatively use carpet deodorant in the same way. For a longer lasting nice smell use cotton balls that you have placed a few drops of aroma/essential oils. (03/31/2008)

By butlerlh
Getting Rid Of Odors In A Car
Don't forget the headliner in your car. All the cigarette smoke goes straight up into it. You might want to shampoo it too. (03/31/2008)

By postaldoris
Getting Rid Of Odors In A Car
Sit a bowl of vinegar in the floor. Spray the upholstery with a 1 to 1 mix of fabric softener and water. (03/31/2008)

By Nancy W
Getting Rid Of Odors In A Car
I've also had success placing charcoal brickettes under the seats and in the trunk. Charcoal naturally helps to absorb odors. I have found they really don't leave a dirty residue, but if you're concerned, you could place them in a small container such as a butter dish. (04/01/2008)

By youngster8
Related Content