A big box or oddly shaped large present can be difficult to wrap. Here are some tips to help you wrap it beautifully and keep the surprise until it is opened. This is a guide about wrapping large gifts.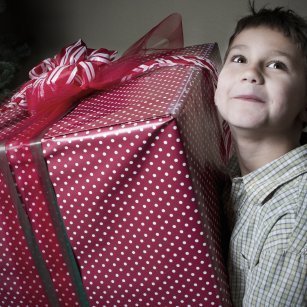 Filter

: All Articles
Sort

: Relevance
At dollar stores or shopping after the holiday clearance sales, I try to get a couple of the decorated lightweight disposable tablecloths and store them in my box of gift-wrapping supplies.
Many times a gift or the box that the gift comes in is too large for the usual size bolt of wrapping paper, necessitating piecing several pieces taped together to cover your item. I get out my disposable table cloth, cut it to fit (I always have a lot more left over) and tape it. The lightweight flannel-backed cloths are also very flexible. Clear packing tape will securely hold the wrap for the heavier weight cloths.
By Trisha from Ventura, CA
My friend is getting married and we are giving them a new TV. I am in charge of wrapping and bows. How can I do this inexpensively. I know that wrapping paper is really a waste but it is also part of the culture.

I know the groom would really like the paper that you can plant because it has seeds in it. I can't afford that. The TV is in a box, but I don't know how big it is really. Any ideas would be appreciated.

Sandy from Baltimore
Answer
Was this helpful?
Helpful?
Yes
We keep many types of garbage bags on hand, so in addition to the ones I recycle from shopping, we use the right size, type, weight, etc. The largest and strongest bags I have are the contractor bags and they are incredibly thick and heavy. I would put that over the gift. They then have a very nice bag to reuse or even carry the non-breakable gifts home in from the shower or wedding.
Reply
Was this helpful?
Helpful?
Yes
Read More Answers...
How do I wrap a large purse and hat cheaply?
By Deanne
Answer
Was this helpful?
Helpful?
Yes
This may sound a little strange, but i've used a dog or cat food bag. Since I have both, it's helpful. You don't even have to wrap it, just clean the bag good. If it is plastic, (as alot of them are now), you can use the bathtub. Or if you want, you can wrap the gift in tissue paper or newspaper before you put it in the food bag.
Reply
Was this helpful?
Helpful?
Yes
Read More Answers...
When wrapping larger Christmas gifts, instead of using a lot of wrapping paper and tape, buy a holiday tablecloth (Dollar Store or equivalent), and tie it at the top with ribbon. It works wonderfully! This can be done with any holiday or birthday present and is such a time saver.
By Dreamwvr from Spokane, WA
Comment
Was this helpful?
Helpful?
Yes
I had a large (24 inches long by 12 inches wide by 12 inches high) box to wrap as a wedding gift and couldn't find any wrapping paper that large. Large white, plastic garbage bags wouldn't work either because all the writing on the box showed right through, even using 2 or 3, and I didn't want to use a black trash bag for a wedding gift!
My solution was to find a pretty but inexpensive ($2.50 at Big Lots) flannel-backed, vinyl tablecloth and wrap the box in that. I used wide grosgrain ribbon (the wired kind) and clear mailing tape. Then if the recipient wants, they can even use the tablecloth as well as the gift!
To wrap a very large present, buy a party paper table cloths. I just buy plain white ones when on sale, but they are very cheap to begin with. I cut a potato into a star or moon shape (something easy) to use as a stamp then use whatever paint I have handy to decorate the table cloth. By Carlie in Florida
Comment
Was this helpful?
Helpful?
Yes
For wrapping really big presents, buy paper or plastic holiday tablecloths at your local dollar store and wrap away!

By Celia from North NJ
Answers:
Wrapping in Holiday Tablecloths
Excellent idea! I also use discounted tablecloths for curtains. (12/20/2005)

By Peggy in KS
Comment
Was this helpful?
Helpful?
Yes