Read and rate the best solutions below by giving them a "thumbs up".
Cleaning Mini-Blinds
Please share your easiest, fastest (yet thorough) ways to clean metal mini blinds.
Thanks!
Peggy GV from San Antonio, TX
---
RE: Cleaning Mini-Blinds
How I clean my mini blinds: I put them in the tub (or outside) Spray with Dow Scrubbing Bubbles and then rinse off with clear water. Wipe with a towel or drip dry. Their is NO real washing (you let the bubbles do their job!) and they are disinfected and smell great. Also, the wand and cording comes really clean! Again, with NO effort! (08/02/2005)
By Joyful
Cleaning Miniblinds
Clean miniblinds by spraying hydrogen peroxide on them. Then wipe dry. (09/23/2005)
By Terri
In The Shower
Stick 2 or 3 heavy duty to back shower wall and hang blinds, get a shower spray and cleaning product and presto! Easy on the back. (09/25/2005)
By ChinafromSI
Vacuum
On the subject of cleaning metal mini-blinds, I vacuum them, I wipe them down with a damp cloth, I've put them in the bathtub if they fit. I've also taken them outside and hang them on my fence with nails and used the window cleaning system you attach to your hose and they came out great! After doing all of that I decided when they get to be too much to handle, I buy new blinds! (11/19/2005)
By Rob
409
I hate cleaning mini blinds, but unfortunately, they have to be cleaned fairly regularly. First of all, I never take mine down to clean them. That must makes even more work than you already have. I clean them while they are up on the window. Depending on how dirty they are, and that, of course, depends on what room in the house, most of the time I can get them clean using a dry Swiffer cloth. If they are really bad and need "wet" cleaned, then I spray 409 cleaner on them and wipe them with a wet cloth. (11/20/2005)
By Robin
MiniMaids
I bought a gadget called MiniMaids. I love it. It makes cleaning mini blinds so easy. I hang it in the shower and hang my blinds so all I have to do is spray with 409 and then use my shower hose to rinse off and they come out spotless. (01/04/2006)
By lkaren
Wet Wipes
I use Clorox wet wipes. It's the easiest and believe me I've tried everything. I have found they work on walls, doors, and any other surface. (02/20/2006)
By Michelle
---
Cleaning Mini Blinds
Any tips on cleaning mini blinds? Randi from Vacaville
---
RE: Cleaning Mini Blinds
I take mine to the car wash. It is so easy to hang them, clean with the soapy brush and rinse with the nozzle. We do 3 or 4 at a time. (11/17/2006)
By Vicka
RE: Cleaning Mini Blinds
---> AFTER CLEANING TO STOP STATIC from ATTRACTING DUST & DIRT * spray with 1 part fabric softener (any brand) and 3 or 4 parts water. * OR wipe blinds with a dryer fabric softener sheet. IF YOU DO THIS YOUR BLINDS WILL STAY CLEANER LONGER (11/18/2006)
By Cyinda
RE: Cleaning Mini Blinds
I save old white socks, put them on my hand and use rubbing alcohol to clean my mini blinds. It works fast and gets them very clean. (11/19/2006)
By Janis
---
Cleaning Metal Mini Blinds
I have metal (blue color) mini blinds that I've had up for 8 years. I do smoke in the house, too. At a glance, you don't notice, but I see the dirt and grime on the blinds and I am looking for a way to clean them. Also, what about the small rope (strings) that are used to operate the blinds?
Thank you so much for your help!
Sue from Birmingham, AL
---
RE: Cleaning Metal Mini Blinds
I used to clean mine in the bathtub. I would fill it up with warm sudsy water, and then clean each stip with an aggressive sponge. For sticky stains, I would let them soak. It's a bit messy and time consuming, but it works. (09/10/2006)
By Jess
RE: Cleaning Metal Mini Blinds
Try taking them to a car wash. A car wash normally has hooks you can hang floor mats on Works Good..will get extra clean. Good Luck (09/10/2006)
By Autumn
RE: Cleaning Metal Mini Blinds
You can either clean your blinds in your tub/shower or outside, but you'll need to figure out a way to hang them up, like on a clothesline for example. Next, take some Scrubbing Bubbles foaming bathroom cleaner (the dollar store versions of this work great) and spray your blinds thoroughly, including the strings and any other parts you want clean. Now watch the grease and grime melt right off your blinds. Just rinse off the blinds with a hose or handheld shower sprayer. You don't have to rub each individual slat or the strings, but if your blinds are really grimy, you may have to repeat the Scrubbing Bubbles, and then let them hang outside or in your tub/shower until dry. I have used this method for both aluminum and vinyl blinds with great results. truerblue (09/11/2006)
By truerblue
RE: Cleaning Metal Mini Blinds
ammonia works great (09/20/2006)
By heather
RE: Cleaning Metal Mini Blinds
MiniMaids - Venetian Blind Cleaning Tool available at www.shophometrends.com. You don't have to take blinds to the car wash or hang mini blinds from a clothesline outside to wash. Have hard to clean mini blinds looking like new in minutes. Suspend blinds from brackets attached to shower wall or an outside window (use garden hose), with three super suction brackets, spray really dirty blinds with cleaning solution, then simply rinse away tacky dirt, household allergens, down the drain! (03/02/2008)
By kheneghan
---
Cleaning Dusty Mini Blinds
I haven't cleaned my mini blinds since we moved in about a year ago! I've lightly dusted occasionally, but little spots and such are showing up on them now. Could someone please tell me the best way to clean them at this stage of 'dustiness'?
Sue from San Francisco, CA
---
RE: Cleaning Dusty Mini Blinds
The bane of my existence! I clean EACH slat with a baby wipe. It takes forever (34 windows) but it is the only thing that seems to cut the dust and grime (in kitchen). AND I have tried almost all the ideas mentioned. All blinds except kitchen and bathrooms seem to get by on occasional dusting and a once a year power cleaning (Spray with cleaner, wipe each slat with a wet towel, repeat with clean towel if necessary and then dry.
Good luck! (01/04/2008)
By Skibum1910
RE: Cleaning Dusty Mini Blinds
Put them in the bathtub turn the shower on and plug the tub add bleach. This cleans the cords too so they look new. scrub them if they are really grungy. (01/04/2008)
By iBroke
RE: Cleaning Dusty Mini Blinds
The BEST way I have found is to place your blinds in the bathtub and run the hottest water possible. While running the water, add a few cups of bleach. Let soak for 2-3 hours. Drain water. Run more hot water and let soak 15 minutes. Drain. Blinds should be free of bleach residue and they will look as new as when you bought them Have fun and good luck! (01/05/2008)
By Heather, Arkansas
RE: Cleaning Dusty Mini Blinds
I take all the blinds off the windows. put them in my whirlpool bathtub, add Clorox Cleanup and water and turn the bath tub jets on for about 10 minutes The whirlpool agitates the crud off. I just drain the tub and let them air dry. Easy. (01/07/2008)
RE: Cleaning Dusty Mini Blinds
Take them down one room at a time and put them on a concrete area or porch outside and spray them down with the water hose to let them dry outside. Spray them down with a cleaner a few minutes before you spray them with water to let dirt loose. Hope this helps. If weather is bad, let them soak in bath water. (01/07/2008)
RE: Cleaning Dusty Mini Blinds
I bring my blinds outside and clean them with a sponge and the hose. (05/02/2008)
By Gary
RE: Cleaning Dusty Mini Blinds
Does the metal mechanical part ever rust? (10/01/2008)
By CarrieStel
RE: Cleaning Dusty Mini Blinds
I hate mini blinds! You just look at them the wrong way and they bend and you can't fix them when that happens. I tried taking my down to clean as suggested and they got bent - Arggg! I have tried everything and they just get bent and continue to look awful.
I am going to replace them. Just saving money from check to check during the recession in order to afford it! (01/06/2009)
By rustyz
RE: Cleaning Dusty Mini Blinds
Just hang dusty mini blinds from MiniMaids support brackets stuck to a shower wall or an outside window, then simply rinse away dust from blinds using the shower sprayer or garden hose. Works great indoors or outside! (02/07/2009)
By TheVan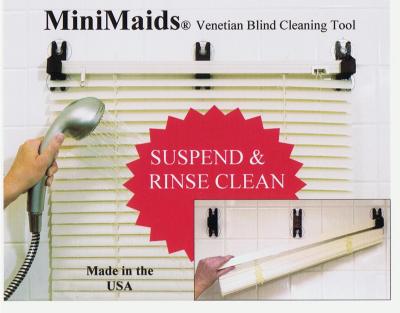 RE: Cleaning Dusty Mini Blinds
Be careful if putting blinds in the bathtub to clean them. I got nasty scratches in my shower surround from the edges of the metal blinds when I did it. Now not only do the blinds look terrible, the shower does too. (01/16/2011)
By cs_jag
---
Cleaning Mini Blinds
To clean mini blinds, wear a pair of white cotton gloves. Dip gloved fingers in a solution of equal parts white vinegar and warm tap water and run your fingers across both sides of each blind.
By fossil1955 from Cortez, CO
---
RE: Cleaning Mini Blinds
I just take mine down put in the tub spray with basin, tub and tile cleaner. Using my hand held shower head I rinse them down, hold them sideways, shake a little to get excess water off and hang back up to finish drying. I put a towel at the bottom to catch drips. Usually the bottom slat is against the bottom part of your mini blind so I take extra care to lift that one and dry it well. (01/27/2011)
By dwutz
RE: Cleaning Mini Blinds
Dear fossil. How many pairs of white gloves would I need to clean 5 different blinds? Quite a few I think. I just use old rags and toss later. (01/27/2011)