Mini blinds are dust magnets. Cleaning between each and every blind can be time consuming and difficult. This is a guide about cleaning mini blinds.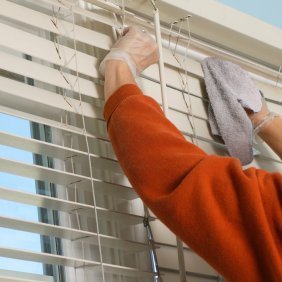 By Luana M. 82 149
Like most renters, I have vertical blinds everywhere in my home. Where I live (near a beach), putting up curtains would mean way too much dirt and dust.
I clean my blinds bi-weekly with microfiber cloths. This area with a nearby airport is extremely dusty. A dust that depending on the weather can look like a car engine's dirt. I assumed using my vinegar and water with microfiber was the best way to keep as much out as possible. Keeping them clean is much easier than dealing with build up.
As you can imagine, this can be time consuming work. I have discovered a way to cut the time in half - using water only one time a week and taking a fraction of the time. All without spending a penny on the new, latest, or better product. I discovered that, like with the television which also get an extreme amount of dust on it, used dyer sheets work like magic. Instead of throwing away your used dryer sheets, save them and use for dusting the blinds. If it works on my blinds with the special sea and airport dirt, it will work on yours.
I have found dryer sheets to be so helpful other places also, leaving no lint behind. New ones are used when I don't have any from the laundry. They seem to do such a good job that when I do use water and vinegar on my major cleaning day it's easier. Try using dryer sheets on computer screens, the television, even my tables. All are shining and dust free.
I have a hand steamer I use on all my screens. Yes, my screens with the steamer! You do not have to remover the screen. I live in Southern California, so my windows are open daily. If you live where it's winter now, remember the furnace also brings so much dust into your home. For now, try the dryer sheets. When the weather warms up if you have a steamer it cuts the dusting down without too much hassle.
I am a clean nut, so helpful tips that make it easier are a blessing. Try this one it works!
If it works on computers. I was amazed at how it works on blinds as well.
By Luana M. from San Diego, CA
By Monica 296 58
For a no mess place to clean your mini-blinds or give a dog a bath, buy a 42 inch kids' wading pool. After washing blinds, hang them over outdoor chairs and rinse with a hose. No mess in the house!
By duckie-do from Cortez, CO
We have a blind in our small bathroom that gets caked with dust and hairspray which can be hard to clean. I have to clean it several times a year.
To clean it, I soak it about 30 minutes in the bathtub in hot water with a little ammonia added to the water. This loosens the dirt and grim and makes it easy to wipe off while it's in the water.
After cleaning it and rinsing it off, I bundle it in my hand, lift it out of the tub and put a towel under it to catch the dripping water while I walk through the house and out to the porch where I hang it on the nails that were placed there for hanging blinds to dry. In just a few minutes, it's dry enough to hang back up.
Cleaning vinyl blinds is simple and easy when you can give them a little soaking in the bathtub and have a place to hang them to dry.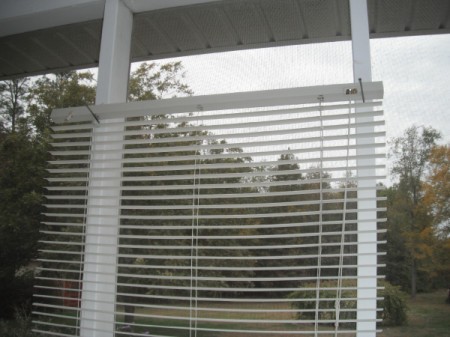 By Edel Gill 1
My daughter got black ink on my white window blinds, does anyone have any tips to get it out?
---
Most Recent Answer
July 28, 2005
Try a product called Ink Away, you can get it at most office supply stores. It works great getting ink out of almost everything. It is a big winner in my house since my kids like Sharpe pens!
---
By Kathy 1
I soak my blinds in Clorox Clean Up in the bathtub for an hour then rinse with the shower head and dry with a couple old beach towels. They look nice and clean when I hang them back up.
Note: I have off white blinds and never have tried this with colored blinds.
By Kathy
Our vertical blinds are 108 inches top to bottom. Mine needed cleaning really bad since DH is doing a lot of painting in the house. I couldn't take them outside and use the hose, because the complex had to shut off hose supplies for a while due to frozen outside pipes.
I put the slats a few at a time in my bath tub with dish liquid. I sloshed them around a bit, then I wrapped a wet micro fiber cloth around one end and pulled each slat through. I held the cloth with the blind in it against the side of the tub to allow the water to run back into the tub. I just had to put the end of the clean slat back in the tub to start the end through the bath towel which I put on my lap (I'm sitting on the toilet all this time). I pulled each slat through the folded bath towel to dry and draped them across the top of the two hampers in the vanity area.
I can't submit photos because I look horrid when cleaning. I hope this helps someone.
By MartyD from Houston, TX
By Paul Wilson 3 8
I put my mini-blinds on the outdoor table and hose and wash with the car wash brush, then flip and do the other side. I hang them on the clothes line to dry. Kids can do this chore.
By Sharon C. from Chesapeake, VA
By Jane Price 4 1
My window blinds (semi-wood) are way too big to take down and using Endust and cleaning between each slat just isn't getting it. Any and all suggestions are welcome!
Thank you.
By Jane P.
---
Most Recent Answer
July 27, 2011
Endust is the wrong product here -- the blinds probably have a somewhat "greasy" buildup, which the Endust adds to. I mix a mild vinegar/water solution, and just take a rough cloth and clean each slat, then wipe with a soft dry cloth. Don't saturate the slats; wring out the cloth before using. It may take two passes, but they will be clean and dry when you're done!
Here's an easy way to remove dust from window blinds: Put an old sock over your hand as if you were making a sock puppet. Now grasp each slat on the blinds and rub your sock back and forth to remove the dust. So easy!

By Angie from Murphy, TX