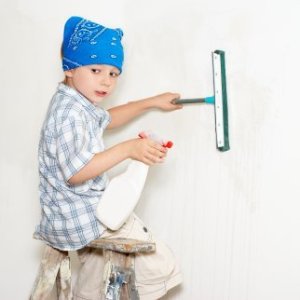 Periodically we need to clean spills or marks on the walls. Or perhaps you are deep into your spring cleaning regimen and want to wipe down the walls. Either way there are easy to mix recipes for wall cleaners that will not damage your painted or other type wall surfaces. This page contains homemade wall cleaner recipes.
Solutions
Share a solution for this guide today!
Questions
Here are questions related to Homemade Wall Cleaner Recipes.
How can I clean a brick wall in my family room?

Louise from Murrysville, PA
---
Most Recent Answer

By Carla J. Sanders11/08/2006
Although you might find stuff at a hardware store, you could definitely get the right stuff from any store that deals in fire places and wood stoves. We had a new wood stove installed into the fireplace cavity and the first thing that got done was all of the brick & mortar got cleaned to looking new. Just buy a big old brush. Follow the instructions. Put down a rag sheet to catch any splashes - you will be using a brush with bristles.