Cleaning Grease from Kitchen Cabinets
Cooking grease seems to cling everywhere in the kitchen, especially on your cabinets. This is a guide about cleaning grease from kitchen cabinets.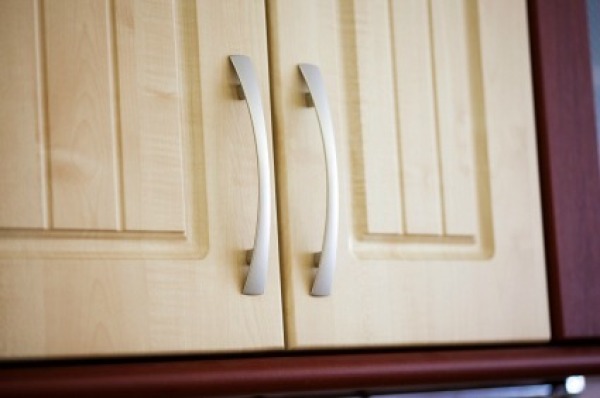 Filter

: All Articles
Sort

: Relevance
Does it hurt to use Dawn dishwashing liquid on oak kitchen cabinets to remove grease build up?
By Sunny from KY
June 19, 2011
0

found this helpful
Best Answer
We just had that same problem and used Simple Green non-diluted from the bottle. our cabinets look great.
August 21, 2016
0

found this helpful
I agree! Awesome cleaner is truly awesome and only $1.00. The Awesome brand orange cleaner works great on cabinet greasy spots and hardware. Really leaves a shine to the wood and I even use it to shine my stainless steel sink & appliancrs.
Don't spend money on expensive de-greasers and don't inhale toxic ammonia. Take 1 part mineral or vegetable oil to 2 parts baking soda. This makes the perfect cleanser for greasy cupboards. With a little rubbing, this gets even the most gummy build-up. For greasy film on the oven hood, just drop some oil on a paper towel and wipe it clean.
This technique is so effective, I now keep a spray bottle with mineral oil to clean the gucky grease.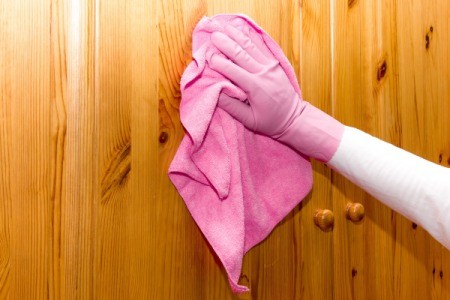 In my rental duplex, the kitchen cabinets are really a mess. There is years of greasy build-up. I have tried scrubbing with scrubbers, brushes, pot scrubbers, and every cleaning product I can think of. Nothing helped. Any ideas on how to get to the base finish on these old wood doors? Thanks.
By K. H.
July 16, 2011
0

found this helpful
Best Answer
Ammonia has always amazed me with it's grease-cleaning capabilities. Dilute it, put some gloves on, open a window, and scrub away. Then rinse/wipe it off.
June 19, 2016
0

found this helpful
Wow! I never knew this Sharon and I have worked a Paint Department for thirty five years. Sounds logical to me.
I'm looking for a good cleaning product to degrease a greasy kitchen. My kitchen cabinets are gooey.
By OK
April 29, 2013
0

found this helpful
Best Answer
Mixing up a solution of 1-1 parts vinegar and water in a spray bottle will clean the residue, and deodorise the area at the same time.
Vinegar mixed with water is a wonderful kitchen and bath cleaner that saves you a whopping lot of money, and doesn't have the unwanted chemicals that commercially available cleaning products have.
It deodorises, disinfects, kills mould safely (no chemical reaction between mould and bleach releasing into the air as a fume you do not want to be inhaling), and doesn't require rinsing.
April 30, 2013
0

found this helpful
Best Answer
if you can find it, Lloyds works super on kitchen and garage grease.
How do I remove years of grease from cabinets above the stove and also the microwave door above the stove?
By Mary A from Norcross, GA
December 22, 2014
0

found this helpful
Best Answer
I've used a boss sponge purchased on the internet and some dish soap or any other mild degreaser I have on hand. I mix the solution in a bowl and mildly scrub with the boss sponge, then let the solution sit on the surface for 5 minutes. I scrub again with just water and the grease comes off. On a rental unit I had to scrub twice but it came off easily. The boss sponge is gentle to my wood cabinets also.
What way is best to clean wood cabinets with grease buildup on them?
By Barbara from Taylorsville, MS
March 19, 2011
0

found this helpful
Best Answer
I would try Murphy's Oil Soap.
June 2, 2013
0

found this helpful
The advice given by SeptBlueMusic was spot on! Not only did it work quickly, but wow, the oak cabinets at last had no greasy film on them whatsoever...it even removed the accumulated grease from the handles and hardware. I took her advice and wore a mask and gloves, and also did the work outside. Now, onto sanding and restaining them! Thank you, thank you, thank you SeptBlueMusic!
I am talking about grease build up on kitchen cabinets. Does anyone know a long term solution to prevent the grease build up in the first place?
By madeiracake
March 22, 2014
0

found this helpful
Best Answer
Clean them often. I just evicted filthy renters who left the entire kitchen coated in grease. In the home I live in, I wipe my cabinets down every other day and after being here 8 years, have no grease buildup. It takes me all of 5 minutes.
Also check your stove vent - is the vent clogged? If so, that will help with buildup. Also, how much food are you frying?? It isn't healthy to have a lot of fried foods. I only fry about once or twice a week. Sometimes on the stove, and sometimes in the fry daddy, and I make sure the lid stays on.
How do you remove years of grease build up on kitchen cabinets and walls?
By sickand tired from Towson, MD
September 23, 2010
0

found this helpful
Best Answer
Murpy's Oil Soap does a very good job on greasy kitchen cabinets. If they have been neglected too long, you may have to repeat the scrubbing, but you will be able to see, and even feel, the difference.
Harlean from Arkansas
September 24, 2010
0

found this helpful
A hand held steam cleaner will do it fast. If you don't own one or don't want to buy one you can rent one I am sure.
My kitchen doors are wooden chestnut, but are hard to clean. They keep on getting splashed near the cooker and the slightest grease mark shows up really badly. Over the years I have cleaned them with certain cleaners, but when the sun shines you can still see the marks. Is there a cleaner that is quick and safe to use on wooden unit doors. Help.
By R Farrow
February 20, 2012
0

found this helpful
Best Answer
A bottle of Lemon Oil will take care of that. Just use per directions on deep cleaning wood.
Related
© 1997-2016 by Cumuli, Inc. All Rights Reserved. Published by
ThriftyFun
.
Page
generated on September 24, 2016 at 9:18:20 PM on 10.0.2.61 in 4 seconds. Use of this web site constitutes acceptance of ThriftyFun's
Disclaimer
and
Privacy Policy
. If you have any problems or suggestions feel free to
Contact Us
.