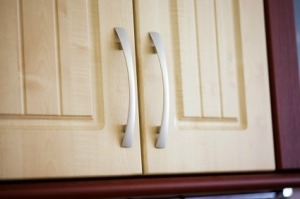 Cooking grease seems to cling everywhere in the kitchen, especially on your cabinets. This is a guide about removing grease from kitchen cabinets.
Ad
---
Solutions: Removing Grease from Kitchen Cabinets
Read and rate the best solutions below by giving them a "thumbs up".
Bi-carb soda and hot water 25/75 mix. Lay it on, scrub it on and off with paper towels. No more sticky, spotty cupboards!
Give a "thumbs up" to the solution that worked the best! Do you have a better solution? Click here to share it!
Questions
Here are questions related to Removing Grease from Kitchen Cabinets.
Does it hurt to use Dawn dishwashing liquid on oak kitchen cabinets to remove grease build up?
By Sunny from KY
Ad
---
---
Most Recent Answer

By kath7 [2]07/16/2011
I am having this same issue with cabinets. Neither Murphy's, Dawn, or Simple Green budged it. They were like this at move-in, and I don't really care about the finish because I would probably do something new with that anyway. I am at a loss. Thanks everyone.
In my rental duplex, the kitchen cabinets are really a mess. There is years of greasy build-up. I have tried scrubbing with scrubbers, brushes, pot scrubbers, and every cleaning product I can think of. Nothing helped. Any ideas on how to get to the base finish on these old wood doors? Thanks.
By K. H.
Ad
---
---
Most Recent Answer

By Kathy Lund08/02/2011
I'm having the same issues in a 1960's era home. The cabinets are so sticky with greasy grime! There are several new suggestions here, I haven't seen before. I'll give them a try. Thanks!
How do you remove years of grease build up on kitchen cabinets and walls?
By sickand tired from Towson, MD
---
Most Recent Answer

By Lilac [20]09/24/2010
A hand held steam cleaner will do it fast. If you don't own one or don't want to buy one you can rent one I am sure.
I'm looking for a good cleaning product to degrease a greasy kitchen. My kitchen cabinets are gooey.
By OK
---
Most Recent Answer

By Wendy A [1]04/30/2013
if you can find it, Lloyds works super on kitchen and garage grease.
How do I remove years of grease from cabinets above the stove and also the microwave door above the stove?
By Mary A from Norcross, GA
---
Most Recent Answer

By pjmeyns12/22/2014
I've used a boss sponge purchased on the internet and some dish soap or any other mild degreaser I have on hand. I mix the solution in a bowl and mildly scrub with the boss sponge, then let the solution sit on the surface for 5 minutes. I scrub again with just water and the grease comes off. On a rental unit I had to scrub twice but it came off easily. The boss sponge is gentle to my wood cabinets also.
I am talking about grease build up on kitchen cabinets. Does anyone know a long term solution to prevent the grease build up in the first place?
By madeiracake
---
Most Recent Answer

By April [187]03/22/2014
Clean them often. I just evicted filthy renters who left the entire kitchen coated in grease. In the home I live in, I wipe my cabinets down every other day and after being here 8 years, have no grease buildup. It takes me all of 5 minutes.

Also check your stove vent - is the vent clogged? If so, that will help with buildup. Also, how much food are you frying?? It isn't healthy to have a lot of fried foods. I only fry about once or twice a week. Sometimes on the stove, and sometimes in the fry daddy, and I make sure the lid stays on.
My kitchen doors are wooden chestnut, but are hard to clean. They keep on getting splashed near the cooker and the slightest grease mark shows up really badly. Over the years I have cleaned them with certain cleaners, but when the sun shines you can still see the marks. Is there a cleaner that is quick and safe to use on wooden unit doors. Help.
By R Farrow
---
Most Recent Answer

By Spacecase [11]02/20/2012
A bottle of Lemon Oil will take care of that. Just use per directions on deep cleaning wood.
Archives
Thrifty Fun has been around so long that many of our pages have been reset several times. Archives are older versions of the page and the feedback that was provided then.
I have some kitchen cabinets that have oil and grease built up on them. My house is a rental, so it has been abused in the past. How can I remove this old grease/oil frugally?
Thanks,
Kristy from Arkansas
---
RE: Oil and Grease on Kitchen Cabinets
My favorite de-greaser is Thunderblast from the dollar store. Works great removing grease from almost anything. (07/22/2005)
By Seagrape
RE: Oil and Grease on Kitchen Cabinets
Scrubbling bubbles bathroom cleaner works like a dream, (07/22/2005)
By dsbaby14
RE: Oil and Grease on Kitchen Cabinets
I always use GREASED LIGHTNING it's great on everything especially grease and oil. I also use it on my clothes to get stains out. (07/23/2005)
By Teresa
What can I buy or use to remove grease buildup on my kitchen cabinets and appliances? I have tried Pine Sol and hot water but it isn't going well.
Kizzy from Michigan
---
RE: Grease Build Up In The Kitchen
Murphy's oil soap is cheap, gentle, yet effective on nasty grease! (11/29/2006)
By camo_angels
RE: Grease Build Up In The Kitchen
You can also try a product called Simple Green. It is a great degreaser. (11/29/2006)
By Jess
RE: Grease Build Up In The Kitchen
During cabinet cleaning I found a small trial sized bottle of Greased Lightening that I must have had for 2-3 yrs. According to the bottle it will clean almost anything grease included. I threw it away then fished it back out of the trash and cleaned my whole bathroom with it, lol. Just to think it had been under the sink all that time. It served it's purpose well :) Try it, I plan on buying more. (11/29/2006)
By Ariela
RE: Grease Build Up In The Kitchen
For really difficult build-up, purchase TSP tri sodium phosphate at your local hardware store. This is great if you are planning on repainting. (11/30/2006)
By sewingmamma
RE: Grease Build Up In The Kitchen
I know exactly how you feel. Last year, I tried cleaning my cabinets also, I finally ended up just stripping the cabinets, refinishing them and we also put in new counter tops. My husband doesn't like it when I deep clean now. But since that time I came across a site www.rd.com/ that suggested baking soda. It's the Readers Digest site, click on Home and Garden. There is a world of info there. Good Luck. (11/30/2006)
By Jean in GA
RE: Grease Build Up In The Kitchen
Window cleaner is great for grease. Its hands down my favorite cleaner as it leaves a wonderful shine. Its the ammonia in the window cleaner that cuts the grease. The cheapest thing would be to add ammonia to water and just use that. Or add ammonia to an all purpose cleaner. Check out what it does for your appliances, sink, and stove! Warm regards. (11/30/2006)
By Carol in PA
RE: Grease Build Up In The Kitchen
Ammonia is excellent for kitchen grease. I use it straight but may you want to dilute it in case it may harm the cabinets if they are wood. It also works fantastic getting the dust/grease off ceiling fans. (11/30/2006)
By maryc
RE: Grease Build Up In The Kitchen
Thanks to you all for your tips. I used the simple green and the grease lightening and now my cabinets look like new. Thank you again, forever appreciated. By Ms. Clean from MI (11/30/2006)
RE: Grease Build Up In The Kitchen
Arm & Hammer Washing soda, non-toxic & cleans everything. Wear gloves though, it'll make your hands super dry. (11/30/2006)
By Mary
RE: Grease Build Up In The Kitchen
In SA we have Handy Andy Oven cleaner - I am sure you will have something similar. It is a spray cleaner and I have used it very successfully to get years of old oil and grease marks off a kitchen of a house we bought. (12/01/2006)
By Tandy
RE: Grease Build Up In The Kitchen
For grease buildup on the floor besides the stove, I use fairy dish washing detergent. I pour it on the grease, let it work for 20 mins, then pour some hot water and clean with a rag. The floor is vinyl linoleum. (12/03/2006)
By TDZ
RE: Grease Build Up In The Kitchen
I have used Thunderblast on everything and it is the greatest. I have not been able to find it lately anywhere. Does anyone know who still carries it or if you have an old bottle, what the phone number is that is on it. I have called before. (01/20/2007)
By Chrissy
RE: Grease Build Up In The Kitchen
I use the dawn foam dispenser, it works so great for grease, and you don't have to worry about harsh chemicals. I use it on my old stove top, it the only thing I have found that will clean away the gunk from around the burners. Just dispense it over the greased area, and let it sit for about 5 mins. then wipe with a damp sponge, and poof. It works so great and it's multipurpose, which is even better. (01/20/2007)
RE: Grease Build Up In The Kitchen
I have used Thunder Blast for everything and I cannot find it anywhere. I do have a phone number for Chrissy posted on 1/20/2007.
Manufacturers' Sales Agency, LLC
Knoxville, TN 37909
865-558-8544
That's all that is on the bottle. (03/21/2007)
By Rhonda M
Thund'r Blast
Thund'r Blast is being offered exclusively in your local Family Dollar store. Thank you for your continued support.
Sincerely,
Manufacturers' Sales Agency, LLC.
mfgsales@aol.com (05/24/2007)
By Manufacturers' Sales Agency, LLC.
RE: Grease Build Up In The Kitchen
My husband and I have been using Thund'r Blast for at least 6 or 7 years. Dollar General use to carry it. They stopped, so I called the number on the bottle; 888-353-3162. Months later we received a call from them telling us it would be in the Family Dollar stores. We did finally find it, but now they are out and no one knows if they will be continuing to stock it. We are desperate. We use it on everything from our clothes to our cars. Any help would be appreciated in helping us to find it. We would be willing to buy it by the case if we have to. (07/07/2007)
By Rena from Arkansas
RE: Grease Build Up In The Kitchen
I too was worried about grease build up on my kitchen cabinets. I google searched only to find that the "Greased Lightning" is the best. What should I say more? I rushed to the supermarket, got a bottle and sprayed, and the grease with an amber color flowed down like crazy, wiped it with paper towels. Problem solved! (07/21/2008)
By Benny
I live in a condo and unfortunately we don't have a kitchen exhaust to the outside so that when I cook, although the fumes go into my overhead hood, they end up in my kitchen.
I am looking for the best solution for cleaning the outer part of the kitchen cabinets. Above the microwave cabinets are greasy, because of the exhaust fan.
Thanks.
By parvathi from Chicago