Does any one have a craft ideal for scrap wood for Bible School? We are building a new church and have lots of wood. Thanks

Cynthia from Lewisport, KY
June 22, 2008
0

found this helpful
Using plywood or other wood cut out crosses and you may cover with glue to add shells, jewels. pearls, etc. or use to make Christmas Creche stables and figures, other Christmas centerpieces, candle holders, ornaments,etc. With wood burning tool put designs on hot plates,etc. Make book ends, bird houses and feeders, door stops, boards to screw on house numbers to hang or put in the ground with a metal flat rod. These can be cut out in various shapes or cut out the ends in angles. A little sanding, staining, sealing or painting would go a long way.
By guest (Guest Post)
June 22, 2008
0

found this helpful
We made napkin holders from wood. We took a piece 1" thick wood and cut it to a size that would fit a paper napkin. We drilled two holes at the end and had the kids glue dowels into them. we then took a narrow piece of wood with matching drilled holes and this piece would slip over the dowels standing up. The kids glued a pretty picture with a bible verse and covered over them with water downed glue. I hope this helps.
We also made key holders from strips of wood. The kids glued pictures with bible verses on the upper half and at the botter we had them screw in hooks to hang keys on.
You can also make house number signs. Hammer a stake to the back of a piece of wood. Get pretty tacks and have the kids hammer them into the wood following the outline of their house number. If you need more info let me know
By guest (Guest Post)
June 22, 2008
0

found this helpful
You could make key racks. Sand the pices of wood til smooth. Paint or stain pieces of wood about 4"x6" These can also be decorated with markers. Screw cup hooks (1 for each person in the household who has keys)into decorated block for keys. Put one hook on top of block to hang from the wall, or glue ribbon/yarn/cord loop to back for hanging. I did this with Cub Scouts, and they were able to do all the steps necessary to complete the project. The pieces of wood were precut by me.
June 22, 2008
0

found this helpful
When my 50 something boys were little they went with friends to VBS. In those days if a kid played his cards right he could spend the summer in VBS. We took the neighbors to ours and they reciprocated. One year they came home with "the whole armor of God" all made of plywood except the girdle of truth and the breastplate of righteousness. Those were of cardboard. They had little plywood shoes with elastic stapled on, a shield of faith and a sword of the Spirit. All made of 1/4 inch plywood.
June 24, 2008
0

found this helpful
Another idea popped into my head after reading more of these posts: How about making BOOK ENDS, they could even be decoupage to look like actual books or even Magazine Holders.
-----> But by far, my favorite idea (so far) was posted by Jean. It's the KEY HOLDER (which can also be used for necklaces, & hair accessories or for hanging Belts or hair scarves). I think this is a great idea because it is FUNCTIONAL & not just fun for the child to make, but any parent would want one & would proudly hang it on their wall for all the world to see & use. I also love the idea of decoupaging a picture on to the Key Holder... The formula for the glue is half white glue ($1 store) & half water, then buy a pack of foam brushes at the $1 store & paint the waterd-down glue both under & over the pictures... a "Clear" picture works best. For example a Napkin front that's been pealed away from the second layer would work much better (because it's transparent) than a picture from a magazine (which is opaque) you could also buy a pack or 2 of tissue paper in several colors & do a "Tear & paste" with these many colors over the face of the key holder. Another thing that's fun to use to decoupage is wrapping paper ($1 store). Then when the kids are done, you could take them all outside & spray them with a cheapie, clear spray paint (at Walmart for 99 cents). Just take an old box & use this to contain the spray (don't let the kids breath it!) or just lay out some junk mail on the ground & spray your decoupaged or tissue papered items on.
* I bet the kids would get quite bored doing any sanding at all, so if you know someone at the church who has a drum sander, ask them if they could please take a bit of their time to quickly just take off the rough edges on 20 or so pieces (whatever you need, plus 15 percent extra "just in case"). And since the kids aren't actually playing with these, (they'll be hanging on the wall) I don't think it'll hurt if the wood looks & feels a bit rough.
June 24, 2008
0

found this helpful
How about making bird houses? Then the kids can paint them, decorate them, take them home or leave them at the church for all to enjoy!
By guest (Guest Post)
June 25, 2008
0

found this helpful
You could have various sizes of these scrap pieces of wood for the younger children to have blocks to build with.
Read More Answers
I am looking for western craft ideas for bible school, for all age kids. Thank you.
By Judytwo from NC
May 7, 2010
0

found this helpful
Hello,
We did a western theme (pioneer's for God) for Bible school 2 years ago. I did the crafts with the children and I ordered craft kits from Oriental Trading, they have a large selection of western theme crafts. We made laced change purses, necklaces and color your own picture frame magnets. We also made fringed placemats from foam craft sheets. I used a hole punch to put holes on each side and fake leather lacing for the fringe.
A lady from church loaned us a wood donkey and we took pictures of all the kids the last night and I put them on a "wanted by God" poster that I also got from oriental trading. You can see it in the picture... they were so cute. For the teens you can do a tin can luminary with a cross if you have access to a fridge at church. You would fill tin cans with water and freeze them and then using a nail punch holes in the side and add a candle.
I hope this helps you out some.
God Bless,
Beverly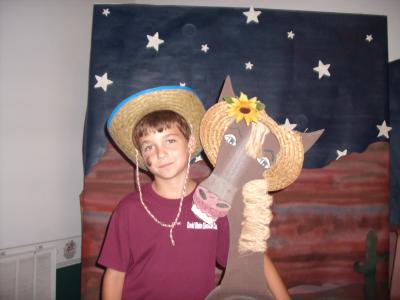 May 12, 2010
0

found this helpful
Oriental Trading Company currently has several "western" theme VBS craft projects in their catalog &/or web site.
May 12, 2010
0

found this helpful
Try Oriental Trading catalog. Just had a new one in today's mail. Lots and lots of crafting ideas for kids' clubs and classes.
May 13, 2010
0

found this helpful
This is what we are doing :)
1. Horseshoe hanger. I got a free template of a horseshoe online and enlarged it on my printer...made a pattern and used posterboard in various colors...hole punched the tops so the kids can use brown yarn (looks like rope) to hang it and then they will decorate with markers and foam western stickers.
2. Purchased foam hats at the Dollar Tree and have a flat pattern of a horse they will glue on to the hat.
3. Bracelets with beads.
4. White t-shirts that the kids will use Western stamps or paint. A prior year...the kids sponged painted in brown a vest and I think a sheriff badge on it.
5. Small Western wall hanger: red/white beads hung on white yarn, make four strands alternate the colors however long you like * I think ours will be about 3 or 4 inches or so (we have the beads already individually bagged.) Foam (rectangle shape with cardboard glued to the back for stability (old cereal boxes...) and then hole punched four times on the bottom to hang the beads and the center will have them put a cowboy hat with the wording "Hats off to Jesus." Use yarn to hang it.
6. One extra thing for toddlers (not doing the wall bead hanging)
Take their handprint in brown paint turn it upside down and then add a yarn tail and add ears/mouth when dry.
October 16, 2012
0

found this helpful
Any ideas for crafts, songs, and activities for teaching 3-5 year olds on Acts 4? I need it for this weekend.:)
By Sandy N.
May 26, 2015
0

found this helpful
Bible activities are bible reading, coloring pages, paintings, bell angel crafts, nativity crafts, pony bead cross necklace, Yarn Crosses crafts. These are the few activities were kids can have lots of fun by doing these activities. I would like to share the bible coloring pages which I have downloaded for my kid.
http://www.momj -pages_00119514/