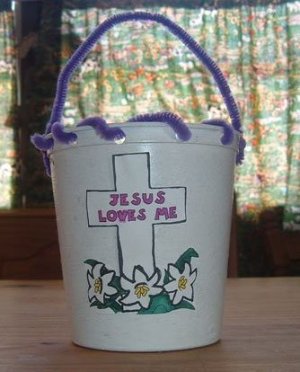 Kids attending Bible school love to make crafts to accompany their studies. This is a guide about Bible school craft ideas.
Ad
---
Solutions: Bible School Craft Ideas
Read and rate the best solutions below by giving them a "thumbs up".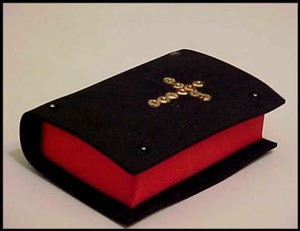 This is a great project for Vacation Bible School. Fun for the little ones. It is a Bible made from a bar of Ivory soap.
Supplies:
regular size bar of Ivory Soap
square of black felt or foam
12 inches of 1 1/2 inch red craft ribbon
back and gold sequins
1/4 inch sequin pins
Instructions:
Wrap ribbon around edges of soap, beginning midway on a long side. Tuck in corners and pin in place. Add a few more pins around the edges to anchor the ribbon. Repeat this process on both sides of the soap.
Cut Bible cover from black felt or foam 3 1/4 inches by 5 1/4 inches. Fold over the bar of the soap with the middle of the piece covering the side where the ends of the ribbon meet.
Put a pin with a black sequin at each corner of the cover on the front and the back to hold the cover in place. Pin sequins on the front cover and on the spine of the Bible in the shape of a cross as shown in the pictures.
By Harlean from Hot Springs, AR
Editor's Note: Harlean has also provided a PDF of this craft with more pictures. Click here to download it.
We order plain white t shirts from a bulk store, fabric markers from Oriental Trade Company, and iron-on computer paper. Before Bible School, we design an iron on based on our VBS Theme and print it on the iron-on paper (be sure to print it backwards so it irons on correctly!).
Then at Bible School, we let the kids go wild with the fabric markers. Be sure to put newspaper in the t-shirts so the markers don't bleed through. The kids decorate the front one day, and the back the next day. Sometimes they get their friends to autograph the shirts. All the kids wear their shirts for the closing program!
By SueO from PA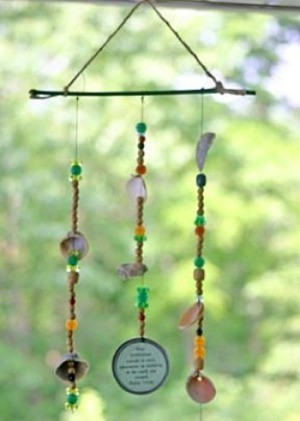 Windchimes made of sea things, beads, and recycled can lids seemed like a good fit for our deep sea-themed Bible School program. It will take two days.
Based on the Bible verse, "Open my eyes to see the wonderful truths in your instructions", I designed this for preschoolers at our Bible school. It could be used for any any sea or pirate ship themed party or program.
Approximate Time: 10 minutes, plus play time.
Supplies:
paper towel tubes
old maps*
green or blue plastic wrap
sea animal/fish stickers
double sided-tape
Scotch tape
*I went to my local visitors welcome center located along the interstate and found beige and brown maps that looked "old world" inside some tourism books. I asked if I could take 20 and they were delighted to help. I think if you asked them to save you outdated materials, they would do that as well. There are some beautiful brochures you could do a lot with. Other map sources are old road atlases, National Geographic magazines, and old atlas books you can find for pennies at library book sales and flea markets.
Instructions:
Wrap a piece of double-sided tape around one end of the tube. Attach a square of plastic wrap.
Cut out a section of a map to fit.
Let the kids draw on some fish and/or add stickers. Older kids could write the Bible verse on it. You could also print out the Bible verse in colored ink on a sheet of plain address labels and stick on the finished project.
Cover the tube with the prepared map and secure with tape.
Now take them on a scavenger hunt, looking for children and adults being kind to one another, or go on a nature hike looking for creatures, real and imaginary.
By Cindy from Waynesburg, PA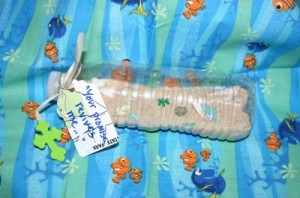 With a deep sea theme at Bible school this year, it seemed appropriate to do a beach scene which reminds kids that we all need a place to meditate and pray in order to recharge our batteries from time to time.
Give a "thumbs up" to the solution that worked the best! Do you have a better solution? Click here to share it!
Questions
Here are questions related to Bible School Craft Ideas.
Does any one have a craft ideal for scrap wood for Bible School? We are building a new church and have lots of wood. Thanks

Cynthia from Lewisport, KY
AnswerWas this interesting? Yes No
Ad
---
---
Most Recent Answer
By tree (Guest Post) 07/08/20080 people found this helpful
We use small blocks of wood with a hole drilled in top to make mini vases and then the children make ribbon flowers. You can then give these out for mothers day, easter etc, instead of paying vast amounts for fresh flowers (the parents love the idea of recycling left over wood too).
---
I am looking for an interesting craft for a youth Bible Study class. The class includes boys and girls of all ages and several are in the same family. That said, I'd like something that they could all work on together making a group project, instead of multiple individual ones.
Any help would be appreciated.
By Michelle from Woodstock, GA
AnswerWas this interesting? Yes No
Ad
---
---
Most Recent Answer
By Ce 4 118 01/10/20100 people found this helpful
An excellent web site for craft ideas for all ages is www.familyfun.com. You will enjoy this web site.
---
I am looking for western craft ideas for bible school, for all age kids. Thank you.
By Judytwo from NC
AnswerWas this interesting? Yes No
---
Most Recent Answer
By Heather Krucker 10 282 05/13/20100 people found this helpful
This is what we are doing :)

1. Horseshoe hanger. I got a free template of a horseshoe online and enlarged it on my printer...made a pattern and used posterboard in various colors...hole punched the tops so the kids can use brown yarn (looks like rope) to hang it and then they will decorate with markers and foam western stickers.

2. Purchased foam hats at the Dollar Tree and have a flat pattern of a horse they will glue on to the hat.

3. Bracelets with beads.

4. White t-shirts that the kids will use Western stamps or paint. A prior year...the kids sponged painted in brown a vest and I think a sheriff badge on it.

5. Small Western wall hanger: red/white beads hung on white yarn, make four strands alternate the colors however long you like * I think ours will be about 3 or 4 inches or so (we have the beads already individually bagged.) Foam (rectangle shape with cardboard glued to the back for stability (old cereal boxes...) and then hole punched four times on the bottom to hang the beads and the center will have them put a cowboy hat with the wording "Hats off to Jesus." Use yarn to hang it.

6. One extra thing for toddlers (not doing the wall bead hanging)

Take their handprint in brown paint turn it upside down and then add a yarn tail and add ears/mouth when dry.
---
I am in charge of crafts this year for VBS (Vacation Bible School) for kids 4th through 6th grade. We have a cowboy theme, "Ropin for Jesus". I need to decorate our room so I'm looking for some cowboy/western craft ideas that are inexpensive.
Thank you so much in advance and God bless!
By Joyce H.
AnswerWas this interesting? Yes No
---
Most Recent Answer
By Heather Krucker 10 282 07/15/20110 people found this helpful
Foam picture frame or poster board "Wanted by God" at the top and then add western stickers.
Stationery. "I'll Stick with Jesus" draw a cactus on it. I'm sure you can come up with more. :)
Paper grocery bags, make western vests out of them
White t-shirts, paint with western stamps (oriental trading)
Danielle's Place is my favorite site for craft ideas.
Oriental trading, you don't always have to order, make your own patterns on poster board.
---
Any ideas for crafts, songs, and activities for teaching 3-5 year olds on Acts 4? I need it for this weekend.:)
By Sandy N.
AnswerWas this interesting? Yes No
---
Most Recent Answer
I would like craft ideas for a vacation bible school coed class ages 12 through 18.
By Yorkie Lady
AnswerWas this interesting? Yes No
---
Most Recent Answer
By April 187 451 07/06/20120 people found this helpful
One craft that our older kids like to do is mosics. We buy cheap tile, then break it, and they make a trivit (base is a 8 by 8 peice of plywood. Often they make a flower, cross or whatever with the tile on it. Often the lumber yards will give us broken tiles for free.
I'm helping with a vacation bible school that has a "behind the scenes" like Hollywood theme. They have a red carpet set up for the kids to enter on, but we need help with decorations and craft/activity ideas that are more bible based than Hollywood-based. I'd love to hear any creative ideas.
By Amanda from Wichita, KS
Archives
Thrifty Fun has been around so long that many of our pages have been reset several times. Archives are older versions of the page and the comments that were provided then.
I would like some craft ideas for my church for bible school this summer.
By Brenda from Waynesville, NC
---
RE: Craft Ideas for Vacation Bible School
I use to teach how to make and repair earrings etc. Good luck. (03/14/2010)
By kffrmw88
RE: Craft Ideas for Vacation Bible School
Candles - you will need: sand, candle wax, anything to make a "mold" in the sand. Of course, the adults melted the wax, but the children made the molds in the sand.
Shoe boxes - kids decorate them with paint, stickers, markers, wrapping paper/tissue and then take their "crafts" home in them at the end of the week.
Crosses made with Popsicle sticks - paint or mark on them, glue then use twine to "finish" off (at the crossed area). (03/20/2010)
By HalfWhit
RE: Craft Ideas for Vacation Bible School
Check out "Pack O Fun" either the magazine or website. They have a section in every issue for use in Sunday schools or bible camps. Maybe your library or local used book store would have back issues. (03/21/2010)
By thriftmeg
RE: Craft Ideas for Vacation Bible School
Here's but one website with appropriate crafts. Without knowing your VPS theme, it's difficult to give ideas.
dltk-bible.com
Google "Sunday School Crafts" or VBS crafts and you will find many ideas. Have fun. (03/21/2010)
By sl-boise
RE: Craft Ideas for Vacation Bible School
They have lots of free ideas as well as a store where they sell items to help make some of the crafts. I really like their Bible Friends paper dolls. (04/08/2010)