Faux Stained Glass Recycled Windows
Solutions: Faux Stained Glass Recycled Windows
Read and rate the best solutions below by giving them a "thumbs up".
This is a new use for old windows. They took about 2 days to make. Paint the window frames and let dry. Be creative and paint the glass with stained glass paint. Once dry, glue the marbles to the glass then let the glue dry.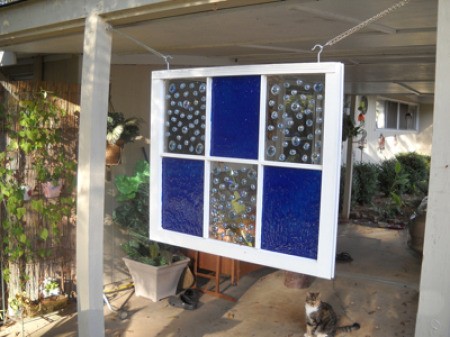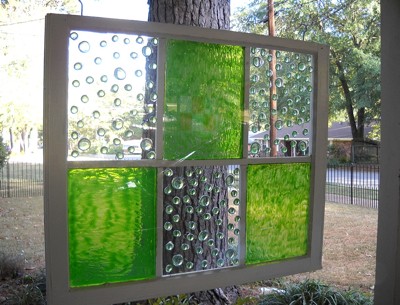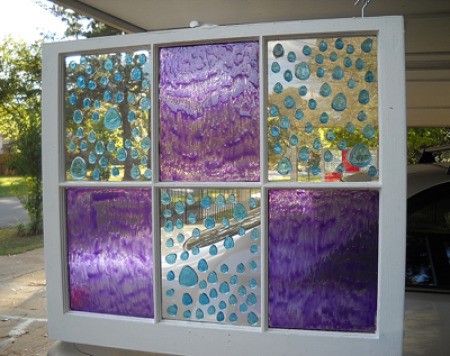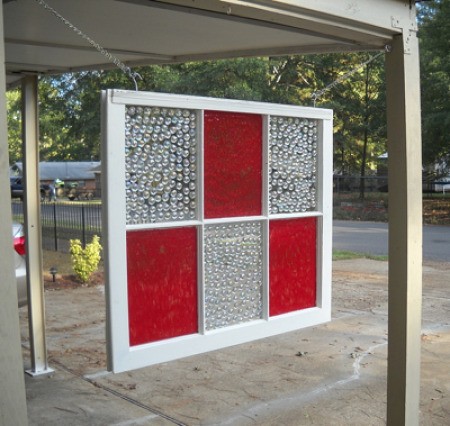 By Dorothy from Arkadelphia, AR

I have an inexpensive and easy tip on how to make faux stained glass windows (or anything glass) using clear Contac paper and any craft store paint for $1.00 or less a bottle. This project is only practical on small windows such as are in your front door or small bathroom windows. Best of all, you can remove it very easily if you don't like the results.
I also put a coat of preservative on it when I was finished painting, also inexpensive.
Directions
Measure the exact size you need on the back of the Contac paper. It's already marked off in inches so it's very easy. Then cut it out.
Using a regular #2 pencil I drew the outline directly onto the front of the Contac paper. I then filled it in with the desired colors. It took two coats. I used the regular water based craft paint sold in craft stores and Walmart. It's less than a dollar a bottle and when on sale a lot cheaper.
After the paint was dry, I outlined the entire pattern with a black ink Sharpie pen.
I then removed the backing from the Contac, using a paper towel dunked in wet, soapy water I applied that to the Contac before positioning it on the window. The soapy water is to give you a little extra time to move it around before it adheres, making it easier to get it on straight. When that was dry and had been on a couple days I then applied the water based varnish or preservative (sold along with the paint), which will make it easier to wipe off to clean.
I used the flash on the camera which threw a glare on the photo. It actually looks like the bottom part of the picture.
By June from Erie, PA
Share Your Feedback:
Once you try any of the above solutions, be sure to come back and give a "thumbs up" to the solution that worked the best for you. Do you have a better solution? Click "Share a Solution" above!
Questions
Here are questions related to
Faux Stained Glass Recycled Windows
.
Making Faux Stained Glass Window
How do I make faux stained glass window?
By mb6197 from PA
---
Most Recent Answer

By redcardemt
08/18/2009
HI, It's been a while but I think you can use liquid lead, or solder. Form the solder into simple shapes and then fill in with Elmer's school glue colored with food coloring. Simple and cheap. Make sure you are working on aluminum foil or something the glue won't stick to. Allow plenty of time to dry before trying to remove.
Related Guides
Related Posts