You can easily create beautiful stained glass looking windows using recycled windows and adding paint or other embellishments. This is a guide about faux stained glass windows.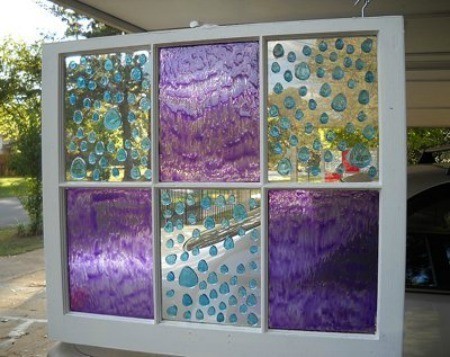 Filter

: All Articles
Sort

: Relevance

I have an inexpensive and easy tip on how to make faux stained glass windows (or anything glass) using clear Contac paper and any craft store paint for $1.00 or less a bottle. This project is only practical on small windows such as are in your front door or small bathroom windows. Best of all, you can remove it very easily if you don't like the results.
I also put a coat of preservative on it when I was finished painting, also inexpensive.
Directions
Measure the exact size you need on the back of the Contac paper. It's already marked off in inches so it's very easy. Then cut it out.
Using a regular #2 pencil I drew the outline directly onto the front of the Contac paper. I then filled it in with the desired colors. It took two coats. I used the regular water based craft paint sold in craft stores and Walmart. It's less than a dollar a bottle and when on sale a lot cheaper.
After the paint was dry, I outlined the entire pattern with a black ink Sharpie pen.
I then removed the backing from the Contac, using a paper towel dunked in wet, soapy water I applied that to the Contac before positioning it on the window. The soapy water is to give you a little extra time to move it around before it adheres, making it easier to get it on straight. When that was dry and had been on a couple days I then applied the water based varnish or preservative (sold along with the paint), which will make it easier to wipe off to clean.
I used the flash on the camera which threw a glare on the photo. It actually looks like the bottom part of the picture.
By June from Erie, PA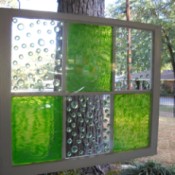 This is a new use for old windows. They took about 2 days to make. Paint the window frames and let dry. Be creative and paint the glass with stained glass paint. Once dry, glue the marbles to the glass then let the glue dry.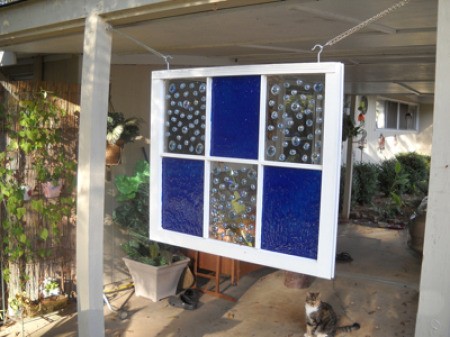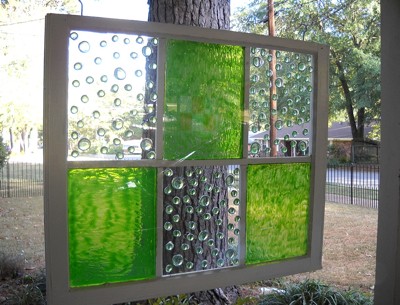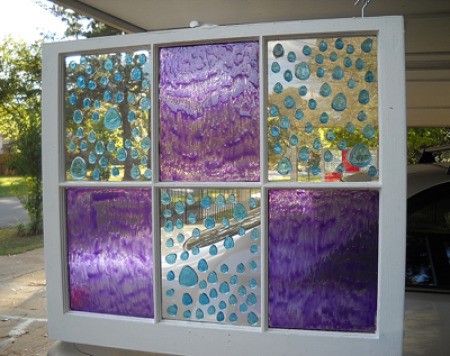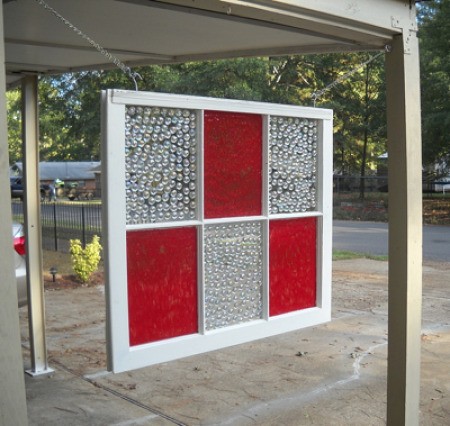 By Dorothy from Arkadelphia, AR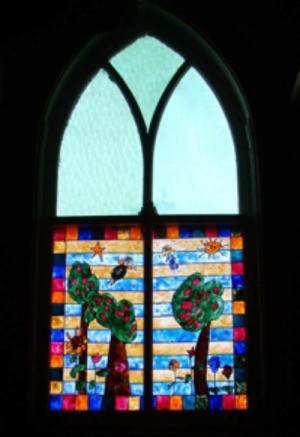 We used to live in a century old church in southern Alberta. One summer I taught a 6 year old girl in the community how to draw, then I took her drawing and put it on one of the windows with gallery glass. It was such a fun picture and was in the window at the bottom of the ladder which we climbed up to our loft. What a fun picture to look at each morning!
By Cathryn from Kamloops, BC
After moving into a 150 year old farm house, I wanted to enhance the beauty of the entry door but didn't want to disturb the old leaded glass window panes. I went to the Dollar Tree and purchased cellophane wrapping paper (colored but clear). I cut out each square individually.
After cleaning each pane, I spritzed a small amount of water onto the pane and placed the square of cellophane onto the glass. I then took a soft washcloth and gently smoothed out the air bubbles. I used period colors but you could do it with any color. It looks like stained glass!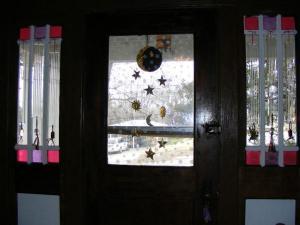 I have lots of kids tattoos that they leave lying around. They might only use a few and then want to throw the rest of the page out. Recently I had a project where I was blocking out a window that led to another room for privacy.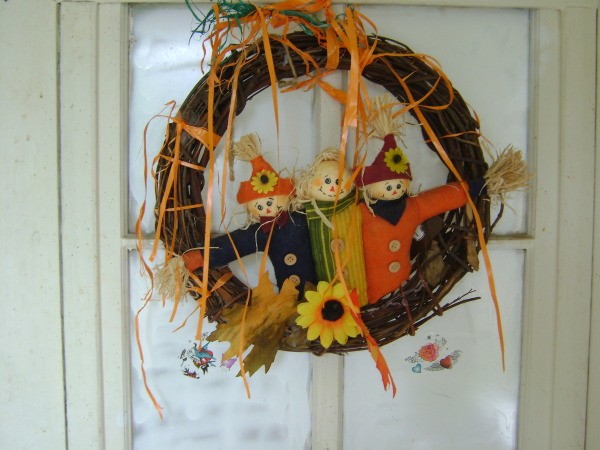 How might I cover some clear glass in the doors of a hutch that I use for storage in my bedroom? I would like to find some con-tac-like see-through material that I can adhere to the backside, so it looks like stained or etched glass. I don't want to have to remove the glass to apply it.
By Carolyn
Answer
Was this helpful?
Helpful?
Yes
Read More Answers...
How do I make faux stained glass window?
By mb6197 from PA
Answer
Was this helpful?
Helpful?
Yes
HI, It's been a while but I think you can use liquid lead, or solder. Form the solder into simple shapes and then fill in with Elmer's school glue colored with food coloring. Simple and cheap. Make sure you are working on aluminum foil or something the glue won't stick to. Allow plenty of time to dry before trying to remove.
Reply
Was this helpful?
Helpful?
Yes
Read More Answers...