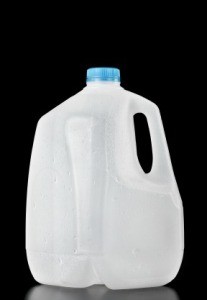 Plastic milk jugs make a good starting place for many creative craft projects. This is a guide about crafts using milk jugs.
Ad
---
Solutions: Crafts Using Milk Jugs
Read and rate the best solutions below by giving them a "thumbs up".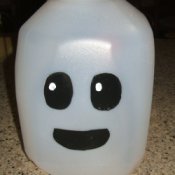 Here's a cute way to recycle your gallon milk jugs!
Milk jug skeletons and a Snoopy dog.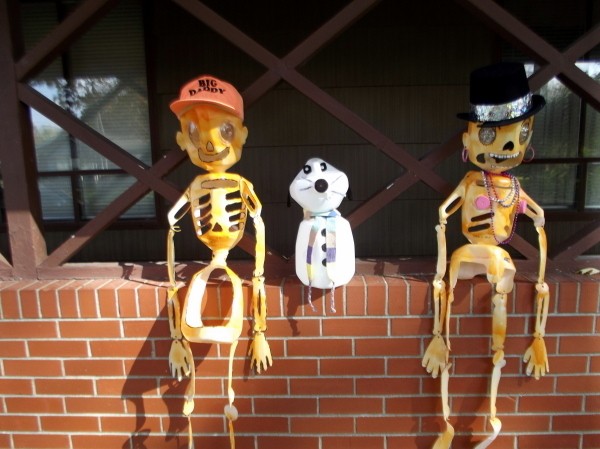 Approximate Time: a lot of time
Supplies:
milk jugs
cord
paint
hats
bead necklaces
magic markers
bottom of drinks containers
pipe cleaners
Instructions:
Trial and error. Looking at pics in craft sites and then I modify them. The female skeleton was my idea. (To be different)
By Ken A. from Centralia, IL
This is a fun Halloween craft you can help your kids with. Instead of buying real pumpkins to use for your Halloween, decorations, why not use plastic milk jugs instead. I took about 4 empty plastic milk jugs and turned them into pumpkins.
Take about 4 or 5 clean empty milk jugs and orange and black acrylic craft paints. Have the kids paint the jugs orange, let dry for an hour. Then paint eye, nose and mouth on the jug. Parents can cut yarn into different lengths for hair. The kids can glue the hair onto the jugs and add other things to make scary pumpkins.
By Marlene from Seagrove, NC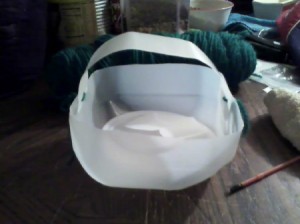 I rinse and cut our plastic milk jugs in half. I cut them above the label. Then I cut a piece off and tie it to the little basket. They are really cute.

Materials
C-9 transparent indoor/outdoor lights- the lights with the big bulbs
10-25 one gallon milk/water jugs
Instructions
Rinse out your jugs and let dry. If it is windy in your area, you may want to put sand or rocks in the bottom of the jugs to keep them in place. Place one light into the mouth of each jug.
By Stella
I reuse milk containers as garbage bins all over the house. Carefully cut top of milk carton leaving handle intact. Now you can use the handle to attach it to the door knob or any other hook you have around. This works great for food scraps or lint from the dryer!
By Denise from Mcrae, GA
Give a "thumbs up" to the solution that worked the best! Do you have a better solution? Click here to share it!
Questions
Here are questions related to Crafts Using Milk Jugs.
Can anyone suggest different ways to decorate milk jugs as door stoppers?

jspcoolbeans
AnswerWas this interesting? Yes No
Ad
---
---
Most Recent Answer
By Deborah Tatroe 2 06/10/20110 people found this helpful
Make a fabric sack or just wrap some pretty fabric around it & tie with a pretty ribbon :) You could also put some nice artificial flowers standing in it. Fill with sand & make a great & attractive doorstop!
---
Help! My dog got sprayed by a skunk. My clothes still smell! I've tried hydrogen peroxide, vinegar, Dawn, and hanging them on the clothes line for days. Any suggestions?
Thank you.
By Marlene
AnswerWas this interesting? Yes No
Ad
---
---
Most Recent Answer
I have made a skeleton out of milk cartons many years ago and have forgotten how. Does anyone have the pattern?
By teamocoqui from Vernal, UT
AnswerWas this interesting? Yes No
---
Most Recent Answer
By jody 2 10/15/20100 people found this helpful
or 9 clean, plastic gallon jugs
String
Scissors
Craft knife
Glue gun
One-hole punch
Neon paint (optional)
X
Instructions
To make the head, choose a jug with a pair of circular indentations opposite the handle and turn it upside down. In the corner, opposite the handle, cut out a large, smiling mouth, centered under the indented "eyes." Make two small slits in the top of the head and tie a loop of string through them for hanging the finished skeleton.

For the chest, cut a vertical slit down the center of a right-side-up jug, directly opposite the handle. Cut and trim away plastic to make the rib cage. Glue the head and chest together at the "neck" by connecting the spouts of the two jugs with a thick band of hot glue. Hold the jugs together for a few minutes until the glue cools.

To form shoulders, cut off two jug handles (leaving a small collar on the ends) and attach them to the chest section with hot glue. Punch a hole at one end of each shoulder.

For hips, cut all the way around a jug, about 4 1/2 inches up from the bottom. Take the bottom piece and trim away a small smile shape from each side to make a four-cornered shape. Punch holes in two opposite corners.

Make a waist by cutting out two spouts, leaving a 1/2-inch collar on each. Glue the spouts together and let dry. Then, hot-glue the waist to the bottom of the chest and the top of the hip section.

Form arms and legs by cutting eight long bone shapes from the corner sections of three jugs (cut into the curved shape of the jug to make the bones even more realistic). From four of these bones, cut out the center to make lower limbs (forearms and shins). Punch a hole through the ends of all eight bones. Use string to tie two arm sections to each shoulder and two leg sections to each hip.

Let kids trace their hands and feet onto the side of a jug, then cut out the shapes. Punch holes in the hands and feet, and tie them onto the arms and legs.

Variations: Paint Mr. Bones a neon color to make him appear to glow.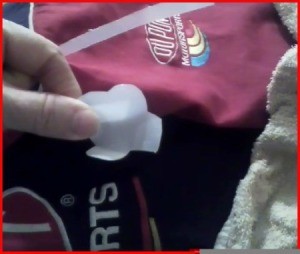 This is my flower vase and I would love to hear any ideas on what colors to do them in. I have used the entire milk jug, the plastic ones. I use the bottom of the milk jug for little stackable bowls, and then I cup strips and make flower shapes out of the rest of the plastic. I still do have a small bit of it left, where the handle was. I will figure out how to use that later.
I am going to glue the flower parts onto the stems. I will probably put math problems down the stems, with notes on them, especially fractions.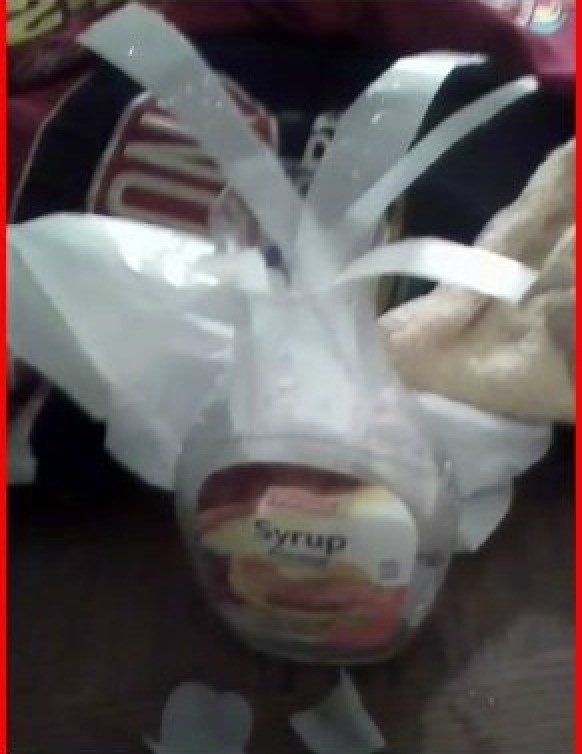 I want to use a button to be the center of the flower, so I can sew the flower to the stem. Any ideas on colors?
Note: you put the little flower shapes under hot water to bend them and then when you get them how you want you let cold water run over them for a second or two.
I want to make a giant ear of corn out of painted milk and water jugs like I saw at the Big E. How do I do it? About 7 feet tall. Thanks.
By Carol
Where can one acquire the gallon milk jugs?
By C Lewis