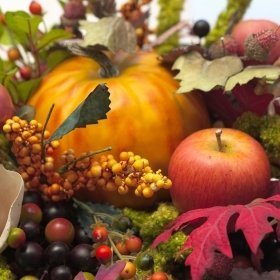 Fall centerpieces add a colorful and festive touch to your table. Whether it is for your dining table, a party, or a banquet there are many options for making a lovely fall arrangement. This is a guide about fall centerpiece ideas.
Ad
---
Solutions: Fall Centerpiece Ideas
Read and rate the best solutions below by giving them a "thumbs up".
I love having centerpieces on my table. You can do it very inexpensively instead of paying outrageous prices but still go for the same look. Go to your yard, park, or along the side of the road, which is where I start. Look for pine cones. I love them and they are free.
If you get them early, they still may be "wet" and you'll need to dry them out. I put mine in a bag. Put in dry place, anywhere where they don't absorb outside moisture. Also, I can examine them for bugs and things that aren't easily seen by your eye. I leave the cones in the bag until they feel dry, just to be really sure nothing has laid eggs or they have bugs (This has only happened one time in my life). You can put them in a sealed baggie if you want to be sure.
Next, I go to the fabric store. I usually go to the aisle where they display the bolts only having a few yards left. You don't have to do this, but the prices are great. I have noticed that the people who sew start a season ahead, just like in magazines.
When buying remnants, you can get enough for a table runner, place mats, or a piece to just fit in the center of table. They always have the latest colors and designs for the season; plaids, different colors, and burlap. it's all there. Fall with its bright oranges and reds. This year, a bright golden yellow was my choice.
Select candles to pick up on one of the colors. You can use all the same color if you like. I'm not a matchy type person, so I like different sizes in the heights. Sometimes I use the round ones. They can be burned later after you disassemble the centerpiece; I use them for looks.
I have picked up a ceramic bowl, where you can put pumpkins at Halloween time (aren't out yet) along with my pine cones. I have it in the center of my table.
I used place mats this year but love changing it up, to brighten it up. It's beautiful with the place mat and a big bowl filled with pine cones and pumpkins. The candles frame it and everyone complements me on how wonderful it looks. You can omit the pine cones and use apples or fruit of several colors matching your table runner, place mat, or center piece of material.
If you do not sew, don't worry. You can purchase the tape that you just iron along the edge. Also I did see some fabric glue you could use, depending on what fabric weight you picked. The burlap is so neat because it comes in so many fall colors now. You can just take out the last few threads on the ends, leaving you with frayed edges.
Note: In my kitchen, a couple new hand towels hanging on the oven door, new oven mitts, and $3.00 rugs gave my kitchen a wonderful fall look.
By Luana M. from San Diego, CA
This is what I did using some of my remaining flowers from my cornucopia project, I still have some left over!
I purchased this pumpkin from Walmart for about five dollars.
The first thing I did was remove the stem. I just pulled it right out.
Next I placed the candle on top of the pumpkin and traced around the outside with a pencil. I liked the bigger candle best, but you could use whatever you prefer. With that done, I placed the candle aside and using a knife I cut around my pencil tracing.
Next I took a large spoon from my flatware and began scooping out the Styrofoam. Just as you would do on a real pumpkin. I scooped out the amount I needed to push my candle down to the depth I wanted it. This part is completely up to you, but mine was about 2" or so.
Once that was done I simply pushed the candle into the pumpkin and made sure it was even all around.
Finally I took my thrift store flowers and placed them into the very small crevice between the pumpkin and candle. Play with the flowers and place them however you like!
This is my centerpiece, but it would also make a great present if your going to be at someone else's home for Thanksgiving.
The kids will have a blast helping you too. Fortunately for everyone, most of these items have already been marked down! Remember to never leave a candle lit and unattended.
By Mistie from Baton Rouge, LA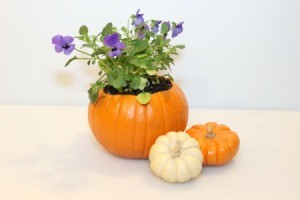 Fall is coming and pumpkins are everywhere. These mini pumpkin planters are the perfect way to bring some color to your holiday table setting.
This darling natural centerpiece is quick and easy to make for your lovely celebrations. It would be fabulous also for a group activity that is thrifty but lovely.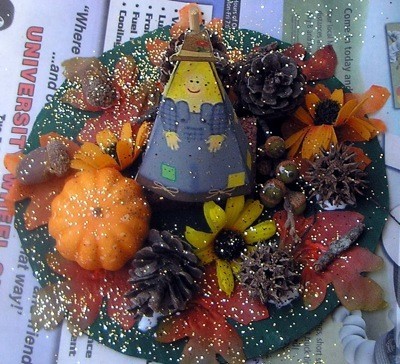 Approximate Time: 1 hour
Supplies:
brown and green paint
sponge paint brush
scissors
cardboard rounds from pizza
bowl to trace around
white glue
decorative scarecrow or Halloween scene optional
store-bought scarecrow (optional)
foam sheets, 2x4 inches
hot glue gun and glue
8 fabric leaves
small pumpkin or gourd (plastic)
small fall flowers
pine cones, acorns, pine nuts
serrated edged knife
3 inch foam
wood skewers
dikes for cutting the skewer
spray adhesive
gold glitter
Instructions:
Gather up some pinecones, acorns, and other outdoor nuts. Put in freezer for a few hours to make sure there are no bugs on them.
Using a bowl trace and cut out a circle from your cardboard. Mine is about 8 inches round.
Coat the cardboard with dark green paint and allow to dry. (About 15 minutes.)
Cut 2 of the 3 inch pieces of foam. Paint them brown with the sponge brush and set aside to dry. (About 10 minutes if lightly painted.)
(If you are using an already made scarecrow or other item for the center skip this next step.) Take your centerpiece and cut it out and fold it into a triangular shape.

Cut a piece of 3 inch foam with a serrated edged knife to fit inside the centerpiece. Cut down a skewer to fit inside the foam and leave enough at the bottom to anchor the centerpiece into the brown foam block. See picture. (I cut my skewer about 5 inches.)

Glue two pieces of the brown foam together. This should look kinda like a bale of hay. When the glue has dried, hot glue it to the center of the green cardboard.
Put your centerpiece in place and then scatter about the leaves. Glue them down with white glue.
Add a pumpkin or gourd to the side of the brown piece of foam.
Add flowers, pine cones, and nuts to the cardboard and glue them down with white glue. Allow them to dry overnight.
Spray the entire arrangement with spray adhesive and shake on some gold glitter. Allow to dry and set in the center of your table.
This is a great group activity and a very inexpensive way to make a table come alive.
By Gem from VA
If you wish to use pine cones, seed pods, and the like in your fall arrangements, spread them on a foil covered cookie sheet and put them in the oven to about at hour at 200 degrees F. That will kill any critters that might be hiding inside. The last thing you want is a few critters to come out to join you for Thanksgiving dinner!

By Linda from Vista, CA
I bought a styrofoam pumpkin; the pretty orange ones that look real. I cut off the top, and put in some pretty fall sprigs that I found on sale. I just laid them in, so next year I can change the look if I want. It's simple and inexpensive to do, and can be done in as little as 10 minutes for approximately $10.
By Susan from Elkhart, IN
Use Dried Greenery In Your Fall/Winter Displays
Although the outdoor flowers are dying, you can still use lots of garden items for decoration, inside and out! I like to make fall and winter arrangements in antique milk jugs that I got from auctions of relatives. In one, I have just filled with corkscrew willow. The dried leaves just come right off when you run your hand across it. In the other, I have filled with a type of tall grass and dried hydrangeas.
Then in December I will cut fresh evergreen from the tress and fill in around the milk jugs. It looks beautiful and is welcoming to your guests. You can also use the dried flowers in your house, as I have done with the hydrangeas in a vase. I also use pussy willow in a vase, it is gorgeous and just stays pretty like it is since it is dried. I also love to bring in some of the fresh cut evergreen for Christmas decorating.
By Jayme from Harrisonburg, VA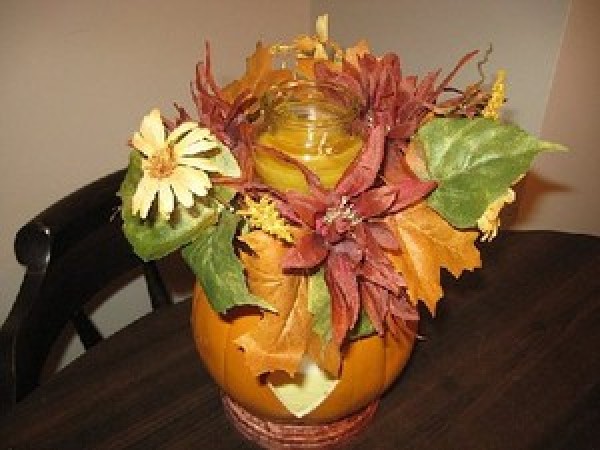 Materials
1- 8 inch craft pumpkin, carve out 4 diamond shapes on each equal side of the pumpkin
1- 8 inch fall wreath, or make your own with leaves and flower and wire
1 small jar candle, fall scented
1 battery operated candle lite for inside the pumpkin
8 inch wooden base, or dish
craft glue (Do not use hot glue!)
Instructions
Start by carving the pumpkin designs.
Glue it to the base.
Glue the candle jar on top, first cut off the stem, so the jar will sit flat!
Then glue the wreath around the candle jar.
Put the battery operated candle lite inside. Turn on the switch and light the top candle for an elegant table centerpiece!
Source: All materials purchased at Michael's Craft Store!
By Jackie from Norton, MA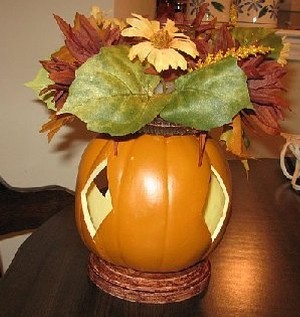 Carve a small hole, one inch deep, in miniature pumpkins for use as taper candle holders.

By Nancy from Madison, WI
Mums can be very easy to work with, and fall pumpkins make fun accessories for mums. The easiest thing to do is to create an arrangement of fresh flowers, place them in a jar of water, and place this jar inside the pumpkin. A pumpkin can also be used as a vase. After it's hollowed out, use flower arranging foam to hold leaves, mums, and filler flowers. Golden-yellow and red-bronze mums are a striking combination.

An easy fresh flower arrangement is to arrange mums in a shallow bowl. Cut the stems of your flowers to touch the bottom of the bowl while the flowers just reach the top of the bowl. Place light color flowers across the center of bowl and arrange the dark color flowers on either side of the light ones.

A hand-tied spiral bouquet with raffia is a simple but beautiful design. Gather three to five stems of mums in your hand. Begin the spiral placement by placing additional flower stems at a 45-degree angle against the rest of the bouquet. After three to five stems have been added in this fashion, twist the bouquet in your hand and add additional flowers using the same method. Bind the flowers by wrapping raffia several times around the flower stems at the point you held the flowers.

You can also send flowers to someone you care about. Online florist Beyond Blossoms (http://www.beyondblossoms.com) offers hand tied mum bouquets including one called Wild Harvest consisting of red rover mums, football mums, daisies, safari sunset, and curly willow.

By Josh Grossman from Wilmington, MA

A mini-pumpkin at each place, with a place card against it makes a festive table setting.

By Linda
For an easy woodsy centerpiece for your table all you need to do is raid your wood pile or go to the woods and find a cool branch. Using a hole saw, cut a hole the size of a tea candle in the side of your branch. Drop a tea candle into the hole and put some beautiful fall leaves or pine cones around it and you will have a lovely rustic centerpiece that just screams fall.

By Debra in CO
Give a "thumbs up" to the solution that worked the best! Do you have a better solution? Click here to share it!
Questions
Here are questions related to Fall Centerpiece Ideas.
I have just been called upon to make centerpieces for a up and coming church banquet. I need to make fifteen centerpieces and they have to all be under five dollars each! We are going with a fall motif.

I have looked all over the internet craft sites and my magazines at home for ideas. The problem is that nothing is cheap enough. I was hoping my thrifty friends could help me come up with some inexpensive ideas. Have a great day!

Kim
AnswerWas this interesting? Yes No
Ad
---
---
Most Recent Answer
By BJ 2 13 09/21/20110 people found this helpful
For a Fall accent centerpiece, you can use real leaves, acorns, and a votive candle for each table. Try to get some different color of leaves, You can buy votives, fake leaves & candle holders very cheap at the Dollar Tree too. this would be pretty and cheap too.
---
I need an elegant centerpiece with red apples being the main theme but with fall flowers. It needs to be simple yet elegant and not too high for tables. It is for the grand opening of nursing home. Maybe candles with fruit. I also need something for the mantle of a fireplace. I need to impress higher ups with elegance.

Thanks,
Joann from Throop, PA
AnswerWas this interesting? Yes No
Ad
---
---
Most Recent Answer
By Lisa Mutton 5 68 09/22/20060 people found this helpful
If you want to use candles, you could core the apple first, with a corer that goes all the way through, and then insert pillar candles in fall colors(orange, gold, sage, burgundy). If you want to keep it shorter, you can buy the 6 in pillars rather than the 12 in. You could cluster the apples on a plate, or line them up in a row, on a long narrow tray. They sell vines of fall flowers or leaves at the dollar stores, which you could intertwine throughout the apples. To keep it really low, you could scoop out the top of the apple with a melon baller or something, and then insert tea lights into the cavity. Make sure to level off the bottom of the apple, by slicing a piece off the bottom. This will keep them from rolling over. You could always cluster the table arrangements, and then line the fireplace mantle, with tall candles. And if you could lean mirrors against the back of the mantle, it would look like double the mantlepiece. Good luck!