Try adding projects using wire coat hangers to your crafting pursuits. This is a guide about crafts using wire hangers.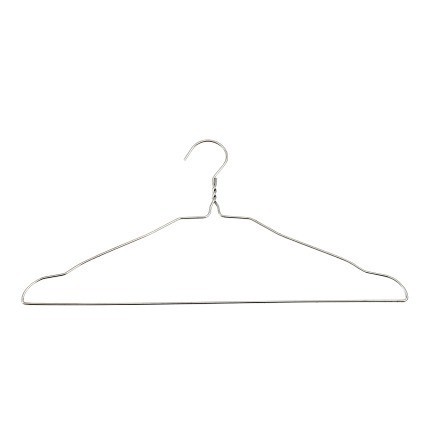 Does anyone have ideas for crafts using wire coat hangers?

By Sharon
---
Most Recent Answer
By Rose Anne Hutchence 7 265 Flag
August 23, 2015
Check out your local dollar store for yarn. Colour doesn't matter. If you don't crochet, find a youtube tutorial for 'single crochet stitch.' Cover the hanger with yarn using the single crochet stitch and you'll have an excellent solution for hanging silky garments which often slip off the hanger.
Further, if you like making gifts, use another layer of pretty yarn (with silver threads, for example) and the same crochet stitch to cover the first layer of yarn. This is great for hanging light-weight sweaters. Use a hot glue gun to finish the pointed end of the hanger and if you can find inexpensive ribbon, tie a pretty bow around the neck of the hanger before giving it away.
I give these to my friends in sets of three and I'll be your friends will be happy to get them, too.
---
I'm looking for some other patterns for cats and dogs made with wire hangers. I was talking to a lady yesterday about wire hangers making good stuff. Please help.

Carol
---
Most Recent Answer
March 22, 2010
I can make a shih tzu and a maltese yorkie just about any long haired foo foo dog.
---
I am looking for the pattern for the yarn clown made on a wire coat hanger.

Lynn from Roseville, CA
---
Most Recent Answer
February 4, 2010
I would love to have it to. I'm making the dog now it looks so pretty.
---
I am interested in learning how to make an animal with bent hangers. Do you know of any video tutorials to do that? I have been searching and have not found anything in regards to that. Can you be able to referred me to any?
Do let me know.
Thank you.
By Sandra
---
Most Recent Answer
November 19, 2012
Google ...yarn and coat hanger poodle. I have made these and several animals can be made from these directions by changing the ears and tail. They are made by winding yarn around a piece of cardboard, securing it around the middle and tying it on the hanger which has been shaped like an animals body. Good Luck
I had to laugh when I saw this category. Years ago I dressed like Pippy Longstockings for Halloween. I took a mop head and colored it red with food coloring and used a bent coat hanger to braid the hair around so it would stick out straight. I got so many compliments from it and it was so cheap and easy to make. Just bend a wire hanger straight, braid the food colored mop head into two braids on each side. I think I used a barrette to hold it in place.
By Gem from Gordonsville, VA
I need instructions on how to make a wire coat hanger horse. Can anyone help?
By Nicole
---
Most Recent Answer
By redhatterb 1 672 Flag
February 4, 2012
Even better, where do you get the wire hangers, unless you send a lot of things to the dry cleaners or laundry? I have never been real impressed with the weight of the ones from the cleaners and the stores where I live don't sell the wire ones any more. I would like to obtain a few to make wreaths out of.
Here is a link for instructions to make a cute coat hanger Christmas tree. Click on link below

View This Page
This page is not on ThriftyFun, but we had to share it. Be sure to come back and rate it.
I am looking for a pattern that uses nylon netting and a wire coat hanger. It is similar to the dog and cat pattern covered with yarn. But the pattern that I am looking for is a coat hanger covered with nylon netting and it is a dog. If anyone has such a pattern could they let me know? Thank you.
By Barbara
Can someone tell me how I can make a wire photo hanger for mounting on the wall? I would like it to hold several pictures or cards.
By donisue from MO
Have your child make fun art that I learned to do.

You will need a little square piece of wood not too small, a wire coat hanger, a knee high stocking, and paint.

First drill a hole in the piece of wood don't let it go all the way through the wood. Then take some wire clippers and clip off the hanger's top, Have your child bend the hanger into any kind of design. Next put the end of the hanger in the hole you drilled.

Finally let your child put the knee high over the hanger and let them paint designs on the knee high. It's just a little craft that can become big.

By Destiny